India's energy scenario - 2040 and beyond
Ms Swati Ganeshan
Online
---
The diginar on 'Climate change and sustainable development in India's energy security agenda', is a part of virtual series on Indias' energy scenario- 2040 and beyond.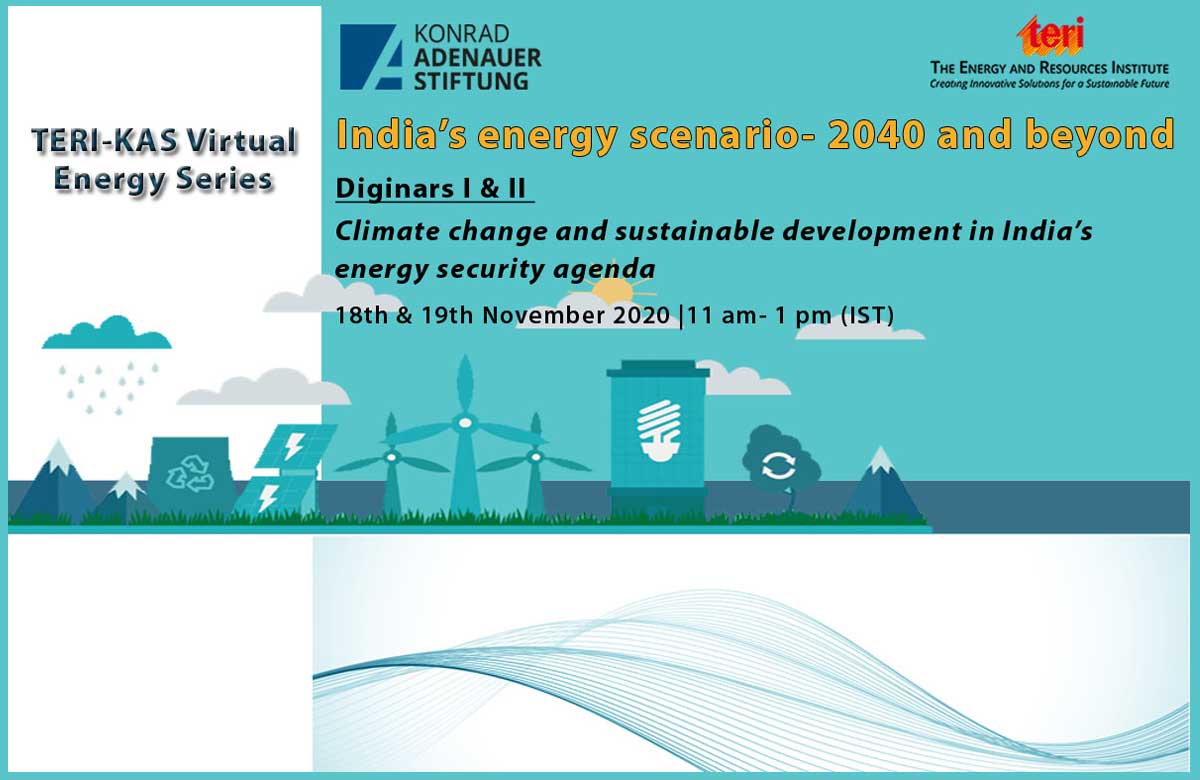 On 18th to 19th November 2020, 11:00 AM - 01:00 PM IST
The Energy and Resources Institute (TERI), with support from Konrad Adenauer Stiftung (KAS) is organising a diginar on India's Energy Scenario - 2040 and beyond, as part of its series on Climate change and sustainable development in India's energy security agenda.
The first diginar in this series will focus on how progress in energy security is co-dependent on the transformations that occur in the area of climate change and SDGs. The Covid-19 outbreak has led countries to the brink of recession and there has been a call for greening the recovery measures. There is significant concern that climate change and SDG commitments may not be achieved well in time. The need to fulfil NDC commitments are directly related to energy transitions in India. SDG Goal 7 focuses on energy access and pushes India to provide electricity access to everyone in the country. Currently, India is addressing the energy access concern by ensuring faster access to and adoption of all fuels.
The question for future would be regarding the quality of access (reducing intermittency, deploying clean energy technologies, reducing transmission losses etc)?
NDC commitments require reduction in fossil fuel consumption, how will India address the challenge of reducing coal in its energy mix?
Developments in Natural Gas and nuclear energy are integral to NDC commitments, how will India address this in the coming decade?
India is fast being hailed as a renewable energy giant and to ensure its place in the global renewable energy platform, India also needs to establish a robust manufacturing base. Will India be able to achieve this in the coming decade?
Will oil and gas remain relevant in 2040 and how is it addressed in India's energy relations in today's context?
The diginar would highlight the priority areas of India's energy security that need to be enhanced and improved in the coming decade specially to fulfil the commitments of Agenda 2030. It will also focus on the geopolitics of climate change and its impact on India's energy security framework.
Register here to join.