Financing Low Carbon Transition for India's MSME Sector
Shubhi Goel, Soham Banerjee, Dorothy Ashmita Biswas
---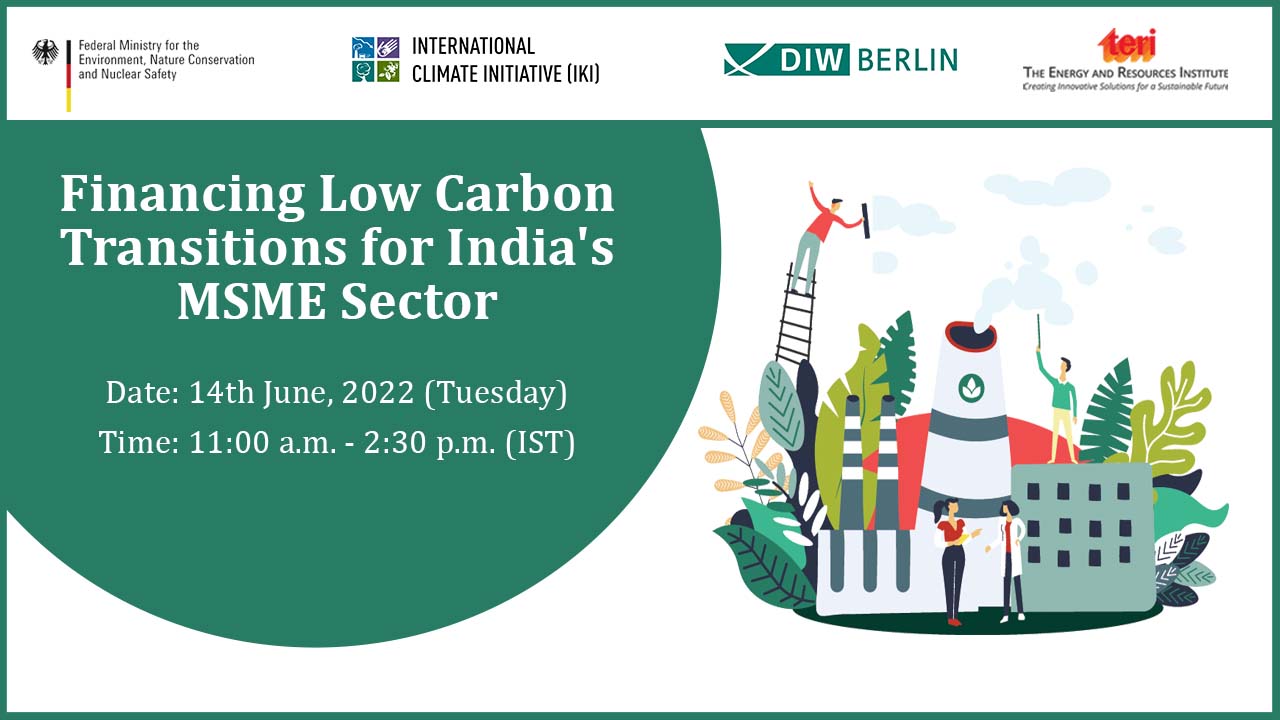 On 14th June 2022 | 11:00 - 2:30 PM
The Energy and Resources Institute (TERI), in association with, IKI, DIW Berlin, and BMUV organised a roundtable dialogue on 'Financing Low Carbon Transitions for India's MSME Sector' on June 14, 2022, from 11 AM to 2:30 PM (IST).
The discussion was organised as part of the ongoing project – 'Strengthen national climate policy implementation: Comparative empirical learning & creating linkage to climate finance' (SNAPFI) which aims to shed light on the implications for policy and praxis to mobilise MSMEs in India towards low carbon transitions.
There is a two-way relationship between climate change and MSMEs. On one hand, MSMEs contribute to climate change, and on the other, they are disproportionately vulnerable to risks posed by climate impacts. According to the latest biennial update report, the MSME sector in India is still widely using outdated technologies and processes, resulting in higher energy intensity (GOI 2021: 219). The concept of Low Carbon Transitions (LCTs) in the context of India can be derived from India's National Action Plan on Climate Change (NAPCC) which highlights that climate change mitigation activities such as renewables and energy efficiency can lead to energy security, reduced local pollution, and increased access to energy through distributed and decentralized forms of energy systems (GOI 2008).
According to a study by the International Finance Corporation (IFC), only 16 per cent of MSMEs in India are financed through formal banking systems and the credit gap for MSMEs in India is estimated to be about USD 240 billion (about INR 16.66 trillion) in 2018 (IFC 2018). This number depicts the sheer challenge of MSMEs who still struggle to get traditional finance in India and for whom climate finance remains elusive. Climate finance in India is channelled through formal public and private structures that have stringent rules and regulations. Apart from banking institutions, public finance, both national and international is channelled through processes such as union budgets, state budgets, Clean Development Mechanism (CDM), National Adaptation Fund and through channels of the Green Climate Fund (GCF) and Global Environment Facility. When it comes to clean Energy Measures, Energy Service Companies (ESCOs) also play a crucial role in financial service delivery.
This study aims to bridge these gaps. Using the lens of climate finance, this study aims to shed light on implications for policy and praxis to drive and mobilize MSMEs in India towards low carbon transitions. The key research questions for the study and also key discussion points include:
What are the financial requirements/needs for India's MSME sector to decarbonize?
What are the institutional arrangements and coordination mechanisms for India's MSMEs for transitioning to low carbon practices?
To what extent can multi-stakeholder partnerships help in mobilizing funds for the MSME sector to decarbonize moving forward?
What are the convergences and divergences between national and state financial instruments specific to India's MSME sector?
What are the challenges and barriers that arise in the financial mechanisms for MSME to decarbonize in the future?