Consultation workshop on Promoting sustainability: Gender perspective
Ms Preeti Madan
TERI
Issues and Challenges faced by Women in Agriculture and Allied Livelihoods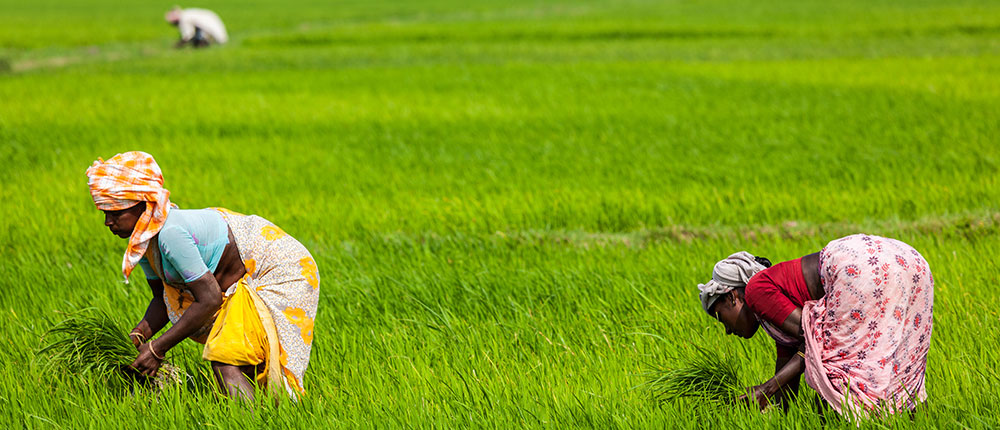 A consultation workshop - "Promoting Sustainability: Gender Perspective (Issues and challenges faced by women engaged in agriculture and rural livelihoods)" - was organized on September 18, 2019, at TERI. More than 30 experts and representatives from various organizations including departments/ministries of rural development, land resources, agriculture and animal husbandry, UN Women, NITI Aayog, NABARD, civil society organizations, SHG representatives and other stakeholders attended the day-long workshop.
The workshop was of considerable relevance in the context of an emerging role of women and girls in the development debate through its focus on 'leaving no one behind'.
Also because, it is essential to take the needs and concerns of women into account so as to ensure their fuller participation in the process and for harnessing their potential to act as agents of change in the society. It is a given that gender equality and the empowerment of women and girls feature in SDG 5 and also serve as a cross-cutting theme in all other SDGs.
With almost 80 per cent of women workforce engaged in agriculture and allied livelihood activities, the workshop focused on issues and challenges faced by rural women. These women are actively involved in all stages of agriculture and allied activities as farmers and farm workers, businesspersons, entrepreneurs and community leaders, and fulfil essential roles in agriculture and the development of rural economies. Despite evidence that agricultural output and food security increase when rural women have the same access as men to productive resources and opportunities, rural women face more significant constraints than men in accessing land, technology, markets, financial access, infrastructure, training and services.
The participants highlighted practical challenges that women face in agriculture, allied activities. They offered sustainable solutions for strengthening institutions and gaps in interventions, focusing on convergence, improvement in market linkages, etc. to scale up best practices.
The workshop brought out the following main conclusions:
Deep and complex changes are taking place in the Indian agriculture scenario. On the one hand, issues relating to sustainable land (and water) management are becoming severe. On the other hand, in the rainfed areas and drylands, poverty and backwardness needed to be addressed through a broad range of issues covering on-farm, off-farm and non-farm interventions.
Land as a resource was becoming fragmented in terms of ownership and smaller in terms of operational holdings. Thus, sustainable agriculture needed to be seen in the broader framework of locally-adapted Integrated Farming Systems, which include livestock, non-grain biomass production (including vegetables, fruits, fodder, etc.), etc. in a manner that ensures optimal resource and energy use and promotes resilience against adverse events to which the area may be subject. The impact of climate change in terms of soil erosion, erratic rainfall, higher temperatures and humidity etc., too had to be addressed through adaptation.
The third and most significant phenomenon was the increasing "feminisation of agriculture" because of urbanisation and migration of male labour in search of wage employment in the non-agriculture sector. The male labour moved to cities because agriculture was no longer able to meet family requirements. In such a situation, women were de-factomanaging agriculture, particularly in dryland areas, but there was inadequate appreciation of the need to empower them, in terms of access to inputs and knowledge, and giving them legal rights associated with farming.
The experience so far concerning the contribution of women to agriculture, including the Mahila Kisan Sashaktikaran Pariyojana (MKSP) initiative under the National Rural Livelihood Mission indicates that:
Women Self Help Groups (SHGs) have been able to add value to agriculture through a variety of entry points. At the individual level, women have been better at achieving integration in farming practices in dryland and rainfed areas because of their closer links with livestock related activities; at the group and federation levels, they are more receptive to integration of practices, which deliver higher resource efficiency and sustainability, including organic farming, SRI, etc. The SHGs are an important component in the strategy of empowering women in agriculture and, MKSP should be seen as an efficient delivery mechanism for more sustainable agricultural practices.
The Women SHGs and their federations are also a powerful mechanism to increase access of women to credit and other inputs, in improving market access, and to enforce their rights about resources, including land. At the same time, there is a lot of work to be done to ensure that the potential for access is created, in terms of the legal status of women in land ownership and eligibility for credit, etc.
However, in dryland and other areas where there are inherent constraints in increasing productivity in the farm sector, or where land is itself a limited resource, women individually and through SHGs, need to be empowered and capacitated to move along the value chain into diverse off-farm activities such as food processing and custom hiring of farm equipment. The example of SHGs in Kerala (Kudumbashree) in supplying mid-day meals is a strong indicator of the possibilities in this direction. The sectoral focus should expand from "food" to "nutritional food" and include dairying etc., for the full potential to be realised. The ability of SHGs to regroup as Producer Organisations for the purpose must be taken forward more purposefully.
Given the larger national trend towards urbanisation, the stagnation in agriculture and the increase in employment potential in the non-farm and non-agri sector, women living in agricultural areas need to be empowered to develop skills so that they can take advantage of these activities. The example of "One Tambon One Product" can be institutionalised through the SHG system to use local resources for best value realisation, particularly in peri-urban situations. The SHG system too can help promote this through "Startup Village Entrepreneurship Programmes", facilitating not only skill development but also credit, knowledge and market access.