Clean Air India: A photo contest
Ms Shivani Sharma
Online
---
We all know about the growing air pollution in our cities and villages. We are all acutely concerned about it. But can we visualise and bring alive, through the camera, India and its people in the clean air conditions we aspire to? Can we capture the inspiring realities of change brought about by our country's efforts to make our air breathable?
We invite you to join this contest and counter the image of our nation as one with the everlasting haze and smog, one which ranks among the most polluted on earth. Help us create an image of change through your photos. Help us trigger hope, with images of an India that point towards what the country should be aspiring and aiming for as a result of its national air pollution control policies and actions.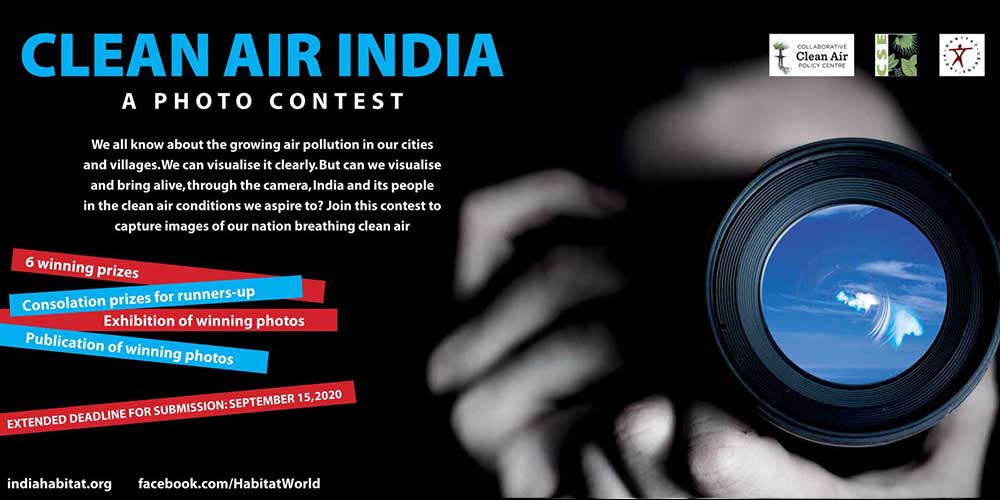 Important Dates
Deadline for submission: September 15, 2020
Declaration of results and awarding of prizes: September-October 2020
Prizes & Recognition
Winners will be awarded in two technology groups -- one for general photographers using whatever equipment they wish and the other for students using a mobile phone camera. Each technology group would have three categories (see below).
6 prizes of Rs 50,000 each for winners; consolation prizes for runners-up
Entries by winners and runners-up to be exhibited at India Habitat Centre, New Delhi
Photos might be reproduced in Down To Earth magazine
Visualise
Capture inspiring and imaginative visuals – in three categories in each of the two technology groups (General and Student Mobile Phone).
Striking change with and without pollution, taken of the same scene in India. These "before and after" pairs will be considered as a single entry.
Experience of clean air within an Indian city.
An inspiring photo of clean air outside cities in India.
Eligibility Criteria
The contest is open to photographers who are Indian nationals or qualify as OCI.
Applicants must be 18 years or older.
Submitted photographs must be meant exclusively for this contest. They should not be sent to any other fellowship, scholarship or publication while this contest is in progress.
Up to two applications are allowed per applicant – however, they must be in different categories.
If one is submitting in the student category, a copy of a certification of the student status must be provided from the applicant's university/institution. Students using cameras may apply in the first category.
Four photographs should be submitted as part of each application.
All photographs must be taken in India – in cities or outside them. Applications with photos taken outside Delhi are encouraged.
Preferably, the photos will not show individuals who are identifiable except in large crowds. If identifiable people are shown, it will be necessary to submit signed consent forms from them.
A four-member jury of experts in photography and air pollution will select the winners.
Application Requirements
There is no application fee. An application must include the following:
Letter of application – This should describe the strategy behind the photos, details of where and when they were shot and of the device used. It should be typed on an A4 sheet (not to exceed one page). The contact details of the applicant, including mobile phone number, mailing address, and email should be indicated clearly. The letter should state that the applicant is 18 years or older and has personally taken the photographs.
The letter should state clearly to what category the applicant is applying. There are three in the general category: G1, G2, G3 and three in the student category: S1. S2, S3. See above for descriptions
Image submissions for the general category: Four images should be enclosed with the application. Only color or B&W photographic prints (not photocopies) are acceptable. The print size should be 10 x 12 inches. Each print must have the name of the photographer on the reverse. Please note: Entries with less/more than the required four images will be eliminated. Entries on CDs, thumb drives, or any other media will not be accepted.
Image submission for student category. Four images on an otherwise empty thumb drive, such that the EXIF file can be read by the judging committee, would be acceptable. Printed entries or those on other media such as CDs will not be accepted.
Caption and/or title list – Full captions/titles should be typed on a separate A4 sheet listing information for each image enclosed in the application.
Any photo found to be highly digitally manipulated, such as by Photoshop software, will be rejected.
Submission of Application
Applications should be forwarded either by registered mail or courier to the undersigned. Please write 'no commercial value' on the package to avoid extra costs and delays.
Submissions will be acknowledged, but will not be returned. The contest organisers take no responsibility for the loss or damage of any application material.
All submissions must be sent to:
Clean Air Photo Contest
c/o Shivani Sharma
Collaborative Clean Air Policy Centre
Darbari Seth Block (TERI), India Habitat Centre
Lodhi Road, New Delhi, 110003
Mob - +91-8800484546
Declaration of Winners
The winners will be declared in September 2020 and contacted directly by the contest organisers. The decision of the judges will be final. Prizes would be awarded to the winners in a ceremony at IHC planned for September/October 2020. Winners will receive travel support to attend the ceremony.
Please note that the winning entries will be in possession of the contest organisers and will not be returned to the winners. The organisers -- IHC/CSE/CCAPC -- reserve the right to use the images for promotional and non-commercial purposes. The images can also be used in any of their own publications as well as on their websites. However, should the images be reproduced in any medium other than these, the prize winners will be reimbursed for the same.
Official contest website: www.HabitatPhotosphere.org
Follow us on Facebook: https://www.facebook.com/habitatphotosphere/