AES India and TERI Workshop on Innovative Solar Technologies and Battery Storage Solutions to Accelerate India's Decarbonization Mission
Mr Shirish S Garud, Mr Sandeep Thakre
Hybrid mode
The workshop through expert discussions aims to present technologies, share global experiences and deliberate on ways in which the overall objectives of sustainable growth of solar can be supported to accelerate India's decarbonization mission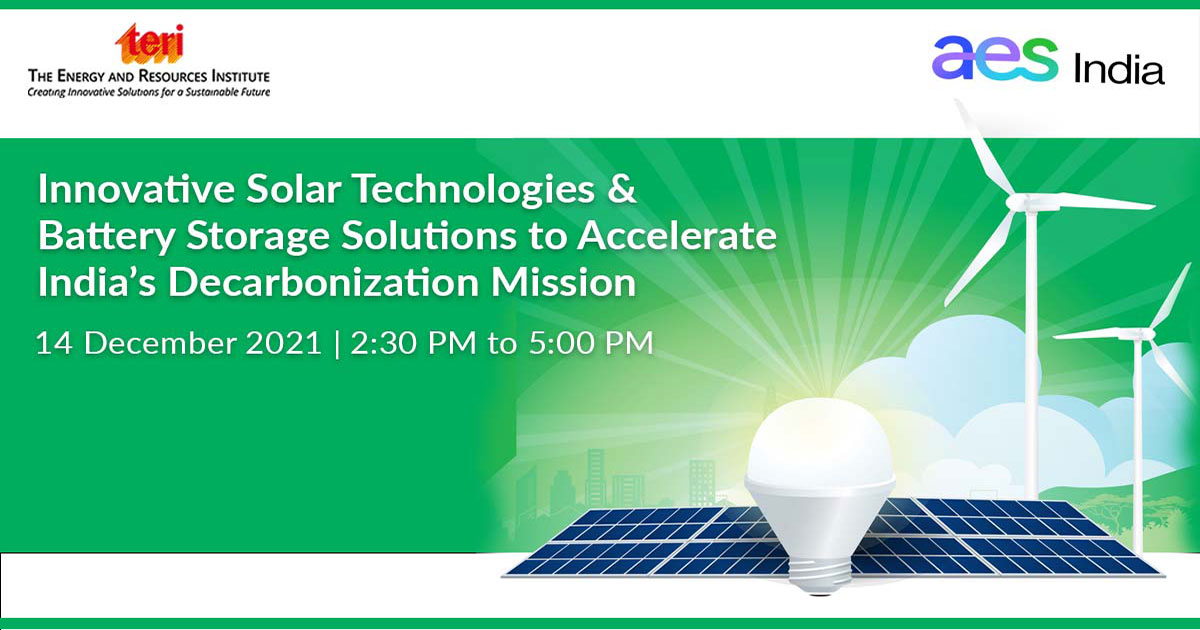 On 14th December 2021 | 02:30 PM - 04:30 PM IST
The Energy and Resources Institute (TERI) with AES India is organising a workshop on 'Innovative Solar Technologies and Battery Storage Solutions to Accelerate India's Decarbonization Mission'. The solar energy market in India is growing steadily. However, policies and regulatory frameworks require alignment to create opportunities for the adoption and encouraging localization of innovative technologies at a rapid pace supporting the wider adoption of solar in India and the integration of battery storage solutions for a sustainable grid. In this workshop we will be inviting innovators, developers, manufacturers and academia to present their technologies, share global experiences and discuss how they can support the overall objectives of sustainable growth of solar and accelerate India's decarbonization mission.
The AES Corporation is a Fortune 500 global energy company accelerating the future of energy. With 40 years' experience, AES' global reach and integration of insights from a broad range of businesses, including solar, wind, energy storage, LNG and regulated utilities, allows AES to develop and deliver unique energy solutions for its customers. Today, AES is leading the energy transition by investing in sustainable growth and technological and commercial innovations to deliver superior results. AES is a global leader in the renewables and energy storage market. Last year AES signed 3 GW of renewables and energy storage Power Purchase Agreements and expect to continue to grow 3-4 GW each year.
The Energy and Resources Institute (TERI) is an autonomous, non-profit, leading think tank dedicated to researching the sustainable development of India and the Global South. TERI was established in 1974 as an information centre on energy issues. It made a mark as a research institute, whose policy and technology solutions transformed people's lives and the environment. TERI's key focus lies in promoting clean energy, Water management, Pollution management, Sustainable agriculture, and Climate resilience.
Discussions at the event will focus on:
Leveraging expertise of stakeholders from industry, academia, government, and public sector.
Application of emerging technologies in the solar sector and battery storage.
Sharing real-world experiences and case studies on the benefits of the application of innovative technologies.
Highlighting the role of stakeholders such as technology innovators, developers, manufacturers and government to create enabling environment.
Highlighting challenges experienced and what can be done to mitigate concerns for commercialization.
Key takeaways and recommendations from the forum.