A pilot project in Karnataka's Chamarajnagar district brought solar lighting and clean cooking to the homes of the disadvantaged, saving fuel costs, reducing women's health risks, and providing employment opportunities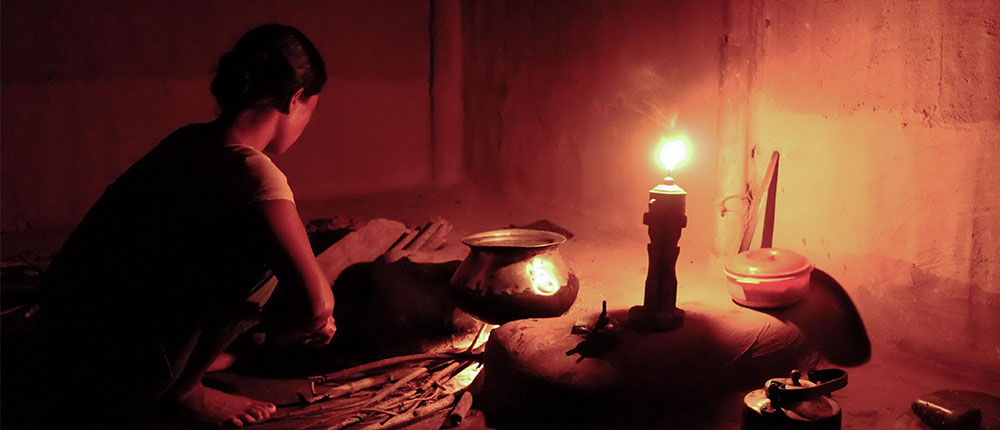 Kumar S and his family of four live in an un-electrified house in Bhogapura village in Chamarajnagar district in Karnataka. Kumar works as a daily wage worker and earns around Rs.200 to Rs.300 per day. He manages to get around 15 to 20 days of work per month.
Chamarajnagar district is among Karnataka's backward districts and has a high population from scheduled caste (SC) and scheduled tribe (ST) communities. A TERI survey in the district revealed that around 48.6% of respondents used conventional firewood stoves for cooking, 11.78% used kerosene stoves, 32.34% had LPG connections and 7.29% used a portable clay cookstove. The average fuel consumption was 4.6 kg of biomass per day. Although around 91.13% of the households were electrified, they faced power cuts daily due to irregular power supply.
TERI implemented a pilot project funded by the Department of Science and Technology, Government of India, in six villages under the Bhogapura gram panchayat. The project's main objective was to improve indoor air quality among the households by providing clean energy solutions for cooking and lighting. Interventions under the project included –
Creating awareness and training programmes about new technologies and off-grid solutions
Dissemination of improved cookstoves and solar lighting solutions
Providing technical know-how to end-users and to village-level energy entrepreneurs who provide services and marketing of renewable energy devices in the area
Taking improved cooking and lighting to the people
For the Bhogapura area, TERI procured solar home lights from manufacturers-cum-suppliers certified by the Union Ministry for New and Renewable Energy (MNRE) and empanelled by TERI. It also procured improved low-cost forced draft cookstoves and their spare parts from its own energy entrepreneurs.
After demonstrations, 125 families were identified in the six villages for installation of the Integrated Domestic Energy System (IDES). The IDES consists of a forced draft cookstove, two solar lights, a solar panel, a battery, a solar charge controller, a mobile charging port, and one extra port for solar power supply to the cookstove.
Apart from this, 300 front-loading and top-loading cookstoves were distributed to all SC/ST households under the Bhogapura gram panchayat. The beneficiaries were provided training in using the devices. Apart from promotion of cookstoves and solar home lights, the project also involved assessing the socio-economic condition and energy usage of SC/ST households before and after project implementation.
At the start of the project, six awareness programmes were held – one in each village – in which over 500 people including gram panchayat members, president and other village leaders participated. Two training programmes were also conducted for local entrepreneurs and youth – one in construction, operation and maintenance of cookstoves and another in repair and maintenance of solar lighting devices. A total of 60 youths including 15 masons were trained in the six villages.
A household brightened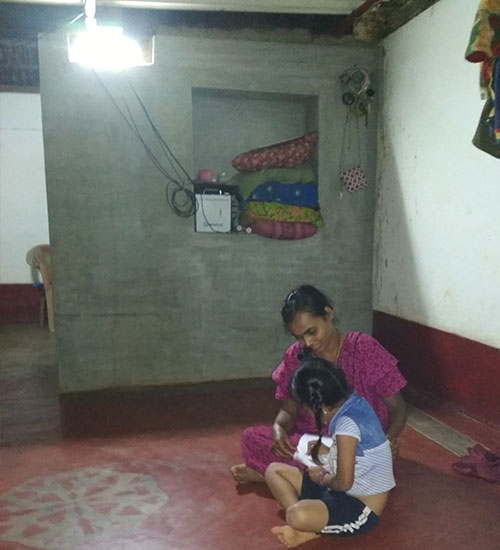 Prior to the intervention, kerosene lamps were used in Kumar's house for lighting. His family spent Rs.85 a month to buy three litres of kerosene from the Public Distribution System (PDS) and his two children had to study under kerosene lamps. Cooking was done on a conventional cookstove that consumed an average of six kg of fuelwood a day, which Kumar or his wife Kusma collected from farm and community lands.
After switching to IDES, the family's firewood consumption fell to 3.2 kg thanks to the improved cookstove. It also led to reduced cooking time and less smoke. Kerosene was no longer used for lighting as the IDES's two solar lamps were used from 6 to 9.30 pm, one of which was extended up to 11pm. The children could now study for longer hours in the evening.
The solar-powered mobile phone charger too helped the family charge their phones in their own homes, reducing dependence on neighbours. They do, however, now have more neighbours visiting because of the improved lighting conditions.
Mass benefits
A total of 425 households benefited from the project. Since installing the cookstoves, more than 20 user trainings programmes have been conducted. In addition, the Uttam Urja Shop has been established for people to access repair services and spare parts locally.
Apart from saving women cooking time, the drudgery of collecting firewood, and the health risks emanating from conventional cookstoves, the project has also cut down 366.01 tonnes of firewood per annum and substantial emissions reduction.
The 125 families that procured IDES reported 41.1% savings in electricity bill, relief from eye irritation due to smoke from cooking, longer lighting hours for children to study, and savings of around 4,500 litres of kerosene per annum.
Implementation of Anila Bhagya and Ujjawala yojana (LPG programmes) of the state and Central governments is catching up in a big way. However, it does not address the issue of how underprivileged communities will purchase refill cylinders as these are less affordable for many families. Supplementing these programmes with biomass-based improved cookstoves and IDES interventions will help these communities by alleviating their financial burden to an extent and providing clean energy sources for cooking and lighting as a back-up measure.
In far-flung villages and tribal hamlets of India where improper connectivity and lack of facilities for transportation of fuel such as LPG make things difficult, clean cooking and lighting solutions provide a lot of hope.