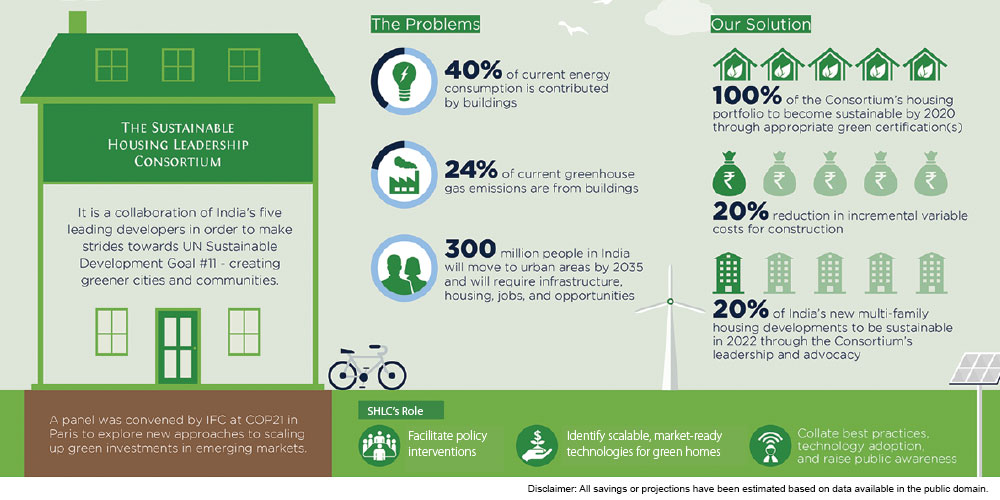 Eco-Cities India is a multi-year technical advisory programme, established under the European Union (EU) -India Cooperation on Clean Energy and Energy Efficiency. A climate-change focussed initiative, the programme is structured around five cities—Bengaluru, Bhubaneswar, Chennai, and the Mumbai and Pune metropolitan regions.
Eco-Cities India has focused its efforts on four key urban sectors which, taken together, are significant contributors to emissions and the resultant effects on the environment. One of the key aspects that Eco-Cities explore is the development of green buildings.
The International Finance Corporation (IFC), through the Eco-Cities India Program, aims to encourage the construction of more resource-efficient buildings by facilitating investments in the fragmented building construction chain including private sector developers, government authorities, and financial institutions. To ensure this, IFC has convened a voluntary, collaborative effort with leading Indian housing sector companies to form the CEO-led Sustainable Housing Leadership Consortium (SHLC) to drive sustainability in India's housing market.
The SHLC has been formed by early contributors to India's green building and affordable housing movement such as Godrej Properties, Mahindra Lifespace Developers Limited, Shapoorji Pallonji Real Estate, Tata Housing Development Company, and Value Budget Homes Private Limited, in collaboration with financial institutions HDFC and PNB Housing Finance Corporation, and supported by Ministry of Housing and Urban Affairs.
IFC has engaged with The Energy and Resources Institute (TERI) to conduct a study titled 'Technology Lever for Green Housing Scale-up in India'. The study aims to identify and prioritize cost-effective building technologies relevant to green housing in India. The prioritization of these technologies will be done to ensure broader market uptake to achieve at least 20 percent reduction in the incremental cost of going green. The report establishes the incremental cost of building green housing in contrast to a conventional base case and reviews related best practices nationally and internationally.