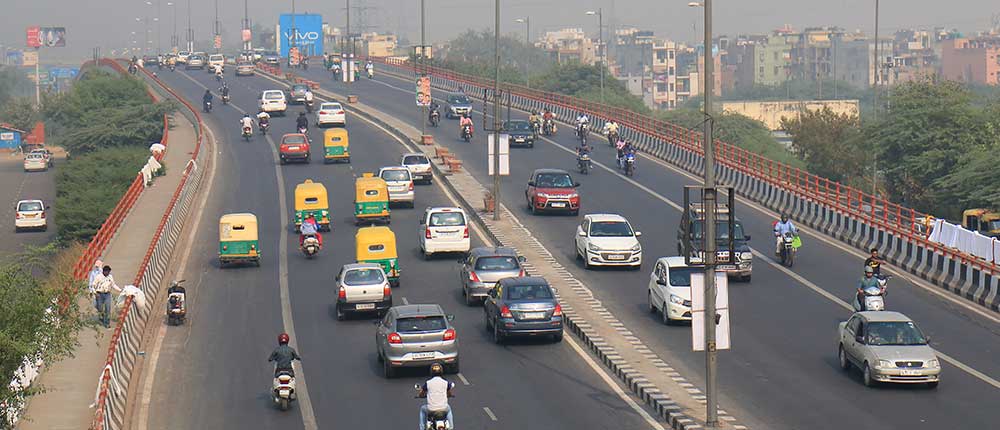 With the growing number of vehicles and increase in road lengths, Indian roads are spattered with blood as accidents resulting in injuries and fatalities have been mounting over the past twenty years. The analysis of official road accident data Ministry of Road Transport and Highways (MoRTH) of 2016 reveals that about 1317 accidents and 413 deaths take place every day on Indian roads which further translates into 55 accidents and loss of 17 lives on an average every hour in our country. Interestingly first half of the year 2017, there has been a 3 % reduction in road accidents between January to July 2017, along with a 4.75 % reduction in road accident fatalities[1] but a data for 6 months or one year decline cannot be considered as an actual decline in road accidents. As the time series data of past 20 years of road accidents were only seen the rising trend.
Indian roads are unique compared to other country road conditions, due to mixed traffic conditions. Indian roads deal with a mix of high-speed motor vehicles, with low speeds NMT's and pedestrians across movements, all to gather sharing the same road space with unsafe road infrastructure. All contribute to the high accident rates. The post-accident scenario in India is under a ramshackle condition causing major accident scenarios into fatalities due to inadequate emergency trauma care facilities, delayed response time.
Prevailing data gaps in road accident data collection
In a panel discussion on "Strategy of Road Safety in India" chaired by Mr S Sundar, held at IIT Delhi on 6th September 2017, debated the figures quoted for accidents and fatalities in road accidents are usually under-reported. The source of accident recording data in the country is totally based on the manual FIR reporting by local police. Accident location, the cause of accident and its recording lacks the scientific evidence gathering. Good quality data on road accidents was always a questionable subject. It is to be understood that actual road safety scenario is even worse than the official published data. More accurate data is required for better road safety policies and to reduce the accidents on road.

Need for National/ state road safety council/Authority/ policy
At times low national income is blamed for accident rates. But both the official country data and W.H.O. estimates show that there are countries with incomes similar to India that has (Road Traffic Injuries) RTI fatality rates lower than India. This demonstrates that lack of finances does not necessarily mean that a society has to have the absence of safety on the roads. At the same time, many countries much richer than India have much higher fatality rates. Therefore, we cannot depend on growth in national income alone to promote road safety. It is necessary to institute evidence-based national safety policies to ensure improvements in traffic safety. An independent authority of road safety at the national, state and district level would drive the aspiration of road safety into its implementation.
Constitution of Committee on Road Safety by Honorable Supreme court
In April 2014, the Honorable Supreme Court of India constituted a three-member Committee on Road Safety, headed by Retired Justice K S Radhakrishnan, in light of increasing road accidents which required immediate attention and remedial action. The main objective was to scrutinize and monitor enforcement of statutory provisions including the Motor Vehicles Act for making the road safer. With this objective, the Committee interacted with various central and state ministries and issued directions to improve road safety in India.
The Supreme Court Committee on Road Safety (SCCRS) has, over the course of last year, sent directions to the States to implement various policies, institutional and infrastructure related measure in an effort to improve the standards of road safety and reduce accidents and fatalities. The Supreme Court committee has required the submission of Compliance report of the recommendations. The Ministry of Road Transport and Highways (MoRTH) took the initiative to have the compliance report ready for 16 states divided into 4 groups with 4 States in each group.
States covered under each group are as follows:-
Group 1: Madhya Pradesh, Bihar, West Bengal and Chhattisgarh
Group 2: Gujarat, Karnataka, Kerala and Maharashtra
Group 3: Tamil Nadu, Andhra Pradesh, Telangana and Odisha
Group 4: Haryana, Punjab, Uttar Pradesh, Rajasthan
DIMTS-TRIPP (IIT-D) -TERI Consortium has been entrusted with carrying out the study for Group-2 and Group -4 States, based on the competitive bidding process.
Now the states are being verified and audited on various aspects which include
States Initiatives in Road Safety Institutional Arrangements
Improvement initiatives related to Road geometry & Engineering of the roads
Improvements initiatives related to Enforcement by the State Police and Transport Department
Improvement initiatives related to Road user awareness by the Education Department
Improvement initiatives related to Trauma & Paramedical and Emergency Healthcare system by Dte. GHS
Major hurdles, gaps for on-ground implementation of road safety aspects are being recommended by the audit reports along with the suggestions for improving particular lagging areas mentioned above.
Note:
[1] http://pib.nic.in/newsite/PrintRelease.aspx?relid=170577