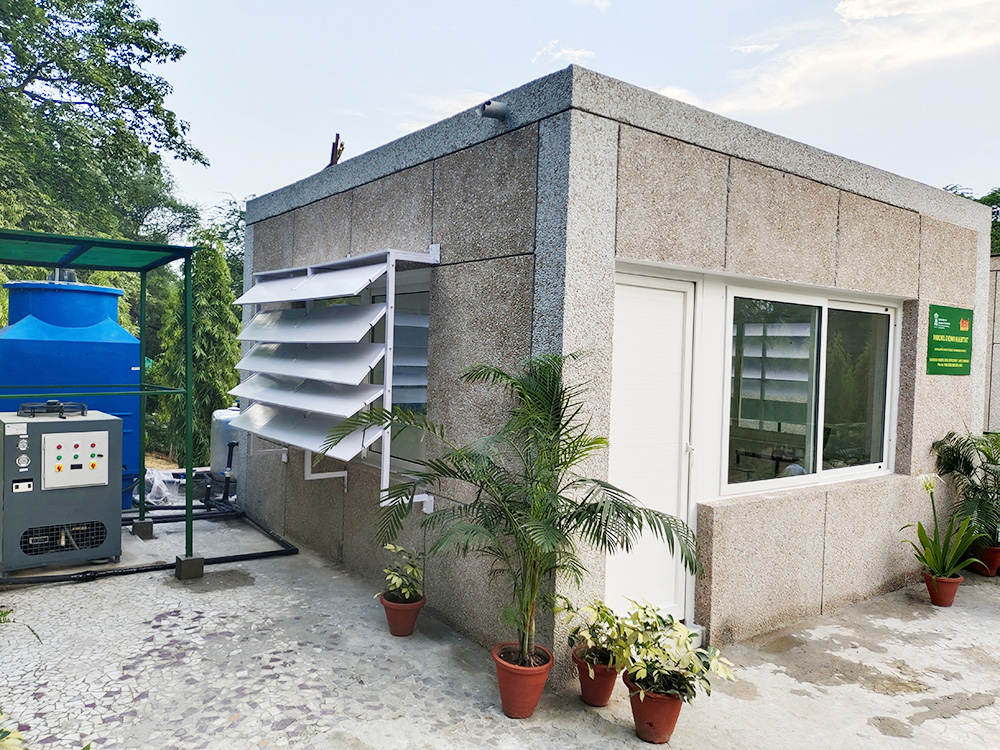 The Energy and Resources Institute (TERI) recently inaugurated the 'Model Demo Habitat' developed under the "Habitat Model for Efficiency and Comfort" project supported by the Department of Science and Technology (DST), Government of India at its Gwal Pahari campus.
As part of the project, work at the 'Model Demo Habitat' would engage in two tasks, the first being- to provide the Indian building market with cost-effective movable and smart external shading products that can reduce direct solar heat gaininside a building by more than 75% while also allowing natural daylight. The second task is aimed at designing and demonstrating the potential of low-energy radiant slab cooling, integrated with natural heat sinks and establishing their operational mechanism for optimum comfort and energy efficiency.
In a broader sense, the project aims to upgrade products, establish test protocols, monitor performance, and develop a commercialization plan for some of the recently emerging technologies which have the potential to be affordable and scalable in order to promote energy efficiency in buildings.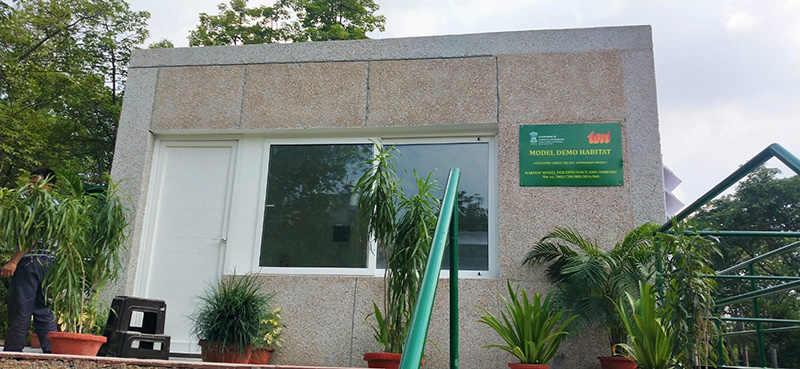 Model Demo Habitat at TERI Gram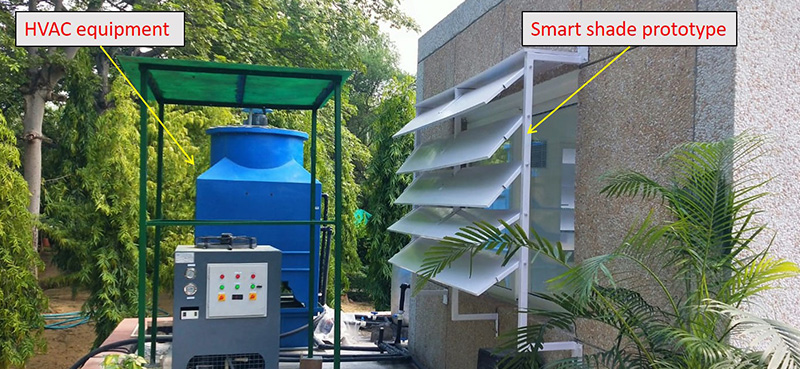 Smart shade and HVAC system integration with Demo Habitat
Smart Shade for residential and commercial typologies
External Smart Shade technology, a soon-to-be patented TERI technology, transmits a decent scope for commercialization in the Indian building market. Its design is replicable for new and existing residential and commercial buildings across India. By eliminating constant exposure glare entering through the windows for all hours of occupancy, smart shade provides visual comfort in office buildings. Furthermore, it reduces the direct solar heat gain through the window by up to 75% without disrupting access to daylight. The result is significant direct savings in the cooling and lighting energy demand of an office building where Smart Shade technology is being deployed.
Radiant Cooling System (RCS) integrated with natural heat sinks
A slab-based Radiant Cooling System (RCS) integrated with Cooling Tower and Ground Heat Exchanger as natural heat sinks is the first of its kind study at the laboratory scale presenting fresh perspectives on the implementation potential of natural heat sinks in real-time conditions. RCSs provide an efficient cooling solution (10%-40% more energy savings compared to conventional systems) and maintain a better thermal environment compared to conventional all-air systems by controlling the surface temperature rather than the indoor air temperature. The thermal comfort assessment with combined radiant cooling and displacement ventilation systems has demonstrated that better thermal comfort can be at a high room temperature compared as compared to conventional all-air-based systems.
The proposed water-based radiant cooling systems (RCS) achieve high energy efficiency due to reduced distribution losses and the possibility of using higher supply water temperatures in the range of 16–24 °C for cooling. Subsequently, the higher water temperature requirement for radiant cooling systems creates the opportunity for the usage of low-grade energy, e.g., solar-based evaporative coolers and geothermal systems.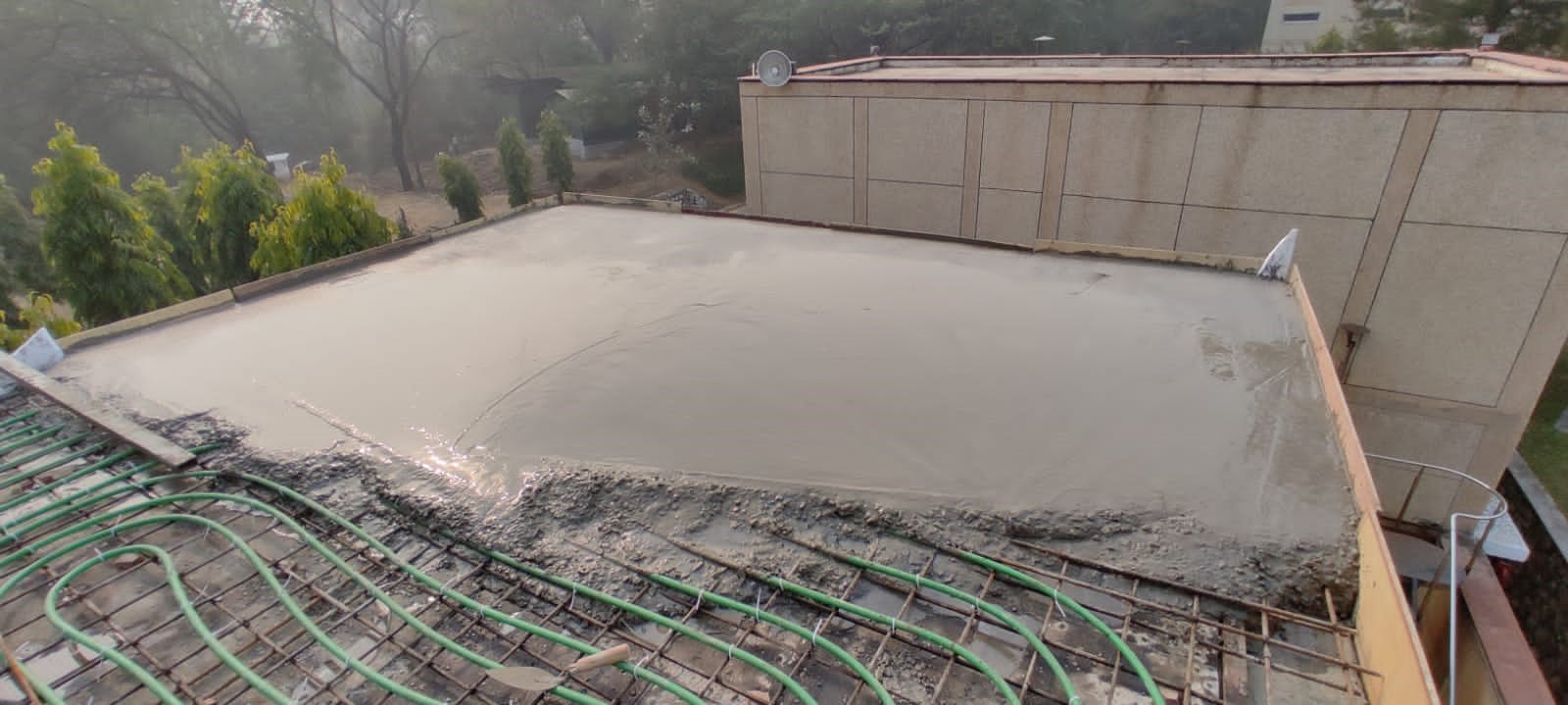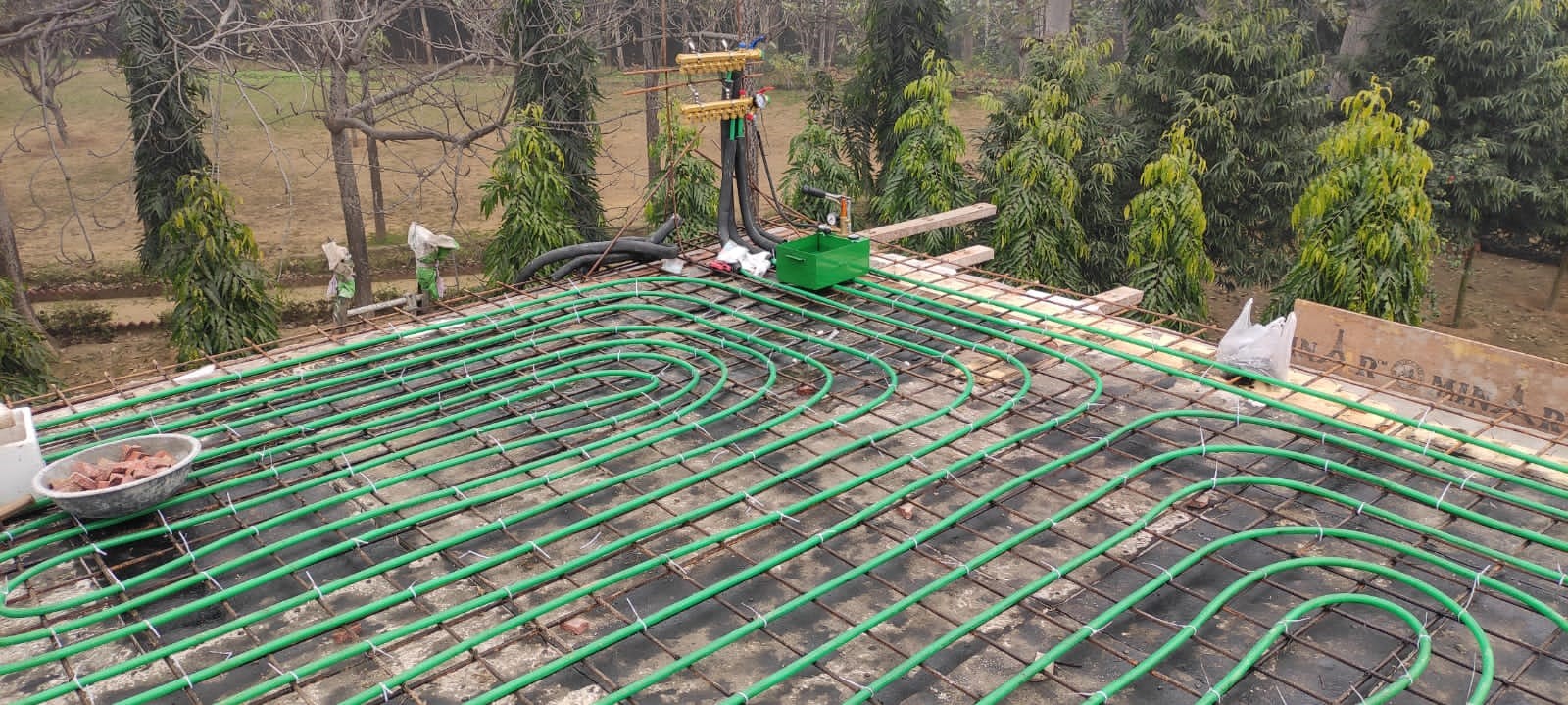 Roof casting and laying down of PE-RT pipes in the roof slab
Milestones achieved under this project:
Developed a smart shading device able to reduce more than 75% of direct solar heat gains while allowing glare-free daylight.
Applied for two patents: 1) An innovative retrofittable manually operable smart shading apparatus for house windows (residential buildings) and method of working for same, 2) Automated Intelli-Smart Shading Apparatus in Commercial Buildings
Established standard test protocols and test beds for performance monitoring of Smart Shade device.
Established state-of-the-art test bed "Model Demo Habitat" to demonstrate the potential of low-energy radiant slab cooling integrated with natural heat sinks.
Established building envelope specifications for radiant cooled buildings in India.
Devised operational mechanism to achieve optimum comfort and energy efficiency in radiant cooled buildings for composite climates in India.
The Model Demo Habitat has great potential to be established as a state-of-the-art laboratory envisaged to provide services for real-time assessment of the techno-economic viability of different window types, external shading devices, and low-energy cooling technologies for the composite climate of India. This will generate interest amongst academia, industry, and government organizations globally for collaborative research programs and especially among window and shading device manufacturers, and research organizations.
Deployable outcomes and prospective users
Long-term
Short-to-medium term
Smart Shade will be available with all glazing and shading device manufacturers, as an Indian product, for application in new and existing buildings.
Integration in Indian standards- methodology of design of shading devices
Integration in Indian standards - operating protocols for radiant cooled buildings in India.
Adoption of radiant cooling technology is picking up in India and its future adoption rate is likely to get better, unlike today, where conventional cooling is predominant.
Smart Shade – cost-effective efficient technology available for application in commercial and residential buildings in India.
Online tool will be made available for designers/ engineers/ owners to install Smart Shade based upon the specs that the tool will generate for the specific climate/latitude and longitude of cities in India.
Energy performance and database of comfort surveys for about 200 occupants using radiant cooled buildings.
Operational mechanism based upon the thermal comfort bands developed for radiant cooled buildings in India.