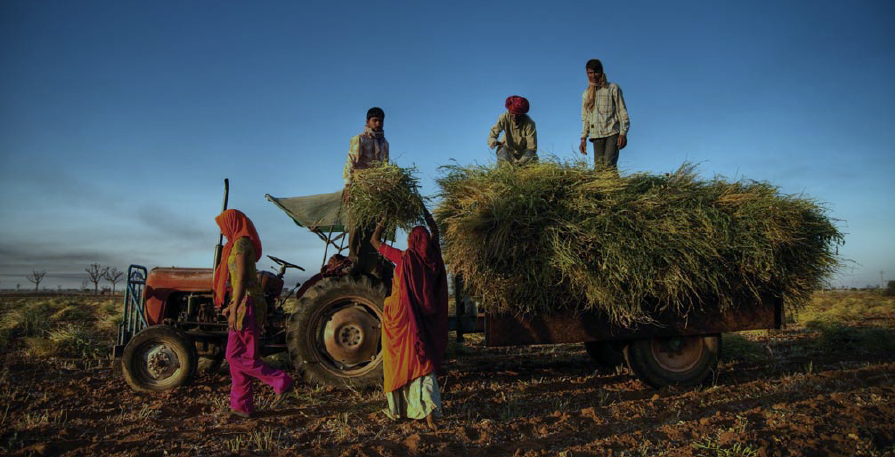 India is known for its agricultural produce, but what we do not know, or perhaps tend to overlook, is the contribution of women in the growth of this sector. In this article, Himanshu Kumar and Vivek Kumar enlighten us about the role of women in the agriculture sector and some of the problems they face.
India is a country that is endowed with enormous natural resources, different climates, variety of agricultural landscapes and boasts a distinct environmental and cultural diversity. We have grown up hearing that India is predominantly an agrarian state—which is true in a way because even now roughly 55 percent of the country's population is dependent on agriculture and allied sectors for their primary livelihood according to the 2011 census. So are all of us, who doesn't need bread and butter in the morning to reach their offices and tirelessly work from 9 to 5 to get their pay cheques. Maybe sometimes relish on some chicken biryani, but that too comes from agriculture and animal husbandry.
People often do not understand how significant this sector is, but let us get this straight: India ranks second in world agriculture production; India is the largest milk producer; ranks second in vegetables and fruits; third in fish, egg, and poultry production in the world; India is the world's largest producer of spices, pulses, milk, tea, cashew and jute; and the second-largest producer of wheat, rice, fruits and vegetables, sugarcane, cotton, and oilseeds.1 India is also currently the world's 4th largest producer of agrochemicals and has the largest livestock population of around 535.8 million—which translated to approximately 31 percent of the world's livestock population in 2019. Additionally, India has the largest land area under irrigation globally.
Thanks to a combination of the social, natural, and economic capital of the country, we are now the world's second-largest food producer country. India is blessed with land, light, water, and labor and Indian companies now produce everything required for agriculture, from seeds, fertilizers, and irrigation equipment to farm machinery and plant health technologies, making this sector a truly aatmanirbhar one. Diversification into high-value crops (fruits and vegetables) and milk, aided by continuous improvements in communication, infrastructure, and innovative techniques, have transformed the agriculture sector into a dynamic enterprise.
Indian agriculture thus is a vast arena with a significant global footprint. We need to ask ourselves this fundamental question: what makes this agricultural ecosystem such a strong one? There is no need for us to dig deeper as the answer is quite apparent; farmers form the backbone of this sector and have invested generations in making India a country that is now self–reliant and aims to reduce its food imports.
The task of feeding 130 billion people and another few million (in the form of exports), thus, resides on the shoulders of the Indian farmers. However, it is not easy to understand the Indian farmer and farming system; it is a complex set of constants and variables that together form the development we now observe in Indian agriculture.
Upon imagining an Indian farmer, one will only think of a man, old and impoverished, wearing a dhoti kurta and a pagri, with dark skin wearing, standing against a barren/dry landscape, and looking with hope and despair, having incurred losses, and bearing the wrath of climate extremes. Thanks to the popular media, movies, and others for painting this grim picture of the Indian farmer. Often, it is the man who represents this sector and women seldom find a place in popular media or imaginations even after forming the core of this sector and investing an equivalent amount of blood and sweat to bring food to our tables.
Let us now understand some facts that have the potential to amuse and completely redraw this picture of an Indian farmer.
Literature now highly acknowledges the role of women in the Indian agriculture system and their contribution to the rural economies.3 Down to Earth4 magazine reported that around 80 percent of farm work is undertaken by women in India, which is astonishing and goes against the popular narrative of farmers being largely men. Strange as it may seem, women constitute over 42 percent of agricultural labor in the country but own less than two percent of farmland, which could be attributed to several social norms and rights-related issues. This is an alarming figure and raises several questions on the land rights and social inequalities persisting in rural India. Women are not given their share of recognition in the Indian farm sector and, therefore, have limited entitlements. While recognition is a key issue, another crucial matter of concern is that of control. Even if a woman owns the land, she does not have control over it; instead, it will be in the hands of a male—her husband or father.
The Panchayati Raj Act of 1993 aimed to empower local governance and quite inclusively provided adequate space for women to lead, but ground realities seem quite different today, a reasonable number of proxy sarpanches or sarpanchpatis is visible on the ground as observed in Madhya Pradesh and West Bengal, defying the constitutional provisions for the women to lead local government bodies. Since recognition and rights form an integral relationship with the exercise of power it is essential to understand the power dynamics and correct historical wrongdoings. Power without access to rights and decision-making is as good as a book with a thousand blank pages: heavy but contributes nothing to the reader.
Smt. Sunita Raju Valvi, from Aslipara village, Navapur Taluk, district Nandurbar, Maharashtra works in an agricultural field. Harvesting rice under the clear blue sky with the sun shining bright, her picture was taken on a field visit to the Nandurbar district in Maharashtra, organized by the Centre for Rural Development and Technology, IIT Delhi in November 2021. A closer observation will change the conventional narrative about the Indian farmer; she belongs to a tribal family and apart from performing the daily household chores she dedicates a substantial amount of her time to agriculture.
In our brief interaction with her, she said that women in and around her village perform all the agricultural activities, starting from seed production, sowing, reaping/harvesting, conversion of primary produce to secondary products, to selling the crop in the market. The whole agricultural life cycle, thus, can be performed by women, which establishes the fact that women have a crucial role in the agriculture sector and possess the knowledge and skills to run the agriculture system by themselves.
Women contribute a lot to the sector and face numerous challenges in the process. It is high time that we hear them out, understand their perceptions and address their challenges. Our discussion with Smt. Valvi enlightens us on her life and the challenges faced by a woman farmer.
What tasks do you perform on your fields?
I can perform all the activities from seed production to sowing, harvesting, developing secondary products, and selling the product to market. I have been doing these activities for many years and have a deep understanding of the agriculture sector.
Has agriculture changed in your village in the last couple of decades?
Well, a lot has changed over the last couple of decades; we are tribal people and have a maximum population in our village. The nearby villages belong to the Bhil and Konkani tribe. Previously, there was an abundance of forests in our area and there was a huge dependence on forest-based products and resources, but gradually the population expanded, and forests were cut to create space for humans. This led to the forest area being converted to agricultural fields and this became a primary source of livelihood for the people of Nandurbar.
Do you think there has been a change in temperature and rainfall over the last few decades?
Yes, there has been a significant change in the temperature and rainfall in the village and nearby areas. This is precisely due to the reckless destruction of the forests. The water availability in the area has reduced due to shorter monsoons; rains now arrive later in the month of June and there is a very short span of monsoon that lasts only for a handful of days. I recall the monsoons some decades ago, we couldn't even step out of our house even to buy essentials, the monsoon season would last for at least three to four months, and we could reap good harvests, but now the situation is difficult. And yes, temperatures are also soaring now, we usually didn't experience temperature extremes, but now the gods seem to be angry with us.
Do you think agriculture is a painful job? Don't you wish to switch to another job with less pain and drudgery?
Agriculture for us is not as painful as it looks to you, it has now become a way of life for us. Indeed, it is physically laborious, but we have now accepted it. We have been doing this job for decades now, we enjoy doing this and there is no chance of switching to an entirely different profession. I and my husband work together and share equal responsibilities; sometimes I work a bit extra, sometimes he does and that's how the cycle of our life goes on.
Are you given the due credit for your hard work by your family and society as a whole?
I believe that hard work is always appreciated; my husband is highly supportive and works equally hard with me. It is because of this, we have been able to raise a family and make a house for ourselves. We live in a community of tribal people, here, you will find less discrimination and bias, and you will find numerous women in and around our village who work hard and are highly appreciated by their families and the community.
Do you want your daughters to practice agriculture when they grow up?
I don't think anyone would wish for that, looking at the harsh situation and uncertainties that the farmers must bear, that is the reason our children are studying hard, they wish to make a better future for themselves, and I think that is good as well. It is for them to choose if they want to do farming or not.
We were informed that the Krishi Vigyan Kendra, Nandurbar, and Dr Hedgewar Sewa Samiti had played an instrumental role in the holistic development of the village community and especially women—through various initiatives and interventions for agriculture, water conservation, alternative livelihood generation, training, and capacity building, establishing institutions and empowering women through bottom-up approaches. One fundamental intervention is the improvisation of the traditional sickle used to harvest rice, developed by the Mahatma Fule Krishi Vidyapeeth Rahuri. The Laxmi and Vaibhav sickles were provided to the farmers and possessed serrated blades, hence didn't require to be whetted repeatedly. Additionally, sickles were also developed specifically for left-handed farmers (a small but inclusive approach), this not only reduced their drudgery but also their chances of getting hurt. Women play a vital role in agriculture and form an essential component of society; therefore, it is high time we give them their rightful share and recognition in all sectors, including agriculture. We need to make them the face of the Indian agriculture system, ensuring that when the next generations imagine farmers, they paint the portrait of a woman.
References
Pathak H, Mishra J P, and Mohapatra T. (2022). Indian Agriculture after Independence. Indian Council of Agricultural Research, New Delhi 110 001, pp. 426.
Dev S M (2018). Transformation of Indian agriculture: Growth, inclusiveness, and sustainability. In Presidential Address at the 78th Annual Conference of the Indian Society of Agricultural Economics, November (pp. 1-3).
Pattnaik I and Lahiri-Dutt K. (2020). What determines women's agricultural participation? A comparative study of landholding households in rural India. Journal of Rural Studies 76: 25–39.
Pachauri S. (2019). The invisibility of gender in Indian agriculture. Down To Earth. Retrieved from https://www.downtoearth.org.in/blog/agriculture/the-invisibility-of-gender-in-indian-agriculture-63290
Vivek Kumar is a professor at the Centre for Rural Development and Technology, IIT Delhi. Himanshu Kumar is a Ph.D. scholar at the Centre for Rural Development and Technology, IIT Delhi, working under the supervision of Prof. Vivek Kumar.
The authors would like to acknowledge the support and cooperation received from YOJAK Center For Research and Strategic Planning for Sustainable Development and KVK Nandurbar. The authors also highly appreciate the love bestowed upon them by the beautiful tribal people of Nandurbar.
This article and more from TerraGreen can be viewed here: https://terragreen.teriin.org/