COP27 took place in November 2022 in the Egyptian coastal city of Sharm el-Sheikh. The Conference concluded with a historic decision to establish and operationalize a loss and damage fund. Dr Anil Pratap Singh takes us through the highlights of this important climate conference and concludes that at COP27, unrelenting deliberations took place on setting the needs and priorities of the Parties; thereby resolute implementation plans for the future were developed during the deliberations.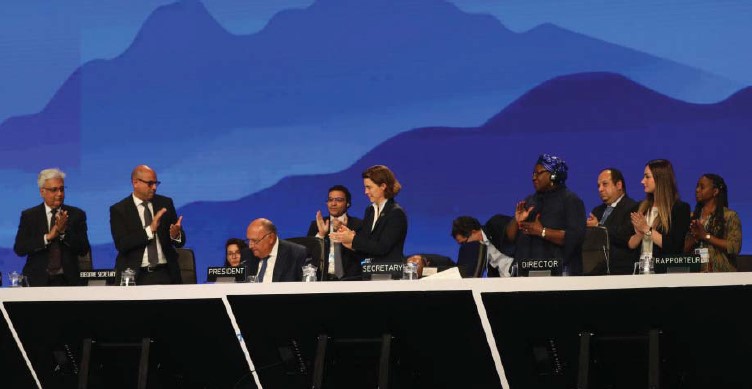 The 27th Conference of the Parties (COP27) to the United Nations Framework Convention on Climate Change (UNFCCC) took place in November 2022 in the Egyptian coastal city of Sharm el-Sheikh. The Conference concluded with a historic decision to establish and operationalize a loss and damage fund. The meeting also featured the Sharm el-Sheikh Implementation Summit, where over 100 Heads of State and Government attended and about 35,000 delegates from 190 countries took part in the conference, which was chaired by Egyptian Foreign Minister Sameh Shoukry and by the end of the meeting, the Parties had adopted 60 well-intentioned decisions.
The global average temperature rise is already 1.1°C and people around the world are facing a range of climate change impacts from droughts to floods and heat waves to superstorms that only the richest countries can cope with. Therefore, from the opening session of this climate change conference, the speakers not only recalled the important messages of climate science, but also the current geostrategic challenges related to energy and food, while underlining the devastating climate effects and expressed the common sentimentalities to act urgently. Pointing out their impact on ecosystems, the speakers stressed the exigent need to focus on implementation. Also, emphasis was laid on the 'polluter-pays' principle for outlays of climate compensation by historical emitters of greenhouse gases (GHGs). But still, on the issue of climate change, there seemed, rich nations' wavering attitude in assisting developing and poor countries.
Justice and Ambition vis-à-vis Mitigation and Adaptation
UN Secretary-General António Guterres said that our planet is still in the emergency room and we need to drastically reduce emissions now, and this is an issue this COP did not address. Warning that humanity is on a "highway to climate hell," he besought the world to act before it is too late. However, from the beginning, COP27 has been driven by two overriding themes: justice and ambition. 'Justice' for those on the frontlines who did so little to cause the crisis and 'Ambition' to keep the 1.5 degree limit alive and pull humanity back from the climate cliff.
Mitigation and adaptation discussions were centric in COPs until recently. The United Nations Intergovernmental Panel on Climate Change (IPCC) backed mitigation as reducing climate change by reducing the flow of heat-trapping GHGs into the atmosphere, either by reducing sources of these gases or enhancing the 'sinks' that accumulate and store these gases, e.g., oceans, forests, and soil. The ultimate aim is to stabilize GHG levels in a timeframe ample to allow ecosystems to adapt naturally to climate change, ensure that food production is not threatened, and to enable economic development to proceed in a sustainable manner. In addition, adaptation, that is, adapting to life in a changing climate, which involves adjusting to actual or expected future climate, is also vital. Here, the goal is to reduce risks from the harmful effects of climate change, e.g., sea-level rise, extreme weather events, or food insecurity, etc.
In Sharm el-Sheikh, a mitigation work programme was launched in order to scale up mitigation ambition and implementation. Governments called for reexamining and strengthening the 2030 targets in their national climate plans by the end of 2023, and speeding up efforts to phase-down unabated coal power and phase-out inefficient fossil fuel subsidies.
At the Sharm El-Sheikh Climate Change Conference, there were discussions on work programmes in order to urgently scaling up mitigation ambition and the Global Goal on Adaptation (GGA). On mitigation, developed and climate-vulnerable countries pushed for a strong outcome to ramp up the efforts to reduce emissions before 2030, calling this "the critical decade." In the end, countries agreed to a process that will explore topics, which are to be decided, and identify opportunities and gaps to reduce emissions. Several countries expressed some worry that the mitigation outcome may not be enough to "keep 1.5°C alive."
At COP27, countries were more pleased with the outcome of the GGA and the Parties agreed to a long-term, structured effort that will help countries to collectively achieve the global adaptation goal. It will be reviewed before the second Global Stocktake (GST) in 2028. The unanimity of the countries to continue the technical dialogue under 'Global Stocktake' was seen as a virtuous outcome of COP27. It is worthwhile to mention that the GST is a fundamental component of the Paris Agreement, which is used to monitor its implementation and evaluate the collective progress made in achieving the agreed targets.
At COP27, after a hard political bargain, countries, for the first time agreed to recognize the need for finance to respond to loss and damage associated with the adverse effects of climate change, and quickly established a fund and the necessary funding arrangements, with the details to be worked out over the coming year.
During the opening ceremony, COP26 President Alok Sharma underlined recent reports suggesting that full enactment of current commitments will set the world on track to limit the average global temperature increase to 1.7°C, which he acknowledged as deficient and further urged world leaders to explain clearly what they have attained in the last year and how they will proceed further.
COP27 President Sameh Shoukry believed that the recent extreme events all over the world are another wake-up call to act with all precautions in accordance with commitments and targets. Shoukry urged for moving from negotiations and pledges to implementation, including scaling up ambition according to countries' capacities. The Presidents of COP26 and COP27 released a report on Finance for Climate Action, taking into account the needs of countries with developing and emerging economies, except China.
Necessitating Improved Investment for Loss and Damage
Recognizing climate change, in view of the loss and damage, an increased level of investments are required for development and growth. An estimated cost of USD 2 trillion per year by 2030 would be needed for sustainable agriculture in such a stance.
"Loss and damage can no longer be hidden," UN Secretary-General Antonio Guterres said on the first day of COP27, adding that climate justice and international solidarity are not only a fundamental question but also a moral imperative. This COP has taken an important step towards justice and UN Secretary-General welcomed the decision to launch a loss and damage fund and to operationalize it in the coming period. Guterres unveiled the "Early Warnings for All" executive action plan, which calls for USD 3.1 billion in the initial new targeted investments between 2023 and 2027 in early-warning systems to limit damage from climate change where priority would be to support the most vulnerable first. Furthermore, with the intention to start immediately, Global Shield against Climate Risks, with new commitments of over USD 200 million as initial funding, was also launched at COP27. Also, for immediate climate adaptation needs, new fund-mobilization announcements were also made. Besides, the new Indonesia Just Energy Transition Partnership, announced at the G20 Summit as held parallel with COP27, committed to mobilize USD 20 billion over the next 3–5 years to accelerate the energy transition.
During COP27, developed countries such as the United Kingdom, the United States, Australia, and the European Union acknowledged the paucity of funds to compensate for loss and damage. The UNFCCC Executive Secretary Simon Stiell stressed three critical lines of action, i.e., demonstrating a transformational shift to implementation; strengthening progress on work streams on mitigation, adaptation, finance, and loss and damage; and augmenting delivery on the principles of transparency and accountability all the way through the process.
Chair of the IPCC, Dr Hoesung Lee, presaged and said that "the world is not on track to limit global warming to 1.5°C". During COP27, on discussions of de-carbonization in climate change negotiations, the rich countries, another time, did not pay considerable responsiveness to it, while the past decade has been the warmest on record, and the ongoing Earth's average temperature is on rise. In recent years, across the world, this record warming has led to melting of snow and glaciers, wildfires, floods and droughts, as well as extreme events such as severe cyclones.
Representatives from the Least Developed Countries (LDCs), stressed the need to emphasize not only on adaptation but also on loss and damage and accentuated that those who were suffering from the climate emergency cannot wait for negotiators to deliver. Whereas developing countries like India admonished developed countries to honour their commitments, and called on all countries to forge a multilateral response to adapt to climate change and assist one another in dealing with the associated loss and damage and also to focus on ways to practically assist countries in implementing their nationally determined contributions (NDCs).
Since the Paris Agreement entered into force on November 4, 2016 with 194 parties, they expected to submit NDCs and review the aggregate progress on mitigation, adaptation, and means of implementation every five years through a global stocktake (GST). It is worthwhile to mention that the GST of the Paris Agreement is a process for taking stock of the implementation of the Paris Agreement with the aim to assess the world's collective progress towards achieving the purpose of the agreement and its long-term goals as delineated in Article 14.
'Ocean Action Day' of COP27
The Parties during the Ocean Action Day at COP27, deliberated with due prominence, on significance of oceans to safeguard the planet in the context of climate change. Since oceans not only absorb large amounts (around 25 per cent) of anthropogenic carbon dioxide (CO2) but also produce more than 50 per cent of the essential oxygen. Minute ocean flora, i.e., phytoplankton, mostly exist near surface of the water and drift with its currents, contribute 50–85 per cent of the oxygen in the Earth's atmosphere. Using CO2 and sunlight to make their food during photosynthesis, these phytoplankton generate oxygen, as a byproduct, which is essential for animals' breathing process including human beings. Oceans not only absorb CO2 emissions but also capture around 90 per cent of the heat generated from these emissions and safeguard the planet against the brunt of climate change; thereby help in placating SDG13 as well. In the meetings of the UNFCC, to achieve the objectives of SDG14, i.e., 'Life Below Water', ocean issues were incorporated into the NDCs and National Adaptation Plans (NAPs) by the Member States. In August 2015, 193 countries had appropriately agreed on this. Also, the period from 2021 to 2030 declared in the 72nd session of the United Nations General Assembly (UNGA) as 'UN Decade of Ocean Science for Sustainable Development' more particularly to achieve SDG14 in order to conserve and sustainably use oceans, seas as well as marine resources. More than three-fourths of the biodiversity exist in oceans. Coastal regions are specifically important both because of livelihood and other economic activities including tourism and transportation. The global ocean economic activity, per annum, is estimated between USD 3 trillion to USD 6 trillion contributing to the world economy, i.e., 'blue economy'. On the other hand, pollution, ocean-acidification, climate change, etc., are creating turmoil in marine biochemistry and losses in its biodiversity, apprehending food and human welfare on the whole.
SDG14 also expected to benefit the other SDGs such as poverty eradication (SDG1), hunger eradication, food security and promote better nutrition and sustainable agriculture (SDG2), protect health and promote healthy lives at all ages (SDG3), reduce inequality between and within countries (SDG10), etc. Hence, these issues were upstretched earnestly by the Parties during the Ocean Action Day at COP27.
During the Ocean Action Day at COP27, governments, businesses, experts and other professionals called upon to work together to assess the actions pertaining to ocean and climate and to identify the gaps, because seas and oceans, despite being scientifically proven to be solutions to climate change and central to the sustainable development, still funded deficiently.
In his keynote address, Ralph Regenvanu, Minister of Climate Change Adaptation, Meteorology and Geo-Hazards, Energy, Environment and Disaster Risk Management of Vanuatu (being an island nation located in the South Pacific Ocean), stressed that the ocean is the world's largest carbon sink but the developed countries are not gratifying their commitments and they were not only lagging behind in making the required contribution to properly implement the 'Paris Agreement' but also not providing the necessary funding. He said the island nation is now paying for the loss and damage as already caused and urged for fighting against new efforts to mine sea beds. Mark Haver of Sustainable Ocean Alliance, also highlighted certain calls for a deep-sea mining ban and emphasized moving from talk to action, pinching whether COP27 was 'a crisis of commitment or a crisis of empathy'. Tarek Temraj from Egypt's Environment Ministry emphasized that the ocean connects us all and knowledge exchange is crucial to saving it and preserving human well-being.
Panellists at COP27's Ocean Day said that good governance and funding were key to adaptation but to solve ocean problems, increased mitigation that also aid adaptation, improved knowledge base, equitable trust building among stakeholders as well as stronger regional diplomacy to exchange best practices need to be kept properly onto the agenda. Arghya Sinha Roy of Asian Development Bank (ADB) told that the ADB's Healthy Oceans Action Plan, finances technical assistance for ocean health and marine economy projects, under Bank's blue financing.
During the discussions on financing coastal adaptation, it has been acknowledged that 37 per cent of the world's population live within 100 km of a coast, however, SDG14 (life below water) receives the least amount of long-term funding as compared to any of the other SDGs.
New 'Loss and Damage' Fund for Vulnerable Countries
Amongst several other benevolent decisions, as the Parties adopted, one of the major developments of COP27 was considered as reaching a breakthrough agreement on a new 'Loss and Damage' fund for vulnerable countries, which were hit hard by climate disasters. UN Climate Change Executive Secretary, Simon Stiell said that this outcome will not only move the world forward but also address the impacts on communities whose lives and livelihoods have been ruined by the very worst impacts of climate change. COP27 also ensued in reaffirming commitment to limit global temperature rise to 1.5°C above pre-industrial levels and to cut GHG emissions and adapt to the inexorable impacts of climate change, which will also enhance the sustenance in terms of finance, technology, and capacity building desired especially by developing countries.
Significant progress on adaptation was observed in COP27, with governments agreeing upon the ways to move forward on the Global Goal on Adaptation, which will conclude at COP28 and inform the first GST, improving resilience amongst the most vulnerable. New pledges, totalling more than USD 230 million, were made to the Adaptation Fund at COP27. These pledges will help many more vulnerable communities adapt to climate change through concrete adaptation solutions. 'Sharm el-Sheikh Adaptation Agenda' was also declared in order to enhance resilience for people living in the most climate-vulnerable communities by 2030. UN Climate Change's Standing Committee on Finance would be preparing a report on doubling adaptation finance for consideration at COP28 next year.
The 'Sharm el-Sheikh Implementation Plan' as COP 27's cover decision, acmes that a global transformation to a low-carbon economy is expected to require investments of at least USD 4–6 trillion a year. Delivering such funding will require a swift and comprehensive transformation of the financial system and its structures and processes, engaging governments, central banks, commercial banks, institutional investors, and other financial actors. Moreover, a new five-year work programme was also launched at COP27 to promote climate technology solutions in developing countries.
At COP27, unrelenting deliberations took place on setting needs and priorities of the Parties, thereby developed schema and resolute implementation plans for the future, henceforward we must win this battle for 'People and the Planet'.
Dr Anil Pratap Singh, General Secretary and Founder Director, Global Science Academy (GSA), Basti, Uttar Pradesh, India; Website: www.gsaindia.org
This article and more from TerraGreen can be viewed here: https://terragreen.teriin.org/