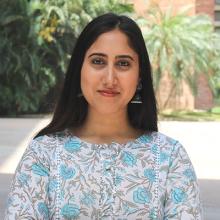 Ms Shiren Pandita
Area Convenor, Transport and Urban Governance
Ms Shiren Pandita is engaged with the Transport and Urban Governance Division of The Energy and Resources Institute (TERI) as a Research Associate. She is also the Area Convenor of the Transport and Urban Governance Area. An urban planner with specialization in climate science, and urban development and management both at the national and sub-national level, Ms Pandita has extensively worked on policy dynamics, climate change mitigation and adaptation, de-carbonizing the transport sector, and electric mobility planning in Indian cities.
She has previously worked on rural projects with the Government of India to promulgate the rural-urban continuum within the development sector.
An avid advocate of women rights in urban development, Ms Pandita has published several articles providing critical insights on pressing issues of accessibility, gender biases, and marginalization in India's urban planning context.
Email: shiren.pandita@teri.res.in