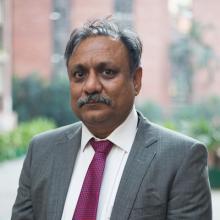 Dr Suneel Pandey
Director, Environment & Waste Management
Dr Suneel Pandey is presently Director, Green Growth and Resource Efficiency Division at The Energy and Resources Institute (TERI), New Delhi. In addition, he is also working as Adjunct Faculty and Head for Centre for Regulatory & Policy Research of TERI University.
He has more than 25 years of consultancy/research experience in the areas of municipal, industrial, and hospital waste management; waste-to-energy issues; impact assessment; air, water, and soil quality monitoring; site assessments; performance evaluation of ETP; and institutional strengthening and capacity building. He obtained his PhD degree in hazardous waste characterization from Nagpur University while working as Project Fellow at the National Environmental Engineering Research Institute (NEERI), Nagpur. He obtained MSc degree in analytical chemistry as well as his BSc degree in chemistry from Banaras Hindu University, Varanasi, India.
Prior to joining TERI, Dr Pandey has worked for ERM India as Consultant for two years where he was working on projects related to hazardous and hospital waste management, environmental site assessments, and institutional strengthening and capacity building. He has also worked as research assistant at Hong Kong University of Science and Technology on development of landfill liner for containment of land disposed hazardous waste and University of Hong Kong on deriving material balances and associated environmental pollution for Hong Kong region as part of postdoctoral research.