India - Japan Energy Forum 2013 'Conference'
Expanding technology cooperation in energy efficiency, renewables and smart community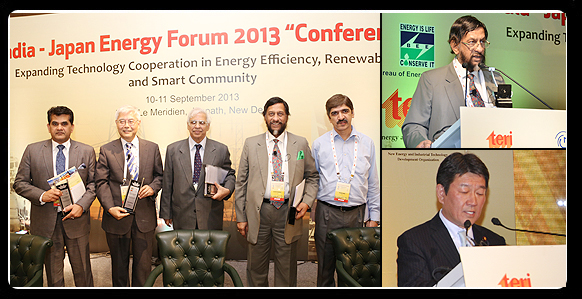 The fifth India-Japan Energy Forum was organized by TERI in association with NEDO during 10-11 September, 2013 at Hotel Le Meridien, New Delhi. Over 250 participants including around 100 from Japan participated in this high profile event. The conference focused on enhancing technology cooperation and business opportunities between the two countries in energy efficiency, renewable energy and towards building smarter communities.
The Forum provided an excellent opportunity for prominent figures in energy-related fields from the private and public sectors of both countries to further the technology cooperation by deliberating on various aspects related to energy efficiency and renewable energy with a focus on building smart communities. In addition, findings from two research studies conducted jointly by TERI and NEDO were also presented during the Forum. The studies focused on means to accelerate development and deployment of smart grid technologies, Small Wind Power, Small Hydro Power and second generation biofuels in India.
Delivering the inaugural address, Mr. B K Chaturvedi, Member, Planning Commission, Government of India said that the global economy is today looking for efforts of major nations for undertaking measures for sustainable economic development. Considering the finiteness of natural resources like oil and gas and coal, major efforts have to be concentrated on promoting renewables, specifically, solar, wind and biomass energy. Recent developments in these areas give us enormous hope. India and Japan would have to jointly work on these areas more intensively so as to further expand this sector for meeting the energy needs of our respective economies.
Speaking on the occasion, Dr. R. K. Pachauri said 'India and Japan are major importers of energy, but significantly they also now have a close strategic relationship which is evolving rapidly. Concurrently, business and industry in both countries are also attempting to create closer alliances. Against this background the India-Japan Energy Forum 2013 acquires enormous importance, and would present a unique opportunity for closer cooperation in the energy sector between the two countries'.
Honorable Deputy Chairman of the Planning Commission, Mr Montek Singh Ahluwalia graced the reception and emphasized that India and Japan can enhance cooperation through demonstration and collaborative projects. He talked about various areas where interventions can be made including super-critical technology in power plants and energy efficiency initiatives in collaboration with BEE.
Delivering the valedictory address H.E. Mr. Toshimitsu Motegi, Minister of Economy, Trade and Industry, Japan expressed his gratitude to the Indian government for organizing the India-Japan Energy Forum and mentioned that co-operation between the two countries in energy sector will help in achieving energy security and economic growth. He further stated that Japan is diversifying its energy portfolio with more renewable thus reducing its' dependence on non renewable sources such as nuclear, coal and gas. He also expressed that public private partnership in this regard could lead to policy, technology and market transformation.
Other eminent speakers at the Forum included Mr Amitabh Kant, CEO and MD, Delhi Mumbai Industrial Corridor Development Corporation, Mr. Kazuo Furukawa, Chairman, NEDO and senior representatives from Bureau of Energy Efficiency (BEE), Ministry of New and Renewable Energy (MNRE), Kawasaki Heavy Industries Ltd. NEC Corporation, Toshiba Corporation, and many other experts and industry leaders.
Date:
10-11 Sep 2013
Location:
Le Meridien, New Delhi
Category:
Conference
Contact
Mr Upinder Singh Dhingra
Research Associate
Industrial Energy Efficiency
Industrial Energy Efficiency Division
E-mail:
upinder.dhingra@teri.res.in