Workshop on Mobility for poor: Improving informal transport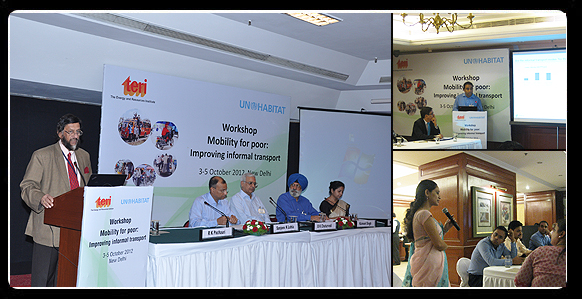 The Energy and Resources Institute (TERI) in partnership with UN-Habitat organized a three-day workshop titled 'Mobility for poor: Improving informal transport' from 3-5 October 2012. The aim of the workshop was to create a holistic understanding of informal transport systems and to facilitate knowledge/experience sharing on challenges and solutions for improving informal modes of transport like cycle rickshaws, shared autos, mini buses, etc.
Dr Pachauri gave the welcome remarks in the workshop and emphasized the need to bring about technological upgradation/innovations in the sector while also finding the means to finance these initiatives. The workshop was inaugurated by Shri B K Chaturvedi, Member, Planning Commission, Government of India. In his inaugural address, Mr Chaturvedi highlighted the significant role played by the informal modes in meeting the niche mobility demands of the poor and referred to them as the 'unregulated/unlicensed public transport services'. He highlighted the need to improve these informal modes so as to ensure better accessibility of urban transport services through last mile connectivity, and also to meet the mobility needs of the poor. The inaugural session also included speeches by Mr S K Lohia, OSD (UT) and Ex-Officio Jt. Secretary, Ministry of Urban Development, Government of India; Dr Kulwant Singh, Regional Advisor, UN-Habitat and Ms Mili Majumdar, Director, Sustainable Habitat Division, TERI. All key speakers highlighted the significance of informal modes in providing employment as well as mobility to the poor.The workshop was attended by various stakeholders representing service providers, non-governmental organizations, planners and policy makers from India, Philippines, Bangladesh, and Indonesia.The three-day event deliberated on a range of issues related to the sector including the legal, regulatory, environmental, and safety issues. The workshop provided a platform to the stakeholders to bring forward their viewpoints and their experience in the sector on the role played by the informal modes. Several initiatives targeting improvements of these modes were also discussed in the workshop. A consensus was achieved in giving due recognition to these modes in all aspects from policy making to planning in a way that it continues to provide affordable services to the poor and complements the public transportation service rather than compete with the same. Key policy interventions/action areas were identified to improve and integrate informal transport systems. Also, it was felt that more research was required to better understand the benefits and concerns associated with the use of these modes.