TERI-ITEC Courses 2010-11 - Course II - Applications of biotechnology and its regulation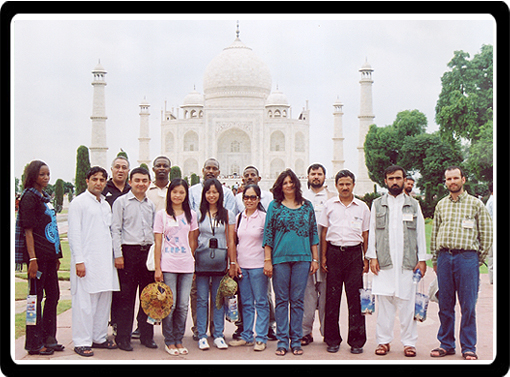 TERI organized the 4th Training Programme on "Applications of Biotechnology and its Regulations" from 2-22 August 2010, under the Indian Technical Economic Cooperation (ITEC) Programme and Special Commonwealth African Assistance Plan (SCAAP) Programme of the Ministry of External Affairs. This is a step forward in our commitment of building capacities in nations, where help in capacity building is required. In all, 14 participants from Nigeria, Bangladesh, Samoa, Sudan, Myanmar, Indonesia, Chile, Afghanistan, Vietnam, and Ethiopia participated in the training programme.
The programme essentially focused on agriculture biotechnology, techniques, and status of acceptance of new technologies. In addition to traditional biotechnologies such as tissue culture propagation (micropropagation), use of biofertilizers and biopesticides (for organic agriculture), issues related to plant variety and farmer's rights in their contest on globalization were discussed. Modern biotechnology based on molecular markers breeding and genetic engineering was discussed in detail, both from the technology point of view and from the point of view of issues related to its global acceptance. Biofuels, which are emerging as an alternate energy source, was also dealt in detail, both for the existing identified species and its future growth using biomass and agricultural waste.
Apart from research professionals from TERI and faculty members from TERI University, various experts like Dr S R Rao, Advisor, Department of Biotechnology, Dr Sachin Chaturvedi, Senior Fellow, Research and Information System for Developing Countries (RIS) were invited to deliver the lectures.

Apart from classroom teaching and field visits, excursions to prestigious institutions were also organized. The participants visited various laboratories involved in research in and around New Delhi including TERI's laboratories located in the city. They visited the National Phytotron facilities at the Indian Agricultural Research Institute, New Delhi. The participants also visited the gene bank and plant quarantine facilities at National Bureau of Plant Genetic Resources, New Delhi. They were also taken to farms to show them field trials being conducted at Rasi Seeds, Sohna and they visited lab facilities at Rasi Seeds, Manesar.
The participants were taken to G B Pant University of Agriculture & Technology, one of the leading institutions in India, to give them an insight into the ongoing research in agriculture technology. They also visited TERI's Retreat facilities at Mukteshwar and field trials at Supi.
As a part of the study tour, the participants were taken to Agra to visit the Agra Fort, Taj Mahal, and so on.
All the sessions were very well received by the participants. They were delighted after completing the course and found it very useful. They gained both theoretical and practical knowledge. Some of the participants felt that the duration of the training programme was too short and, thus, could be organized for a longer duration (2-3 months) so as to have more practical sessions and for each topic to be dealt with more extensively. They also suggested that each participant should prepare a country report and the same could be presented during the course.
For further information, please contact
ITEC Coordinator
Course Coordinator
Ms Swati Ganeshan
Research Associate
Centre for Global Agreements, Leg. & Trade
Resources, Regulation & Global Security Division
The Energy and Resources Institute
Darbari Seth Block, IHC Complex, Lodhi Road
New Delhi 110 003, India
Tel. +91-11-2468 2100, 4150 4900
Fax +91-11-2468 2144, 2468 2145
E-mail: swati.ganeshan@teri.res.in
Dr Vibha Dhawan
Executive Director (Adv. Biotech.)
Plant Tissue Culture & Molecular Biology
Biotechnology & Bioresources Division
The Energy and Resources Institute
Darbari Seth Block, IHC Complex, Lodhi Road
New Delhi 110 003, India
Tel. +91-11-2468 2100, 4150 4900
Fax +91-11-2468 2144, 2468 2145
E-mail: vibhad@teri.res.in
Contact
Dr Vibha Dhawan
Executive Director (Adv. Biotech.)
Biotechnology & Bioresources Division
E-mail:
vibhad@teri.res.in