TERI-BCCR Climate Research School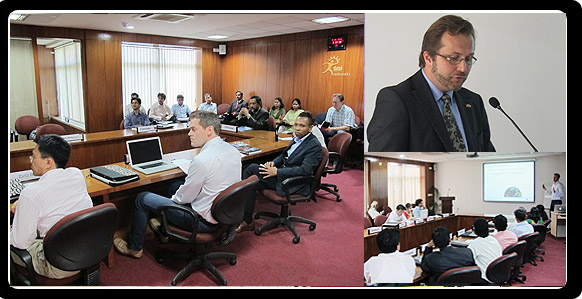 TERI in collaboration with Bjerknes Centre for Climate Research (BCCR), Norway, and Norwegian Ministry of Foreign Affairs organized a five-day residential climate research school at TERI University, New Delhi, from 3-7 October 2011.
Dr Pachauri, in his address, highlighted the importance of capacity building initiatives in the field of climate modeling in the developing world. Prof Eystein Jansen, Director, BCCR, in his video message, and Mr Håvard Hugås, Counsellor, Climate Change and Energy, Royal Norwegian Embassy in his inaugural address, emphasized the importance of climate modeling and the need for such capacity building hands-on training workshops.
Over 20 participants from India, Nepal, Bangladesh, Ethiopia and Norway attended the training school and expressed their happiness in learning not only the climate models but also tools (linux, statistical, and graphical tools). This was the first among the three yearly research schools planned. The next research school will be based on the theme Earth System Modeling and is plans to invite a much larger participation, both in terms of students and professionals.
We would like to thank the Norwegian Ministry of Foreign Affairs for funding this project under TERI-BCCR collaboration entitled "Climate Change impact assessments, including climate change, process and earth system modeling"