TERI-ITEC Courses 2011-12: Course III - Designing and implementing solar-energy-based livelihood project for rural communities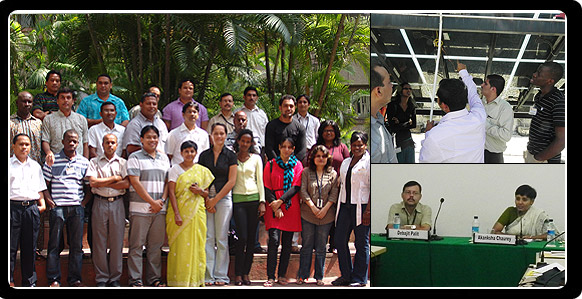 The Energy and Resources Institute (TERI) conducted a three-week training programme from 12-30 September 2011 on designing and implementing solar-energy-based livelihood projects for rural communities. The course observed full enrollment of 20 participants, comprising mostly of middle-management-level officials from various energy and renewable energy departments across 14 countries of Africa, Asia, and the Pacific Islands. The programme was held at TERI Gram, Gual Pahari, NCR.
The training was structured to provide both theoretical understanding through classroom sessions, and hands-on experience on how technology works through study tours, exposure visits, and interactive sessions with TERI's professional staff. Besides TERI's faculty members, experts on specific subjects from the industry and independent consultants also conducted sessions.
The course aimed to build capacity of organizations and individuals from developing countries, enabling them to apply the enhanced knowledge and skills in large-scale generation of sustainable livelihoods utilizing solar PV technology. It explains the extent to which solar technology can be utilized in improving the energy access in rural areas through creation of micro energy enterprises to meet the local energy needs.