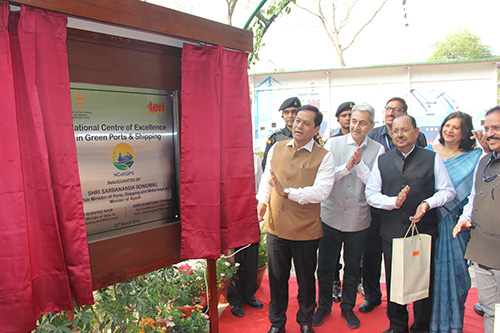 Press Release
Union Minister Sonowal inaugurates the first National Centre of Excellence in Green Port and Shipping at TERI
Read more
TERI: The best way to predict the future is to create it
The Energy and Resources Institute (TERI) is an independent, multi-dimensional organization, with capabilities in research, policy, consultancy and implementation. TERI is based in New Delhi, India. Our mission is to usher transitions to a cleaner and sustainable future through the conservation and efficient use of energy and other resources, and innovative ways of minimizing and reusing waste. Now into the fifth decade of our journey, we are constantly raising the bar to realize our goals and fulfil our mission.
Areas of Expertise
A multi-dimensional organization, TERI functions across domains of policy, technology development, consultancy, and implementation. Working tirelessly to find solutions for the ailing planet, TERI's myriad areas of expertise range from engagement in clean energy transitions, advanced biofuels, climate change, sustainable use of land and water, sustainable agriculture, transport, and buildings.
In the Spotlight
The memorial award in the name of TERI's Founder-Director Dr RK Pachauri aims to recognise exceptional research contribution to the fields of environment, climate change, and sustainable development.
Read More
Celebrating TERI's Founder-Director Dr Pachauri's passion for cricket, the tournament brings together climate and cricket- the two fields he cherished immensely.
Read More
Wall of History
1974
TERI established in Mumbai with Mr J R D Tata as Chairman
1975
Mr Darbari Seth elected Vice Chairman of the Governing Council
1981
Dr R K Pachauri assumes responsibility as the Director of TERI
1989
TERI organises The International Conference on Global Climate Change; the first of it's kind to be organised in a developing country
1990-93
TERI North America established in Washington.
TERI SRC established in Bengaluru, Karnataka, TERI NE Regional Centre established in Guwahati, Assam.

1994
TERI moves into its own building – Darbari Seth Block, India Habitat Centre
1999
TERI completes 25 years of its formal existence. Green Olympiad, a quiz for schools, launched
2001
First annual Delhi Sustainable Development Summit (DSDS) inaugurated.
TERI School of Advanced Studies established.
TERI JAPAN established
2007
IPCC, with Dr Pachauri conferred the Padma Vibhushan, for his contribution to science and engineering
2010
TERI recognized as an official member of the United Nations Environmental Programme Sustainable Building Climate Initiative that works to promote sustainable building practices worldwide
Event Structure
S. No.
Date and Month
Event Name
Event Description
1
Jun-23
Launch Event
An evening to commemorate the launch of 50 years of celebration for TERI colleagues and partners. The event will witness the launch of 50 years TERI brand logo and mascot followed by an expert lecture by Mr R Mukundan, Managing Director & CEO, Tata Chemicals.
Environment and Industrial Biotechnology (TERI 50 years)
2
July 2023
One day Webinar
Tentative topic- ''TERI's action on Soil and Water issues in India''. The participants of the event will be students, researchers, professionals, and government officials.
3
September 2023
Series of 2-days webinar
Tentative topic- "TERI's action on industrial biotechnology - oil and gas sector". The participants for the event will be industry professionals, academia, and government officials.
4
September 2023
Mega Marathon 
Mega Marathon in Delhi and other major cities in India to spread TERI's footprint through Marathon.
Earth Science and Climate Change Division (TERI 50 Years)
June 2024
TERI and 50: Institute-wide
1. A massive show at the WSDS 2024 leading to TERI's 50th Anniversary. I remember to celebrate the 25 years, we had launched the DSDS….
2. Also I think we can pool corporate resources to support a publication on India's Net Zero Story or Pathways to Net Zero (just like the Green India and Disha publications even 30 – 40 lakhs given by each corporate group could help pool 4 to 5 crores) and have chapters for Climate Resilient Development and Pathways, Industry, Sustainable Buildings, Electricity, Transport, Waste and Land Resources contribute). We can publish this in June 2024.
TERI and 50: specific to Program on Climate and Air
1. Focus on TERIs journey with regard to work on Climate Change: A Narrative/ Infographic on TERIs website providing TERIs history of work in this area.
2. Analyse TERIs Sustainability Footprint/ Carbon Footprint and showcase it through its platforms.
3. Launch TERIs Impacts from its work linked to Panchtattva – Air, Water, Fire - energy, Earth – land , Sky – climate change.
4. We are launching a Working Group on Climate Finance with Industry members. The output from this group could be launch next year.
5. Constitution of a Global Task Force on Adaptation.
Suruchi Bhadwal, Chair
Prof. Anand Patwardhan, may be co-chair
Saleem-ul-Huq
Somebody from ICIMOD
Somebody from the Global Centre for Adaptation
Jonas Atela, ACTS, Kenya
Others……
This Taskforce can meet a few times online and come up with a blueprint of what should Global Goal on Adaptation look like. And launch it at COP 29.
6. We may think of revisiting the structure of TEDDY. It was an important document when energy data was difficult to access. Now, what everybody looks for is the data on policies relevant for climate change at national, state, and city level. An annual publication to fill that gap would be like taking a leadership in knowledge management.
7. Launch of portal on Air Quality for India
Aug-23
Darbari Seth Memorial Lecture
50 years of excellence (Event layout and constitution of Dr Pachauri Award )
Environment Education and Awareness
2023 - June, July, August,
Spetember, October, December.
2024 - January, May, June.
Circulation of dedicated content to more than a lakh students
As part of GREEN Olympiad, the new 50-year logo will be placed on the question paper along with dedicating one page for TERI's 50 years write up. GREEN Olympiad Question papers are administered by students in the age bracket of 9 - 18 years and are later kept in school library for future reference. The booklet will be circulated to over 100,000 students
Implementation of PAN India student level contests
For 50 year celebration
June 2023- June 2024
Environmental Sustainability Competition (School Students)
A PAN India competition for school students to seek new ways to support the transition to sustainability through Photography and Blog writing competitions tiled, 'Imagine Tomorrow'.
Youth Sustainability and Leadership Challenge (College Students)
A PAN India Challenge for college students to develop scalable sustainable solutions to environmental challenges. Colleges and universities, as leaders of innovation in our society, have the potential to demonstrate several sustainable principles around their campuses. Such potential needs to be mobilized to engage faculty and students with the wider communities that they are part of so that they can provide a road map for sustainable solutions within their campuses. The solutions can be related to sustainability, innovate technologies, designs, or plans to practice simple environment-friendly actions (LiFE actions) in their daily lives.
Dec-23
GRIHA Summit
(Summit- Special session, GRIHA exhibition, award ceremony, screening of TERI film, merchandize)
Feb-24
World Sustainable Development Summit
Special session, exhibition, TERI film, merchandize
Jun-24
Completing 50 Years Celebration
A half day event commemorating the completion of 50 years of successful existence
Goa Regional Centre
June/July 2023; Sept 2023/ Dec 2023
Plantation drive in schools' campus.
The plantation drive can be undertaken in schools. we can explore funding from nearby corporates and can be initiated in June/July. This will be checked with APL for Mysuru area.
SHG, training programme on livelihood opportunities need basis for example Best out of waste from fishing nets
There are lot of waste fishing nets and under one of the projects this activity is already being undertaken in Goa and so has good potential. Similar training programme on livelihood opportunities can be explored in Goa. This will be checked with Merico under CSR funds.
Land Resources Division
2023 - November.
2024 - January.
Potential of carbon finance in NE
National level market for carbon finance
Environment and Waste Management Division
July/August 2023
One event under MNCG CoE
August/September 2023
Event under Udaipur Waste co-digestion project
Transport and Urban Governance Division
Feb-24
Creation and launch of a city alliance for urban climate action
TUGD is working on the idea around creating a city alliance for urban climate action.
The alliance would build a coalition of member cities (municipal corporations) that are committed to the mission and objectives of achieving climate resilience, in line with the global and national climate agendas. We aim to launch the alliance in February 2024 at international events.
Apr-24
Creation and launch of online, self-sustaining learning platform
The team is currently developing a proposal for an online, self-sustaining learning platform that would entail short courses/modules on topics like sustainable urban development, urban climate action, sustainable mobility, integrated transport planning and policy advocacy. We aim to launch the same in April 2024.
Development of compendium document
We also plan on conducting capacity building initiatives for school students to strengthen their knowledge on the Sustainable Development Goals, particularly Goal 11 and Goal 7. This can include tours to show urban development initiatives in the country, competitions (hackathons, photography etc.) and film festivals.
throughout the year
Development of compendium document
The division also plans to launch several knowledge products, learning tools, policy documents, and other effective materials that would have a transformative impact in the development arena. This will be showcased at national and international platforms by leveraging partner networks. The launches will take place throughout the year, depending upon their scale.
Sustainable Building Division
September/October 2023
Establishment of India Solar Shading Alliance (ISSA)
Establishment of India Solar Shading Alliance (ISSA) with industry partners under the leadership of TERI.The announcement of this Alliance would be made in September/October 2023.
Aug-23
Under the Mahindra -TERI Centre of Excellence: Augmentation and NABL scope enhancement of MTCoE
Under the Mahindra -TERI Centre of Excellence: Augmentation and NABL scope enhancement of MTCoE Lab by inducting UV-Vis-NIR Spectrophotometer and Environmental Chamber for measuring Solar Reflectance, Solar Reflective Index (SRI) and other thermal properties at variable temperature by Aug. 2023.
Mar-24
Launch an online tool to evaluate energy-efficient glazing products to comply with national standards
Launch an online tool to evaluate energy-efficient glazing products to comply with national standards.
This will be done under the aegis of the Glazing Society of India (GSI) along with industry partners. The launch is expected in March 2024.
Nov-23
Partnering with the Smart Surfaces Coalition (SSC) to support the implementation of cost-effective smart surface solutions
Partnering with the Smart Surfaces Coalition (SSC) to support the implementation of cost-effective smart surface solutions for the 1st city in India i.e., Bhopal, Madhya Pradesh, TERI will release the analytical tool for cost-benefit analysis of the potential for smart surfaces implementation to mitigate heat island effect; by Nov. 2023.
Mar-24
As part of ICAP, a guiding framework for integrating thermal comforts in the housing sector on a mission mode.
As part of the India Cooling Action Plan (ICAP), a guiding framework for integrating thermal comforts in the housing sector on a mission mode is proposed to be announced within March 2024. TERI will anchor the programme to work initially with 3 states i.e., Uttar Pradesh, Madhya Pradesh, and Maharashtra/Andhra Pradesh. The World Bank is likely to support this initiative.
Sustainable Agriculture Program
cricket competition to commemorate TERI's 50th anniversary
A cricket competition should be held to commemorate TERI's 50th anniversary. Participants will be from nearby research/academic institutions or between TERI departments
climate change awareness session
Invite high school and college students to a broad climate change awareness session and demonstrate how TERI has contributed over the last 50 years.
blood donation camp
A blood donation camp for thalassemia patients might be arranged in partnership with the Indian Red Cross Society.
2023 - September, October,
November, December
Lecture series at TERI Gram
Arrange in-person Lecture series at TERI Gram with Eminent Scientist from Agricultural Biotechnology.
- Mycorrhiza Commercial partnerships -Chambal, DCM & Zuari as part of TERI's 50th anniversary product launch event/events.
Social Transformation and CSR
June – August 2023
Stakeholder Round-Table
Stakeholder engagement
September – November 2023
State Level Workshop
Discuss about TERI's contribution to the state and it's developmental journey
(States e.g.-UP, Bihar, Jharkhand)
Throughout the year
Outreach activities on field – (Quarterly)
Conduct 5 on-ground activities which will include TERI's 50 years' logo and branding
June – December 2023
Participate in National & International Level Events and Exhibitions
Put up 2 stalls in National & International Level exhibitions to create awareness and exposure of TERI
November 2023- June 2024
National Conferences – Dec 23, Feb & March 24
• Clean energy and applications
• CSR, SDG, and Carbon markets
April 2024-June 2024
Impact Documentation (Photo/Video)
Using the existing video documentaries and photo dossier, create a video that shows how TERI has impacted lives and livelihoods across India using various low-carbon technologies
TERI Mukteshwar
TERI's contribution for Sustainable Development for Himalayan Communities
As there is a Community Radio Station at Mukteshwar, they are planing to organise a live program through Radio as TERI's 50th Year Celebration. The theme will be TERI's contribution for Sustainable Development for Himalayan Communities. The Tentative timeline is upcoming Week. The program will be based on two way communication with Radio Listeners.
Water Technology Area (TERI-North East Centre Division)
June/July 2023; Sept 2023/ Dec 2023
Plantation drive in schools' campus.
The plantation drive can be undertaken in schools. we can explore funding from nearby corporates and can be initiated in June/July. This will be checked with APL for Mysuru area.
SHG, training programme on livelihood opportunities need basis for example Best out of waste from fishing nets
There are lot of waste fishing nets and under one of the projects this activity is already being undertaken in Goa and so has good potential. Similar training programme on livelihood opportunities can be explored in Goa. This will be checked with Merico under CSR funds.
UNDP SGP
Dec-23
Local Action for Environment Conservation
( An event will be organized to showcase the work being undertaken by several grass root NGOs to conserve the environment) – Timeline – December 2023 (Tentative)
E-platform to showcase NGOs case studies
An E – platform will be established to share the case studies by different NGOs showcasing their best practices in the area of environment conservation, climate change etc.) – Timeline – December 2023 The source of funding will be from SGP - UNDP only.
TERI Southern Regional Centre
Dec-23
One day event for "Strengthening ties with Industries"
One-day event, where they would like to invite Industry Heads (TERI prominent Clients including Public Sector). This event will be planned for the month of December 2023.
Half day event for SRC alumni - Professional to explore new business areas.
one half-day event for SRC alumni - Professional to explore new business areas.
Coastal Ecology and Marine Resources (TERI-North East Centre Division)
2023 - August, September,
October, December
An event on 'Blue Carbon Literacy for Climate Change' 
Will include sub activities such as i) launch of event on Blue Carbon Literacy for Climate Change Solutions for state of Goa ii) Mangrove walks/Khazan ecosystem tours for school and colleges ii) One day session for corporates on blue carbon Literacy. Potential Funding: IPSHEM-ONGC/NABARD/GSL/GEDA/DST (Tentatively - August - October 2023)
Coffee table book on seafood diversity of Goa
Potential funding: Fisheries and Tourism Depts for funding (Tentatively - December 2023)
Photography competition on the impacts of climate change on biodiversity and the natural environment
For school and college students
Potential Funding: GSBB/Climate change cell (Tentatively - October 2023).
Agricultural and Rural Extension Area, Guwahati
(TERI-North East Centre Division)
2023 - June, November.
2024 - March
Organization of tree planting drive in schools and community
A tree planting drive will be organised on the eve of world Environment Day on 5th June 2023. A workshop will also be organised on that day highlighting the importance of tree plantation to conserve the environment and mitigate climate change at local level.
Tentative timeline: 5th June 2023
Possible source of funding: Assam Science Technology and Environment Council, Guwahati, Assam
Awareness programme on WASH
An awareness programme on WASH will be organised at Hailakandi district involving 116 Water User Committee, Functional Testing Women Group, and local people on the eve of World Water Day
Tentative timeline: 22nd March 2024
Possible source of funding: Hailakandi Public Health Engineering Department (PHED)
Stakeholder meet on water and climate change
Explanation: A multi-stakeholder meet will be organised in Guwahati, Assam on the issues related to water conservation and climate change.
Tentative timeline: November 2023
Possible source of funding: Sponsorship from SBI, NRL, Oil India Limited
Earth Science and Climate Change
A Narrative/ Info graphic on TERIs history of work in this area
TERIs Sustainability Footprint
Launch TERIs Impacts- Panchtattva
Launch of a Working Group on Climate Finance with Industry members
Constitution of a Global Task Force on Adaptation
Revisiting the structure of TEDDY
Launch of portal on Air Quality for India
Contact
Our Address
TERI - The Energy and Resources Institute
6C, Darbari Seth Block, India Habitat Centre, Lodhi Road, New Delhi - 110 003, India
Call Us
(+91 11) 2468 2100
(+91 11) 7110 2100