Preparing for the Future:
Designing Climate Products and Models for India (PREPARE)
Work Package 1
Objective
The proposed work plans to continue with TERI's ongoing research with the objective of improving understanding of climate processes and its linkages at regional scales, especially under the growing extreme climate event narrative using state-of-art dynamical modelling products, such as those from the CORDEX Project, and statistical downscaling techniques.
The project also envisages carrying out development of a multi-temporal forecasting system, specific to India, which would help tailor climate services for stakeholders and users' needs.
---
Main Activities
Engineering for the future: Extreme event analysis

This work package focusses on the analysis and modelling of extreme events for engineering purposes, i.e. to produce outputs that are useful for building resilient infrastructure or for wind energy applications.

Development of a multi-temporal forecasting system for India with focus on water resources

This work package aims to analyse and model the climate variability of precipitation and temperature regimes at multi-temporal scales, i.e. weather phenomena that occur from seasonal to decadal frequency.

Climate services products

The information of extreme events and frequency curves from #1 and multi-temporal forecasting model developed under #2 would be utilized to generate policy relevant information (climatic indices, drought indices, warm and cold spells, or growing season length) that would be useful at the sub-national scales guiding policy and decision making.

Scientific exchange and outreach

This would involve organization of yearly research schools in collaboration with the project partner on various themes of 'climate science, modelling and services' for the duration of the proposed project. This work package also involves the dissemination of project research products in the form of scholarly articles via popular science communication channels and journals.
Norwegian Partner: NORCE
---
Publications
Bhardwaj, Saurabh & Muriki, Santosh & Pedra, George & Barreto, Naurinete & Mesquita, Michel. (2019). TERI Climate Tool (TCT). 10.13140/RG.2.2.29184.58883.
Barreto, Naurinete & Mesquita, Michel & Pedra, George & Bhardwaj, Saurabh & Muriki, Santosh & Alves, Lincoln & Cavalcanti, Iracema. (2019). HyCOSM: a Hybrid-COupled-Stochastic Model for subseasonal climate prediction. 10.13140/RG.2.2.16438.24648.
Bhatia, Abhishek & Muriki, Santosh & Bhardwaj, Saurabh. (2019). Potential advantages of using a dynamically downscaled higher resolution regional scale model PRECIS over India. 10.13140/RG.2.2.20933.70886.
Yarker, Morgan & Mesquita, Michel. (2018). Using Social Media to Improve Peer Dialogue in an Online Course About Regional Climate Modeling. International Journal of Online Pedagogy and Course Design. 8. 1-21. 10.4018/IJOPCD.2018100101.
Bhardwaj, S., M. d. S. Mesquita, and N. J. C. Barreto (2017), Preparing for the future: Climate products and models for India, Eos, 98, https://doi.org/10.1029/2017EO085761.
Santosh Kumar M., Bhardwaj S., et al., (2017), Predictability of Active and Break Spells over India using Sub-seasonal to Seasonal (S2S) Prediction Project Database, WMO-Sixth International Workshop on Monsoon (IWM-6), November, 2017, Singapore.
Santosh Kumar M., Bhardwaj, S Evaluation of CORDEX Regional climate models in simulating rainfall over India during the southwest monsoon season (2017), International conference on Understanding, Predicting and projecting Climate change over Asian Region (UPCAR), 26-28 June,2017 at NARL, Tirupati, India.
Barreto, Naurinete & Mesquita, Michel & Pedra, George & Bader, Jürgen & Toniazzo, Thomas & Bhardwaj, Saurabh. (2016). Investigating the Intraseasonal Climate Signal through Maximum Covariance Analysis: a case study for Tropical Brazil and India. 10.13140/RG.2.2.19297.92007.
---
Events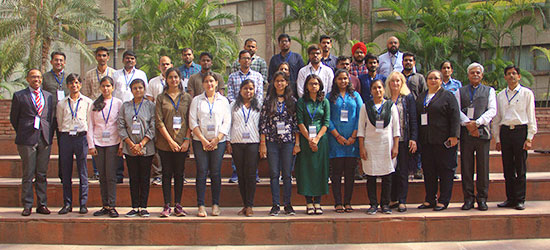 TERI-NORCE Research School on 'Towards data science in climate research: perspectives on climate extremes'
Date: 15-18 October 2019
Location: TERI, India Habitat Centre, New Delhi
The Energy and Resources Institute (TERI) in collaboration with NORCE, Norway, under the Phase 2 of the Norwegian Framework Agreement between the Norwegian Ministry of Foreign Affairs and TERI organized the Second four-day residential climate research school on "Towards data science in climate research: perspectives on Climate Extremes" from 15 to 18 October, 2019.
Read more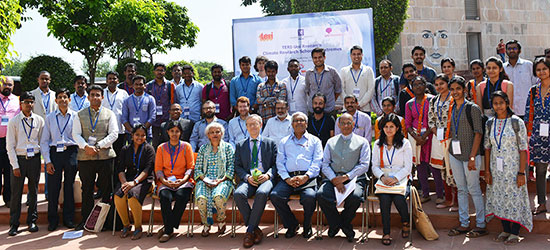 TERI - Uni Research Climate Research School on Extremes
Date: 18-22 Sep 2017
Location: TERI University, New Delhi, India
TERI, New Delhi in collaboration with The Uni Research, Norway invites advanced Masters level students, PhD students and early career scientists in the field of weather and climate sciences for a five day residential research school on Extremes in New Delhi.
Read more
---
Contact
Saurabh Bhardwaj,
Fellow, TERI
saurabh.bhardwaj@teri.res.in