To analyse technical challenges for integrating solar photovoltaic (PV) systems (with and without energy storage) in the distribution network and developing smart architecture as well as road map to accelerate the solar PV-based microgrid development in India
Work Package 1
Objective
To investigate key challenges associated with renewable energy integration in the distributed network and attempts to find solutions considering technical challenges, efficiency, reliability as well as financial viability with large-scale deployment of solar PV system based microgrids in India. The Work Package will also design and develop micro-grid architecture for integrating solar PV to dispatch controlled power considering power system operation as well as demand-side management. Further, the Work Package will develop smart micro-grid architecture based on field results through TERI's microgrid system and prepare a road map to accelerate the solar PV based microgrid development in India.
---
Main Activities
Technical review on different microgrid architectures for integrating Solar PV systems with and without energy storage in the distributed network.

The comparison of different microgrid models will be carried out for numerous factors, including controllable dispatching of active and reactive power for maintaining the power system stability and quality, techno-economics of the distributed generators, electricity tariff mechanisms, types of load and their reliability levels, geographic location-based constraints, operations, and maintenance.

Modelling and analysis of solar PV based microgrid for grid connected and off-grid systems

Technical analysis of the real time operational results, of PV system grid interaction with load for tuning the power conditioning devices, will be conducted. The University of Agder's (UiA) expertise on modelling and analysis of off-grid as well as on-grid system based on solar PV will be utilized.

Develop smart microgrid architecture to scale up solar PV based microgrid projects in India

A detailed methodology will be developed for smart microgrid architecture considering the power quality and effective power flow management with innovative power droop characteristics and power network security. The UiA expertise will be used for developing smart microgrid architecture model in coordination with the TERI.

Knowledge sharing, dialogue, and collaboration

This activity will focus on dissemination of the knowledge and build up capacity of various stakeholders on microgrid technologies and its applications.
Norwegian Partner: University of Agder
Faculty of Engineering and Science, PO Box 422, NO 4604, Kristiansand, Norway
Website: https://www.uia.no/
---
Publications
"Battery Capacity Estimation for Building Integrated Photovoltaic System: Design Study for Different Geographical Location(s)", by Mohammed A.M. Yassin, Mohan Kolhe, Arvind Sharma, Shirish Garud, 9th International Conference on Applied Energy, ICAE2017, 21-24 August 2017, Cardiff, UK. (in press, Energy Procedia of Elsevier).
---
Events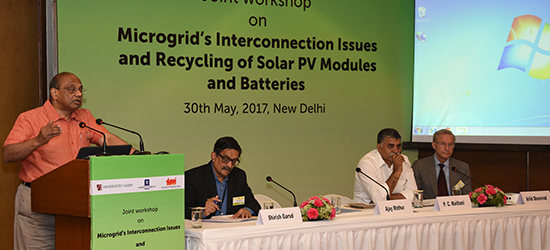 Joint Workshop on 'Microgrid's Interconnection Issues and Recycling of Solar PV Modules and Batteries'
Date: 30 May 2017
Location: Magnolia Hall, IHC, New Delhi
As a part of Norwegian Frame Work Agreement part-2, TERI and University of Agder, Norway organized a workshop on 'Microgrid's Interconnection issues and Recycling of Solar PV Modules and Batteries'.
Read more
---
Contact
Mr Shirish Garud,
Director, TERI
shirishg@teri.res.in
Mr Arvind Sharma,
Fellow, TERI
asharma@teri.res.in