About
In the pilot phase, the EVA project focuses on the state of Maharashtra. More than 30 % of the state of Maharashtra falls under the rain shadow area and about 84 % of the total cultivated area is rainfed. Drylands in Maharashtra face the combined stress of human pressures and drought. Communities within these drylands are poor and face extreme conditions of water stress.This pilot project will assess the extreme risks and vulnerabilities to climatic extreme events in the drylands of Maharashtra and their impacts on agriculture and water resources, and the implications for community-based adaptation in response to these extreme events.
Outreach
Workshop
Indo-Norwegian Science-policy dialogue on Extreme climate events and adaptation in Maharashtra for World Environment Day 2014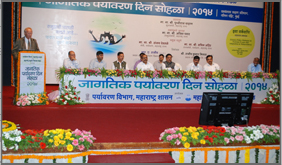 On the occasion of World Environment Day, TERI, Department of Environment, Government of Maharashtra and Norwegian Embassy, together hosted the 'Science and Policy Dialogue on Extreme Events and Adaptation in Maharashtra' in Mumbai on 7 June 2014. This was the final workshop in the two-year pilot project "Extreme Risks, Vulnerabilities and Community-Based Adaptation in India (EVA)", funded by the Norwegian Embassy in India. The EVA project is a collaboration between TERI, AFPRO, and the Norwegian CIENS institutes Norwegian Institute for Urban and Regional Research (NIBR), Norwegian Institute for Water Research (NIVA), and Center for International Climate and Environmental Research in Oslo (CICERO).

The Science-Policy Dialogue in Mumbai was inaugurated by Hon'ble Chief Minister of Maharashtra, Shri Prithviraj Chavan, who in his address emphasised the significance of climate change and increased risk of extreme climate events for Maharashtra, and the efforts done by the Government of Maharashtra to combat problems of pollution and environmental risks. Dr Trond Vedeld, Senior Researcher, NIBR presented the highlights of the EVA project to an audience of about 600 persons from government, academia, and civil society, and in the presence of Hon'ble Cabinet Minister for Environment, Shri Sanjay Deotale and Hon'ble State Minister for Environment, Shri Sachin Ahir. The other dignitaries present at the event were Principal Secretary, Environment Department, GoM, Shri R. A. Rajeev; Principal Secretary, Water Supply and Sanitation Department, GoM, Shri Rajesh Kumar; Member Secretary, Maharashtra, Pollution Control Board, Shri Rajeev Kumar Mittal; Executive Director, Action for Food Production and retired IAS officer, Shri D. K. Manavalan along with Distinguished Fellow and Director, Earth Science and Climate Change Department, Shri Prodipto Ghosh.

Principal Secretary, Water Resources Dept, GoM, Ms Malini Shankar and Principal Secretary, Water Conservation and EGS, Mr. V. Giriraj also actively participated in the technical sessions of the EVA workshop. Participants from several esteemed organizations such as the Marathwada Agriculture University, National Bank for Agriculture and Rural Development (NABARD), Yashwantrao Chavan Academy of Development Administration (YASHADA), India Meteorological Department (IMD), Tata Institute for Social Sciences (TISS) gave valuable inputs in the panel discussions. Several farmers from Jalna District participated in the workshop and shared their experiences with combating drought.

The Dialogue provided a platform to share the findings of the EVA study with key policymakers and practitioners, understand the constraints faced by them, and identify their needs for supporting and scaling up community-based adaptation.
project Partners
The project is a joint collaboration between The Energy and Resources Institute (TERI), Action for Food Production, India (AFPRO), the Norwegian Institute for Urban and Regional Research (NIBR), the Center for International Climate and Environmental Research, Oslo (CICERO), and the Norwegian Institute for Water Research (NIVA). The project is managed under the umbrella of the Oslo Centre for Interdisciplinary Environmental and Social Research (CIENS).