Project Partners
The Energy and Resource Institute (TERI)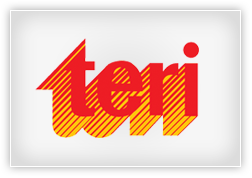 TERI undertakes research on integrated impacts and vulnerability assessments and policy linkages at the national and sub-national level in India. It encompasses more than 800 researchers across all disciplines, and is one of the first developing country institutions to launch research activities in the area of climate change, as early as 1988. The Centre for Global Environment Research (CGER) at TERI aims to undertake research and outline effective policy initiatives that integrate developing country concerns in addressing global environmental challenges. The six thrust areas of CGER are Impacts, Vulnerability and Adaptation, Policy analysis, Climate Modelling, Climate Change Mitigation and CDM (clean development mechanism) project development, GHG (greenhouse gas) inventories, and Capacity building and outreach. TERI has also assisted the Government of India with inputs to the first National Action Plan on Climate Change for India (NAPCC). Of the eight core missions, TERI contributed to the National Mission on Sustainable Agriculture. Following the NAPCC, several states in India are developing their State Agendas and Action Plans on Climate Change. TERI has been conducting large-scale climate impacts, vulnerability and adaptation research at the state level; specifically for the states of Maharashtra, Gujarat, Rajasthan, Uttarakhand, Uttar Pradesh, Orissa, Andhra Pradesh, West Bengal and in the North Eastern states of India (as part of the Second National Communication of India to the UNFCCC). TERI also has a Memorandum of Understanding with several State Governments including the Governments of Maharashtra and Uttarakhand. Over time, TERI has built a strong network with various international and national research institutes, local NGOs and community-based organizations. In some cases, it has jointly carried out studies with NGOs enabling place-based research. Climate Modelling tools, GIS (Geographical Information System) and Remote Sensing and Impact Assessment Models are used for sectoral vulnerability assessments and mapping of 'vulnerability hotspots'..
Action for Food Production (AFPRO)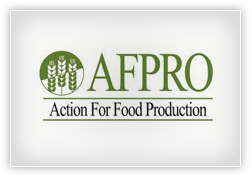 AFPRO is an Indian socio-technical non-governmental organization with Christian inspiration working for the development of the rural poor through effective natural resource management solutions. It provides technical guidance and backup support to grassroots level NGOs for the implementation of environmentally friendly projects for water, food security, livelihoods and allied capacity building. AFPRO reaches out to the country through nine field units located strategically all over India. It has a team of hydrologists, geologists, geophysicists, civil engineers, sociologists and specialists in agriculture, fisheries, forestry and livestock. The core strength of AFPRO lies in connecting research to people and bringing people's perceptions to policy makers. Its reach and operation at the grassroots level, excellent working relations with district and sub-district level officials and research institutes puts it in a unique position to execute both top-down and bottom-up approaches for outreach and capacity building. AFPRO works with communities to develop low-cost options for food security and rural livelihoods of poor women and men. It has increasingly engaged in the climate change and disaster risk reduction agenda, and sees this as a strategic program area for the foreseeable future. AFPRO has been identified as a Technical Support Institute by the Planning Commission and Ministry of Panchayati Raj, Govt. of India for capacity building for Integrated Participatory District Planning. AFPRO conducts this integrated district level planning exercise in 15 districts of India, which provides AFPRO with a unique position to help ensure integration of climate risk management in such planning. AFPRO has worked in particular with the GOI Department of Science and Technology, and the Ministries of Agriculture, Rural Development, and Environment and Forestry. AFPRO receives considerable support from different State Governments including the Govt. of Rajasthan, Govt. of Maharashtra, and the Govt. of Andhra Pradesh. AFPRO also works with several corporations (national and international) who have shown interest in AFPRO's community level work e.g. ITC, IKEA, Coca Cola, Monsanto, and Ultratech Cement. AFPRO has worked with several bilateral agencies e.g. from Germany, The Netherlands, Switzerland, Canada, Denmark, and multilateral agencies such as UNICEF, UNDP, and the World Bank.
Norwegian Institute for Urban and Regional Research (NIBR)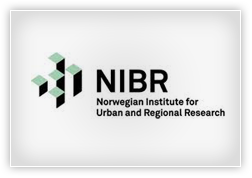 NIBR is an independent social science research centre with particular competence in social and institutional dimensions of environment and climate change adaptation research. NIBR employs more than 60 researchers within all the social sciences. NIBR has an extensive portfolio of international projects on governance, poverty and vulnerability, climate adaptation & environmental assessments, and provides policy advice to NORAD/MFA on adaptation issues in developing countries. NIBR is engaged in several EU projects on climate change adaptation (CCA) in Europe, China and Africa. CCA is among the core strategic program areas for the institution.
Centre for International Climate and Environmental Research (CICERO)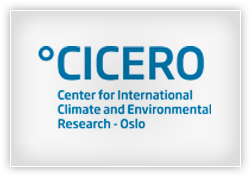 CICERO is an independent research centre with about 80 researchers associated with the University of Oslo, and conducts interdisciplinary research and provides information and expert advice on national and international issues related to climate change and climate policy. CICERO has long-standing experience in international collaboration on climate change, and has worked with Indian partners on a variety of projects. CICERO has collaborated actively with TERI in research projects on adaptation and vulnerability over several years, through a joint agreement between the two institutes.
Norwegian Institute for Water Research (NIVA)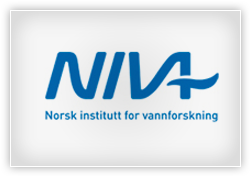 NIVA is an internationally-oriented competence centre for water-related research, innovation and development activities on environment and resources. NIVA provides advisory and R&D services on water-related issues at the national and international levels to authorities, the private sector and the public. NIVA is a private research foundation, and is the largest interdisciplinary applied water research centre in Norway. NIVA has a total staff of 300 and an annual turnover of over EUR 35 million. NIVA is the Norwegian national centre of competence on effects of climate change on the aquatic environment, including both limnic and marine systems.
Rationale of the project
Nearly 300 million people inhabiting the dryland regions of India are dependent on agriculture for livelihoods and sustenance.
read more
Objectives
Project goal: The main goal of the project is to assess the enabling conditions for effective community-based adaptation to the impact of extreme events at the community level.
read more
Project Outline
The project has adopted a participatory approach involving multi stakeholders for achieving its goals.
read more
Expected Outcomes
The Key expected outcomes of the pilot phase of this project are
Outcome 1: Improved understanding of extreme climate exposure and vulnerability in drylands among scientific community and target groups- including policymakers, practitioners and vulnerable communities

read more