Sustainable Communities
Livelihood Support and Nutritional Security through Food Processing and Fortification Duration: 2018-2019 Sponsor: GKN Sinter Metals Pvt. Ltd
After implementing interventions that were focused on enhancing the nutritional status of the target beneficiaries while also increasing water and energy access; TERI recognized the need for promotion of sustainable livelihoods in the village in order to curb the heavy dependence on rain fed agriculture and migration for work. This was carried out through advocating and supporting sustainable off-farm livelihoods in the village such as goat rearing and goat farm management, bamboo cultivation and bamboo article making workshop, poultry farming and so on. The capacity building approach ensured that the beneficiaries, especially women, are active participants and stakeholders in the project. TERI has even developed a feed for poultry and goats that uses Azolla as a chief ingredient along with several other inexpensive and easily available local ingredients such as egg shells, rice grains, and so on. Azolla, is a fern with a high protein, amino acids, vitamin and mineral content, that can be easily cultivated in Pathardi and would be promoted in the near future.
Introduction of nutrient food processing as a livelihood source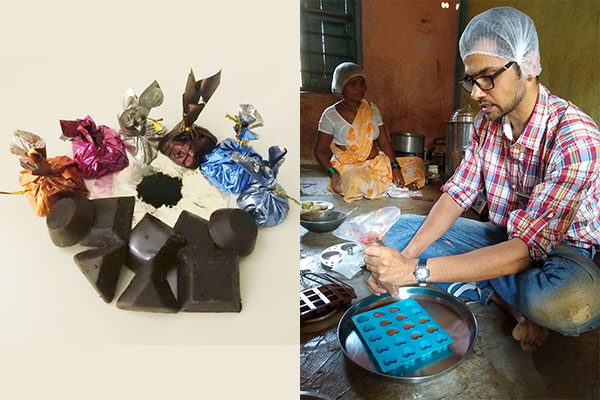 Spirulina fortified chocolates; A chocolate making workshop in progress
Carrying forward the livelihood interventions from 2017-18, TERI continued to promote and diversify non-farm livelihood opportunities available in Pathardi. The livelihood avenue shortlisted was food fortification and processing of nutrient rich sweets and snacks. Women in the village were trained in making nutritious fortified food products for sale and self-consumption, in nutrient fortifying and setting up a successful food fortification and processing business. The food products selected included traditional snacks and sweets that could be easily nutrient fortified and items such as healthy cookies and chocolate.
Nutrient fortification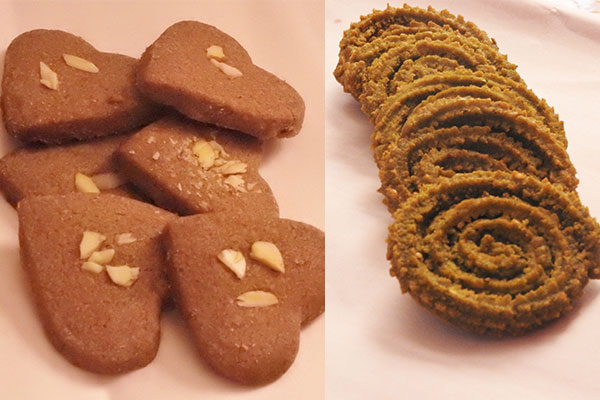 Nutrient fortified ragi cookies and spinach fortified chaklis
A major highlight of the project was that, along with the fortification of regular snacks with easily available nutrient rich local ingredients like spinach, the women were introduced to and trained to prepare novel food items such as Ragi cookies and Spirulina chocolates. Spirulina is a blue green algae that is considered a super food due to the macro and micro nutrients present in it. The main focus areas of the activities planned under the project were:
Orientation and capacity building of the women to fortification of snacks and sweets using easily available nutrient rich resources
Introduction and training in preparing novel items such as nutrient fortified cookies and chocolates
Establishing Forward Market Linkages.
After conducting meetings with 2 Self Help Groups (SHG) and assessing their requirements, TERI provided 2 SHG with the equipment required to start a food processing business initially as a pilot project.
Distribution of water wheels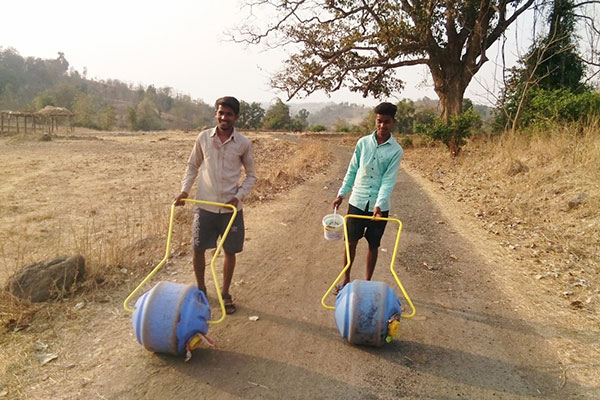 Waterwheels being used by the village youth
Preparing food products requires the availability of water. TERI distributed and oriented the villagers in the use of 'waterwheels', invented by an organization named Wello and marketed by Nilkamal that uses a rolling water technology to make carrying water convenient and efficient. It can also be used as a mini storage drum when the handles are detached. The capacity of the water wheel is 45 litres which is approximately the amount of water that gets fetched in 2 or more trips when using traditional pots. The waterwheel has greatly reduced the drudgery of fetching water over distances and also led to distribution of work with men and children also taking an interest in using it and fetching water.
Exploration of market linkages and promotion
TERI also got the two SHG from the village registered with Umed- Maharashtra State Rural Livelihood Mission (MSRLM), Government of Maharashtra (GoM), in order to aid the village SHGs in obtaining opportunities to promote their food business and sell their products. Registration with MSRLM provides SHG a platform for their business and make them eligible to apply for the numerous benefits and subsidies that MSRLM offers. The women were provided with the opportunity to participate in Mahalaxmi Saras (MS) Exhibition cum Sale, an annual event held in Mumbai, helping them earn a good profit and their first taste of conducting a food business. Their participation in this event also got media coverage; with articles appearing in regional newspapers like Sakal and Loksatta on January 25th 2019. The women also put up a stall in the premises of GKN Sinter Metals Head office on the occasion of Women's Day, 2019; the employees of GKN greatly appreciated the food products on sale.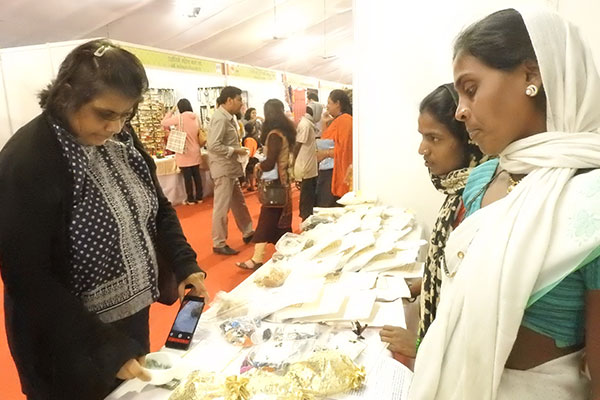 Pathardi women manning the stall during MS Exhibition cum sale
The project thus successfully helped the SHG women kick-start their own nutritious food processing business with hand-holding, training and support, both financial and otherwise, having been provided at every step. TERI will continue promoting the nutritious food products prepared by the women, introduce and train them in preparing many more fortified food items and helping explore market linkages and obtain opportunities to grow the business. The possibility of the items being put up for sale at local shops around Mokhada is also being explored.