Sustainable Communities
Canteen for Teens - Focusing on "Know, Grow and, Cook your own food" for Urban Youth Duration: 2014-2015 Sponsor: GKN Sinter Metals Pvt. Ltd.
As per projections by World Health Organization (WHO), Indian youth belonging to the age group of 25-40 would be highly vulnerable to disorders such as diabetes, high blood pressure, increased level of cholesterol leading to heart disorders and so on. It is of paramount importance to take the necessary proactive steps to ensure the well-being of the Gen Next through outreach and stakeholder consultations with the youth. Towards this, one of the logical approaches would be to help teenagers get a better understanding of the associated complexities as well as to motivate them to adopt the practical healthy life styles on the long term basis as they attain adulthood.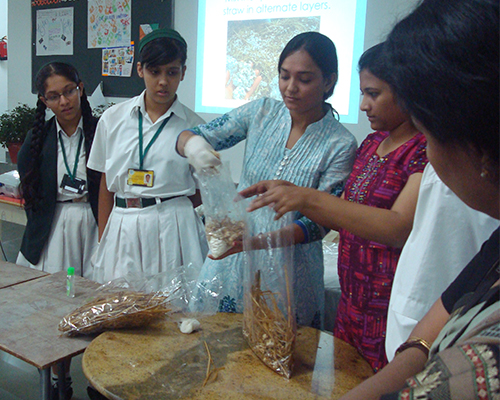 A hand on training workshop on Mushroom cultivation in progress
TERI's program 'Canteen for Teens (CfT)' aims at addressing malnutrition among urban teenagers through efforts at the institutional level. The program has proved to be effective in making the youth aware about significance of food and nutrition in day to day life. A pilot project was conducted, in schools representing both private and government institutions, in Pune and Mumbai. The program revolved around three key points- Know your food', 'Grow your food' and 'Cook your own food'and majorly focused on activities designed to engage students, parents and school authorities in incorporating healthy food habits through fun and innovation. Some of the activities carried out through the program were; hands on training workshops on mushroom cultivation, an interactive skit, cooking competition involving parents and teachers, several guest lectures on malnutrition and ways to tackle childhood obesity.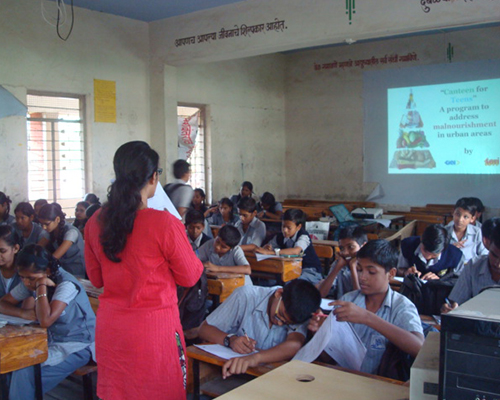 An awareness workshop in progress
According to a survey conducted by TERI, only 21% students in the age group of 13-16 years were aware about good nutrition and the nutritional value of food before making the decision to select and eat it. Almost 30% reported that they were not bothered about the food choices they make and the remaining (49%) admitted that they seldom consider the nutritional importance of a food item before selecting. It is imperative to motivate this majority into adopting healthy life styles on a long term basis as they attain adulthood. It has been reported by WHO that globally the number of overweight and obese children has increased to 40 million in 2013 and is predicted to increase to 70 million by 2025. The survey carried out by TERI also imparted similar insights into the prevailing conditions of teenage malnutrition in India. The results also revealed a worrisome picture of the scenario in the urban areas, amongst the upper middle class and upper class society.
CfT focused on interaction with parents and teachers who can positively influence and guide the students to make healthy choices in their daily lives. It was concluded that active involvement of the children in procuring and cooking food will help in building a connection with the food and at the same time keep them away from unhealthy junk or fast food. The picky eaters are also likely to eat the same food, if it has been purchased with their consent and its benefits explained by the parents.
The theme of the "Canteen for Teens" program, conceptualized by TERI