Bioprospecting
Bio prospecting of the local wild edible plant varieties to address the issue of malnourishment in Palghar district Duration: 2014-2016 Sponsor: JSW Steel
The wild edible plants have been an integral source of nutrition and medicines for the tribal communities of Palghar district since ages. They follow a set of unique practices developed as a result of years of observations and trials and errors; which help them identify, consume and conserve these wild edibles, making it a great community knowledge bank. But it has been observed that, of late, the practice of this traditional knowledge is on a decline as a result of the lack of documentation and a severe knowledge gap between different generations.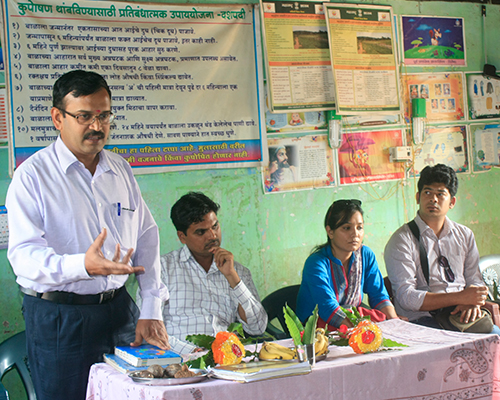 The BDO of Jowhar addressing the villagers on the importance of the project
Thus, bio-prospecting was recognized as a worthwhile initiative to utilize plant species with potential food and medicinal value. For the present study, focused group discussions with local communities were undertaken to collate the information of the plant species which served as a dietary staples and medicines particularly used by the tribal communities of Jawhar block, Palghar district.
For example, Ariopsis peltata is a small tuberous plant which grows during the monsoons (May to July) and is consumed as a delicacy by the tribal communities. The fresh leaves are cooked with tur dal and consumed with other local spices as nutritious food. Moreover the modern literature indicates that leaves are a good source of calcium which correlates with traditional wisdom. .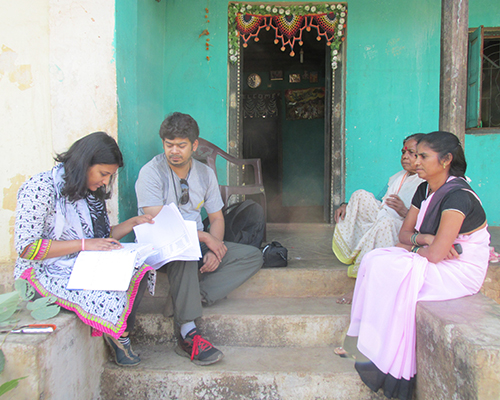 Collection and collation of traditional knowledge from villagers
Several valuable species were collected through transect surveys in order to map and photo document the habitat, distribution pattern, and method of collection. With assistance from botanists, TERI representatives effectively gathered and developed a database of the wild species. The information was further augmented through literature review of authentic, published information from internet and interaction with experts.
As part of the project, information on more than 190 species of wild edibles were recorded and 27 plant species were collected out of which 60% were found to be used for dietary purpose, 25% as medicines, whereas, 15% of the collected species were used for both  dietary as well as medicinal purposes. A comparative analysis was carried out to understand the traditional usage of wild plants   with respect to the published scientific studies carried out globally. Later phase of the project dealt with development of a digital library of wild edibles which would help to bridge the knowledge gap and make the information available in a systematic and user friendly manner which will not only be beneficial for scientific purposes but also while sourcing food ingredients and medicinally important plants.  
A group meeting with villagers in progress
Despite an abundant variety of wild edible plants, the potential in terms of utilization by urban dwellers remains a remote possibility due to lack of knowledge, and accessibility To source the germplasm and propagules, visiting remote locations in the forest areas would be inconvenient and impractical, hence to facilitate access to these wild plants, a nursery of the plants, collected at Palghar,  has also been developed at the JSW Vashind Works in Thane, Maharashtra.  This nursery shall help ensure conservation of the germplasm and act as a year-long supply of propagation material for further utilization for activities such as individual consumption, large scale cultivation, and conservation, afforestation, and R&D purposes.