Training Programme on Solar Photovoltaic Systems
Date: November 18-20, 2015
Venue: TERI University, Vasant Kunj, New Delhi
TERI organized a three-days training programme on 'Quality Assurance of Solar Photovoltaic Systems' for officials from Afghanistan from November 18 to 20, 2015 at TERI University Campus. The key objective of the training programme was to impart both theoretical and practical training to professionals and officials to verify the pre- and post-installation quality checks conducted for off-grid and on-grid solar photovoltaic systems. Specific quality assurance strategies and in-depth understanding of test methodology was shared during the event.
A total of 15 officials came from Afghanistan under the MoU signed between GIZ and IT Power. The programme covered detailed operations of test equipment, implementation of test methods, and delivery of quality report to improve the compliance of local manufacturers and importers of solar photovoltaic systems. A site visit was also organized to TERI's Solar Lighting Laboratory, and a 48 KWp solar rooftop plant was used for demonstration and hands-on practical.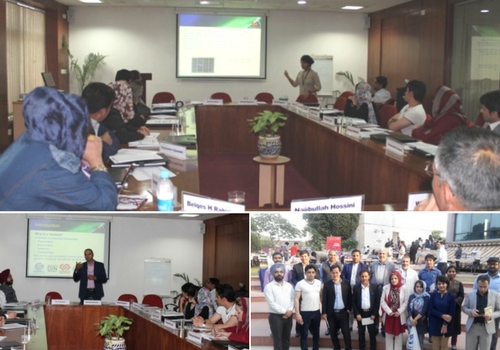 ---
Quality Assurance of Lighting Products and Importance of Laboratories
Date: September 18, 2014
Venue: Auditorium, Above Hall No. 8, Pragati Maidan, New Delhi
The Indian lighting sector is growing at a rate of 15% and the annual turnover is expected to cross 3.5 billion by 2016. At the same time, a high growth rate for solar lighting market is anticipated at the national level as the Ministry of New and Renewable Energy (MNRE) has a target to install 20 million solar lighting systems by 2022 under the Jawaharlal Nehru National Solar Mission (JNNSM).
In addition to the national programs, several other initiatives on efficient and clean lighting at regional and international levels have been taken up to meet the demand and to provide quality lighting systems. Some such initiatives are ComAfrique - InteliZon Initiative (CII), International Commission on Illumination (CIE), Efficient Lighting Initiative (ELI), UNEP's en.lighten initiative & Lites.Asia and International Finance Cooperation (IFC) initiatives such as Lighting Global, Lighting Africa & Lighting Asia - India. However lack of quality control test laboratories, benchmarking, test standards & protocols are found to be the key issues for ensuring quality of lighting systems in on-grid and off-grid lighting.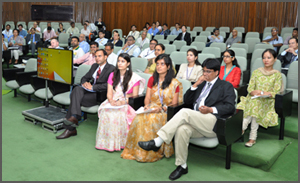 In order to address these issues The Energy and Resources Institute (TERI) and Electrical Lamps and Components Manufacturer's Association (ELCOMA) are organising a workshop on 'Quality assurance of lighting products and importance of laboratory' under 'Lighting India 2014' on 18th September 2014, 1:00PM-6:00PM at Pragati Maidan, New Delhi. The aim of this workshop is to bring leaders and experts from the general lighting and off-grid lighting sector to share their experiences & findings and establish a network to ensure and maintain lighting product quality. The overall workshop will include, discussion on various aspect of energy conservation to promote off grid lighting and general lighting from international experts' and discussion on quality assurance, need of standards and test lab to provide good quality product to end users.
---
Conference on 'Accelerated Deployment of Rooftop Solar PV Systems in India'
Date: March 12, 2014
Venue: Silver Oak Hall, India Habitat Centre, New Delhi
TERI in association with Shakti Sustainable Energy Foundation, Ministry of New and Renewable Energy, Chandigarh Renewal Energy Science and Technology Promotion Society, and Solar Energy Corporation of India organized the conference on 'Accelerated Deployment of Rooftop Solar PV Systems in India' on 12 March 2014 at Silver Oak Hall, India Habitat Centre, New Delhi. The conference was majorly focused on accelerated deployment of rooftop solar PV systems in India. The forum has also provided an excellent opportunity for various stakeholders to dialogue, and share knowledge on technological options for promoting rooftop solar PV systems in the country. More than 100 delegates participated in this event.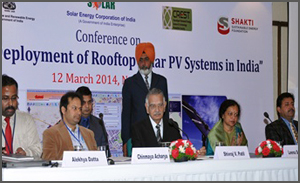 With a view to provide impetus to solar rooftop systems uptake in the country, TERI, with support from Shakti Sustainable Energy Foundation is working on two-pronged approach, through developing: (i) First-of-kind cloud based open-source Web-GIS Tool for estimating Rooftop Solar Power potential for Indian Solar Cities with Chandigarh as a pilot, and (ii) A white paper on "Accelerating Behind-The-Meter: Solar Energy Penetration through Market Transformation and Enabling Policies" to workout appropriate business models, and technical/policy/regulatory interventions that could promote extensive deployment of rooftop solar PV systems in India.
The main objective for this conference was to release the Rooftop Solar Web-GIS Tool for Chandigarh.
Speaking on the occasion, H.E. Mr Shivraj V Patil, Governor of Punjab & Administrator, UT Chandigarh, said: "Solar energy is revolutionizing the world. Countries are investing in this sector because it is beneficial to the environment and also saves on energy costs".
The conference was concluded with a Panel Discussion on "Accelerated Deployment of Rooftop Solar PV - Way Forward". An "Innovation Showcase" was also organized (comprising renowned industries, and manufacturers) during this event to exhibit, and demonstrate the various products available for rooftop solar PV systems in India.
---
TERI's Solar Lighting Laboratory Inaugurated: First laboratory of its kind in South Asia
Date: February 18, 2014
Venue: TERI University, Vasant Kunj, New Delhi
TERI inaugurated its Solar Lighting Laboratory, situated at TERI University, on 18th February 2014. It is the 5th laboratory in the world affiliated to the 'Lighting Global' programme of the IFC/World Bank and has joined the league of world's prestigious laboratories such as Fraunhofer ISE, Rensselaer Lighting Research Center etc.
Its unique infrastructure created for testing, training and knowledge transfer makes it the first-of- its-kind in South Asia to provide a platform for quality testing of lighting products, adhering to international standards. The laboratory has been supported by Ministry of New and Renewable Energy (MNRE) and International Financial Corporation (IFC) and is currently in compliance with quality procedures, as laid down by the National Accreditation Board for Laboratories (NABL).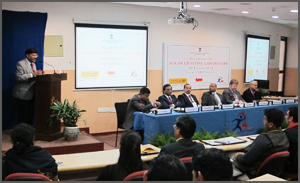 The laboratory was inaugurated by Dr. Jeeva A Perumalpillai, Manager, Sustainable Business Advisory, IFC South Asia and Dr. R.K Pachauri.
The event was followed by a panel discussion on 'Roadmap for quality assurance for lighting programmes'. The panel was chaired by Dr. Ajay Mathur, Director General, Bureau of Energy Efficiency and Dr. Praveen Saxena, Director General, National Institute of Solar Energy (NISE) and consisted of several eminent personalities from the field of renewable energy and lighting. An overview on the critical quality aspects of solar lighting systems was given by Dr. Arne Jacobson, Director, Schatz Energy Research Center Humboldt State University, USA.
The ability of the laboratory to cater to the testing needs of both rural as well as urban lighting; and solar along with general lighting infrastructure makes it stand out from other laboratories. Enquiries and samples for testing of products from manufacturers are already being received by the laboratory.
---
Technology Discussion Forum (TDF) on Solar Lighting
Date: November 14, 2011
Venue: TERI University, Vasant Kunj, New Delhi
A Technology Discussion Forum (TDF) on Solar Lighting was organised at the TERI University campus on 14th November 2011. The objective of this TDF was bring to bring key stakeholders on a common platform to collectively develop a framework for quality benchmarking of solar lighting products and also to discuss the key technical areas for research over the next 3-5 years. The invitee list for the TDF included experts from the Ministry of New of Renewable Energy; NGOs and other organisations working on solar lighting and rural development (IFC, World Bank,); system integrators (Gautam Polymer, Avni Energy Solutions, BNK Energy Alternatives, Global Telelinks); and manufacturing companies working on electronics (Texas Instruments), LEDs (Nichia Chemicals), solar photovoltaics (Moser Baer), certification (UL India) and batteries (Panasonic, Regnant Lighting). The 3 hour discussion highlighted the urgent need for quality benchmarking parameters from the user perspective, outdoor and accelerated testing of solar lighting systems, research in the field of optics and human health, development of reference designs for solar lighting products, and regional testing and training centres.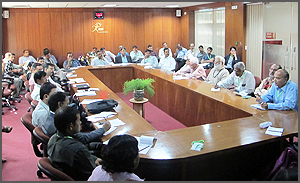 ---
Launch of new generation cost effective solar lanterns under the Lighting a Billion Lives programme
Date: July 23, 2010
Venue: New Delhi
In continuation of its efforts and commitment towards providing clean lighting solutions in rural regions of the country and beyond, TERI under its flagship programme Lighting a Billion Lives (LaBL), unveiled new models of solar lanterns jointly developed by TERI along with its Technology Partners on 23 July 2010.
Present on the occasion to unveil the lanterns were Jitin Prasada, Minister of State for Petroleum and Natural Gas, along with Deepak Gupta, Secretary, Ministry of New and Renewable Energy, Dr RK Pachauri, and Ms Akanksha Chaurey.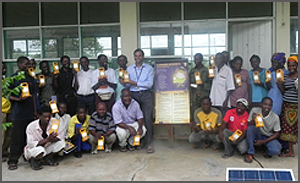 In his address Jitin Prasada said, "It is a matter of personal gratification for me to be associated with unveiling of these new generation cost-effective solar lanterns under TERI's "Lighting a Billion Lives" initiative. It is, important that we seek solutions like LaBL, which definitely has the potential of fulfilling the gap between effective supply and demand in rural lighting. This initiative provides an excellent opportunity for the public and private sector to synergize their efforts and maximize the benefits."
Lauding TERI and its technology partner's initiative in developing these state-of-the art solar lanterns, Deepak Gupta said "Organizations such as TERI, along with its partners compliment and supplement MNRE's efforts in achieving the targets of the National Solar Mission. This is a shining example of how innovation can work wonders to bring state-of-the-art technology to homes without electricity."
This launch has unveiled seven Regular and three Ultra Bright LED solar Lantern models. These lanterns have been developed as per the lantern performance specification of LaBL in partnership with Amararaja Electronics Ltd., Avni Energy Solution Pvt. Ltd., B N K Energy Alternatives (LEDON), Kripa Lights, Regnant Lighting, Solid Solar and Sujana Energy Ltd. These new cost-effective lanterns have enhanced features such as low power consumption, super bright white LED light, and higher run time in comparison to other commonly available solar lanterns in the market.
---