Register for the GRIHA Summit

The GRIHA Council and TERI are organising their 7th flagship event- GRIHA Summit from 16 to 20 February, 2016. The theme for this year's summit is 'Cities of the Future' and it would serve as a platform for knowledge sharing in different domains of green building industry.
The Ministry of Urban Development, Government of India launched the Smart Cities Mission on 25 June, 2015. The Mission is an ambitious flagship scheme of the Indian Government with an amount of 7.5 billion USD earmarked for investment across 100 cities over a period of five years. A City Challenge was floated wherein cities were asked to submit their smart city proposals (SCP) to receive funding under the Mission. Based on their proposals, the outcome of India Smart Cities Challenge Round I was announced by Government of India on 28 January, 2016 in which the following cities made it to the Top 20 List - Bhubaneshwar, Pune, Jaipur, Surat, Kochi, Ahmedabad, Jabalpur, Visakhapatnam, Solapur, Davangere, Indore, New Delhi Municipal Corporation, Coimbatore, Kakinada, Belgaum, Udaipur, Guwahati, Chennai, Ludhiana, Bhopal. These 20 winning cities will see immediate implementation of their SCPs through Special Purpose Vehicles (SPV) which are presently being constituted at the city level.

Besides, a list of 23 'fast track cities' has also been identified by the Government of India. These are the top scoring cities from the states from which no city has made it to the Top 20 list and are being given an extended Round I timeline to upgrade and resubmit their proposals by 15 April, 2016. These include cities like Warangal, Chandigarh, Lucknow, New Town Kolkata, Panaji, Dharamshala, Bhagalpur, Shillong, Dehradun amongst others. The remaining cities will be resubmitting their revised proposals in Round 2 of the Challenge by 30 June, 2016. It is expected that up to 40 cities will be identified as a result of this round in August, 2016.
| | |
| --- | --- |
| | GHG mitigation in transport Sector – Roadmap for India (COP21) |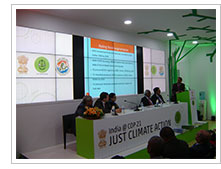 The Ministry of Railways coordinated a session focusing on 'GHG mitigation in transport sector- Roadmap for India', on 4 December 2015 at the India Pavilion, Le Bourget, Paris. The session was part of a series of events being organized by Government of India at the COP21 venue to engage in discussions on various sectorial initiatives towards a low carbon path for the country. TERI was the knowledge partner for the event. The event was chaired by Mr Hemant Kumar, Member Mechanical, Ministry of Railways and witnessed participation from a number of national and international panellists. The session discussed approaches and initiatives for reducing emissions from the railway, aviation and road transport sector.
Eminent panelists included Mr. Abhay Bakre, Executive Director (Environment), Ministry of Railways, Government of India, Mr. Hemant Kumar, Member Mechanical, Railway Board, Ministry of Railways, Government of India, Mr. Arun Sharma, Chairman & Managing Director, Indian Register of Shipping, Mr. N.K. Sharma, Ministry of Road Transport & Highways, Mr. Shri Prakash, Distinguished Fellow, TERI, India, Mr Nicholas Craven, Manager, UIC, Mr. Anuj Dayal (ED), Delhi Metro Rail Corporation (DMRC), Mr Sarbojit Pal, TERI, and Mr Ashok Bhargava, Asian Development Bank.
| | |
| --- | --- |
| | TERI's analysis on New Delhi's odd-even scheme |
Air pollutant concentrations have been consistently high in the city of New Delhi over the last many years. Transport sector has been identified by a number of research studies as an important source of pollution in the city. To examine ways to address the issue, Delhi Government decided to implement the social experiment, i.e. the 'odd-even' scheme from January 1, 2016 to January 15, 2016 in which plying of privately owned cars was restricted on alternate days based on the last digit (odd/even) of the registration number. TERI analyzed the ambient air pollutant concentrations in the city of Delhi from 24th Dec 2015 (before Odd-Even scheme) to 15th Jan 2016 (during which 'odd-even' scheme was implemented).