| | |
| --- | --- |
| | Transport & Urban Development Knowledge Hub |
| | |
| --- | --- |
| | Updates from Transport & Urban Development Circuit |
| | |
| --- | --- |
| | Smart city vision for Dharamshala |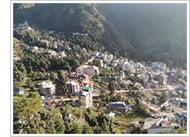 TERI in association with Tractebel Engineering SA, Belgium and Avalon Information Systems Pvt Ltd is assisting the Municipal Corporation of Dharamshala (Himachal Pradesh) in preparation of its proposal to participate in the Smart Cities Challenge of the Government of India. The project involves preparation of a City Vision and Concept Plan along with a detailed Area development plan (ADP) and a Pan-city smart solution. The ADP is envisioned as a proto-type of smart urban development that can be further replicated and scaled up at city level whereas the pan-city smart solution will focus on a specific citywide ICT based intervention to improve the efficiency of urban infrastructure and services delivery. Based on the proposals that are submitted by 15th December, 2015, 20 Smart Cities will be selected by the Government of India in Round 1.

Extensive citizen engagement has been conducted as part of the proposal development process in Dharamshala. This included various platforms like stakeholder workshops, public meetings, focused group discussions, information kiosks at public places, social and cultural events, street theatre, advocacy material like posters and pamphlets, Logo design and essay competitions, online discussion forum, conventional and social media among others. The engagement process witnessed extensive enthusiasm and participation with residents of Dharamshala coming up with more than 200 ideas and detailed proposals for realizing the Smart City Vision for the city.



The upcoming 21st Conference of Parties, aims to achieve a meaningful global consensus on the way ahead to tackle climate change. With participation from about 190 countries, a large number of whom have voluntarily submitted their Intended Nationally Determined Contributions (INDCs), the world is eagerly waiting to get some tangible results drawn up at this conference. TERI is not only participating, but is also organizing multiple events at this conference to enrich the discussions and debates. TERI is associated with the following events at COP21:

3rd December

Knowledge partner of the Ministry of Railways for the event "GHG Mitigation in Transport Sector – Roadmap for India"
4th December
Knowledge partner of the Ministry of Railways for the event "GHG Mitigation in Transport Sector – Roadmap for India"
Co-organizer with Climate Analytics GmbH, National Institute of Public Health and the Environment (RIVM) for the event "Data & Values, Science, Politics and Mechanisms: Ambition and impact of INDCs and the Global Deal",
Panel participant at Energy Efficiency: A Cheaper Path to a 2-Degree Future - by Fraunhofer Institute for Systems and Innovation Research
Panel participant at Climate Clubs: Coalitions of ambitious front runner countries to help close the two degree gap - by DIE and Germanwatch
5th December
Organizer - 'Will Paris pave way for Africa's prosperity and transformation?'
Co-organizer 'Looking beyond the mitigation targets of INDCs: finance, fairness and adaptation' - by DIE, ACTS and TERI
6th December
Participant at the Transport Day 2015 dialogues being jointly organized by SLoCaT, BtG and MCB
7th December
Collaborating with DIE and Stanley Foundation for the "Workshop on Galvanizing Groundswell of Climate Action (non-state actors)"
Participant at 'Powering Innovation for a Sustainable Future' - by Global Sustainable Electricity Partnership
8th December
Panel participant at 'The Inner Dimensions of Climate Change' - by The Global Peace Initiative of Women
Panel participant at 'Impacts of INDCs' - by European Commission
Organiser of 'India Energy Dialogue'  event
9th December
Organizer of main event "Reinforcing India's commitment: Focus on Corporate India", with participation from the Minister of Environment, Forests and Climate Change, Shri Prakash Javadekar
10th December
Co-organizer of the side event on "Global Climate Action: Perspectives on Major Energy Initiatives- USA, India, China" jointly with NRDC
11th December
Panel participant at 'Emissions Reduction Potential from Green Building & Beyond – Green Buildings in a Sustainable City' - by Delta Electronics Foundation
| | |
| --- | --- |
| | Urban resilience policy roadmap for Goa |
TERI has partnered with the Goa State Urban Development Agency (GSUDA), Government of Goa to prepare a roadmap for urban climate resilience policy in Goa. As part of this engagement, TERI conducted a detailed policy review of all the sectors to capture synergies of action between all the departments of the State. TERI also conducted consultations with various departments to capture the various sector specific insights and the potential format of the policy on urban climate resilience. TERI organised a State policy dialogue on 9 September at Taj Vivanta, Panaji where the draft policy roadmap was presented to key State level departments for their inputs.

The road map for urban climate resilience policy will guide the process and component of the policy on urban climate resilience in the state of Goa. The policy road map outlines emerging opportunities for Goa to foster climate resilient development and recommends for the formulation of a specific new policy pertaining to urban climate resilience.

The program activities are supported by The Rockefeller Foundation, USA under its Asian Cities Climate Change Resilience Network (ACCCRN) initiative (policy engagement component). The project aims to conduct policy research and engagement to support the state governments of Goa and Uttarakhand to identify entry points for an urban climate resilience policy.


| | |
| --- | --- |
| | Green Freight India Working Group meeting at NITI Ayog |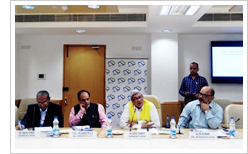 The Second Focused Group Discussion of the Green Freight India Working Group, coordinated by Clean Air Asia, was held on 5 November 2015 at the National Institution for Transforming India (NITI) Ayog, New Delhi. The event was chaired by Mr Sundar, the Chairman of the Working Group and Distinguished Fellow, TERI. The event was attended by over 40 participants including senior officials from NITI Ayog, representatives from the research community and industry and technology experts with experience in monitoring vehicle fuel efficiency. The Member, NITI Ayog, Shri Bibek Debroy delivered the keynote address at the event.

| | |
| --- | --- |
| | National Energy Policy Dialogues: TERI organizes an event to explore the demand side concerns for an energy secure India |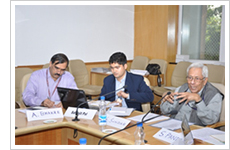 NITI Aayog has been entrusted with the task to prepare the National Energy Policy framework for India in consultation with a large number of stakeholders. The objective of the policy is to address issues related to energy security, access and affordability. In this regard, TERI, jointly with NITI Ayog, organized a workshop on 9th November 2015, at NITI Ayog. The third session of the workshop focused on the Indian transport sector and its intricate linkages with the country's energy demand. The session was chaired by Mr Sundar, Distinguished Fellow, TERI and witnessed participation from the research community, various transport Ministries and industry experts.

The event helped chart out the various challenges and issues plaguing the transport sector from the point of view of it's energy use and intensities. The workshop also helped in identifying various other socio-economic externalities of the sector to enable better decision making and planning.
| | |
| --- | --- |
| | Training program on Vehicular exhaust emission monitoring and modelling |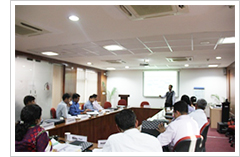 About 80% cities in India violate the standards of air quality. Considering the enormity of the problem, there is an urgent need to build the capacity to monitor, inventories and model emission from vehicular exhausts and assess their impacts on the air quality. It is in this regard TERI and TERI University organised a joint training program on Vehicular exhaust emission monitoring and modelling during 23-27th Nov 2015. This was seventh in series conducted in last few years. The program was sponsored by Central Pollution Control Board, New Delhi and aimed at capacity building of the central and state pollution control board officials in the field of vehicular emissions monitoring and modelling. The program was keenly attended by about 20 officials from different state and central pollution control boards across India.