TERI's Publications and Reports

Transport & Urban Development Knowledge Hub
| | |
| --- | --- |
| | Updates from Transport & Urban Development Circuit |

| | |
| --- | --- |
| | National Conference on Urban Climate Resilience |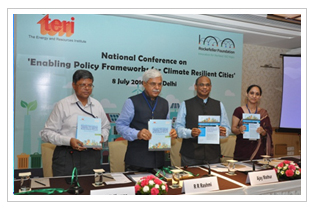 TERI organised a national conference on 'Enabling Policy Frameworks for Climate Resilient Cites' on 8th July at Juniper Hall, India Habitat Centre. The conference marked the culmination of TERI's study on 'State level policy research and engagement for mainstreaming urban climate resilience' in two states - Uttarakhand and Goa. The study was supported by The Rockefeller Foundation under its Asian Cities Climate Change Resilience Network (ACCCRN) initiative. The objective of the study was to prepare policy road maps for mainstreaming urban climate change resilience within the urban development policy and regulatory framework in the states of Goa and Uttarakhand, India. The national conference was organized with an objective of disseminating the knowledge and experience generated from the study. Shri R R Rashmi, Additional Secretary, Ministry of Environment Forests & Climate Change, Government of India delivered the inaugural address. He highlighted that city systems are complex, and there is now a need to focus on city-based emissions instead of sectoral emissions. The conference was attended by the representatives of the state urban development departments, urban local bodies, NGOs, academia and development organizations. Ministry of Urban Development, Government of India was represented by Dr K V Pratap, Economic Adviser, Ministry of Urban Development in the valedictory session of the conference.

He added that the power and experience for building resilient infrastructure must come from within our own resources. A working paper and two policy briefs were also released on this occasion. Ms Akshima Ghate, Associate Director, Sustainable Habitat Division delivered the vote of thanks for the inaugural session. In a session chaired by Dr P G Dhar Chakrabarti, Distinguished Fellow, TERI, the team presented the outcomes of the study. This was followed by technical sessions for which the panellists included city representatives from Panjim and Shimla and senior representatives from National Institute of Urban Affairs (NIUA), Department for International Develoment (DfID), World Resources Institute (WRI), Chennai City Connect and Indian Institute for Human Settlements (IIHS). The conference concluded with a valedictory session. In this session the winners of the photography contest were announced by Dr Ajay Mathur, which was followed with the valedictory address given by Kumar V Pratap , Economic Adviser, Ministry of Urban Development. In his address he highlighted that climate change risks can give rise to significant setbacks to the development of cities. He concluded his address on the note that they look forward to receiving inputs from TERI on the steps Government of India can take in guiding cities to build resilience to climate change impacts." Dr Ajay Mathur concluded the conference with a vote of thanks and on the note that this has been the start of a process at the city level and a start at the institutions that work in this area.
| | |
| --- | --- |
| | Dharamshala included in the list of 13 fast-track smart cities |
As an empanelled consulting firm under the Smart Cities Mission, TERI provided technical assistance to Dharamshala in preparation of its Smart City Proposal (SCP). The project involved preparation of a City Vision and Concept Plan along with an area-based development proposal (ABD) and a Pan-city proposal (PCP). Under the Smart Cities Mission, the ABD is envisioned as a proto-type of smart urban development that can be further replicated and scaled up at the city level and the PCP primarily focuses on ICT based interventions to improve the efficiency of urban infrastructure and service delivery. The ABD proposal for Dharamshala follows a redevelopment-plus-retrofit strategy over 775 acres of area covering a population of more than 27,000 persons. The main focus of the ABD proposal is redevelopment of the 3 core areas of McLeodganj, Kotwali Bazar and Kachahri Adda as prototypes to embed smart planning and place design approach in developing a city that is more connected, accessible and built on the principles of sustainability and resilience. A retrofit strategy is proposed for the remaining areas of the ABD area and focuses on enhancing its livability through provision of sustainable and smart infrastructure for resource optimization, reduced energy and water footprint, and minimizing environmental impact. As a Pan-city solution, Dharamshala will set up a City Coordination Center for Developing Digital Dharamshala - DCube - a 24x7x365 information center for users - residents, tourists and city managers/ policy makers to strengthen real time data access, evidence based planning and decision making. The DCube will be the 'nerve center' of city functioning and will enable Dharamshala's transformation into a SMART CITY through optimized use of city systems - transport and utilities, and participatory urban governance by institutionalization of its information systems.

These thirteen cities, including Dharamshala, along with the first set of twenty cities that were selected in Round I Challenge in January, 2016 are now in the process of setting up special purpose vehicles (SPV) for implementation of their Smart City Proposals and will be granted the first chunk of funds from the Government of India for the same.
| | |
| --- | --- |
| | State Policy Dialogue Forum: Urban resilience policy roadmap for Uttarakhand |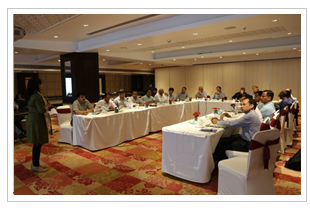 TERI partnered with the Urban Development Directorate (UDD), Government of Uttarakhand to prepare a roadmap for Urban Climate Resilience policy for the state. As part of this engagement, TERI conducted a detailed policy review of all the sectors in the urban sphere to capture synergies of action between all the State line departments. TERI also conducted consultations with the Urban Development Department and state line departments to capture insights on sector specific inputs and the potential format of the policy on urban climate resilience. TERI organized the State Policy Dialogue on 18th April 2016 at Four Points, Sheraton , Dehradun wherein the draft policy roadmap was presented to key State level departments for their inputs.

The road map for urban climate resilience policy will guide the process and component of the policy on urban climate resilience in the state of Uttarakhand. The policy road map outlines emerging opportunities for Uttarakhand to foster climate resilient development and recommends entry points with a potential for mainstreaming climate change adaptation for different sectors in the urban realm.

The program activities are supported by The Rockefeller Foundation, USA under its Asian Cities Climate Change Resilience Network (ACCCRN) initiative (policy engagement component). The project aims to conduct policy research and engagement to support the State Governments of Uttarakhand and Goa to identify entry points for an urban climate resilience policy.
TERI's participation in the World Cities Summit 2016 in Singapore
The biennial World Cities Summit is an exclusive platform for government leaders and industry experts to address liveable and sustainable city challenges, share integrated urban solutions and forge new partnerships. The World Cities Summit 2016 on the theme of 'Liveable & Sustainable Cities: Innovative Cities of Opportunity' was jointly organized by Singapore's Centre for Liveable Cities and Urban Redevelopment Authority. TERI participated in the Summit in its capacity of a policy think tank working on sustainability issues in Indian cities. Key highlights of the Summit included the Lee Kuan Yew World City Prize Lecture and Forum, the annual World Cities Summit Mayors Forum, and Business Forums focussing on China, India, Latin America and Southeast Asia. Besides, the Summit included various thematic tracks and side events focusing on urban challenges and way forward including a Learning Event on 'Making Cities More Liveable in Middle Income Countries in Asia and the Pacific' organized by Asian Development Bank's Independent Evaluation Unit.
| | |
| --- | --- |
| | New Delhi experiments with the odd-even scheme for the second time |
The odd-even rule was implemented by the Delhi government first in January this year (1-15) and then in April (15-30) to combat the pollutant levels and improve traffic flow in Delhi. TERI analysed the effects of the scheme during both the phases and concluded that congestion levels were reduced, but limited reductions were observed in air pollutant concentrations. In the second phase, the Institute used its own monitoring devices in five out of nine locations in Delhi/NCR to check ambient air quality. The complete results and findings can be accessed at: http://www.teriin.org/odd-even-scheme/.
| | |
| --- | --- |
| | Harnessing the Data Revolution for Resilience Summit |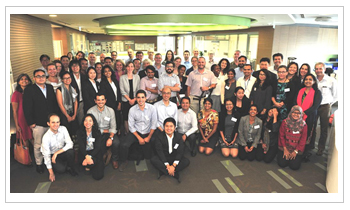 USAID and FHI 360 organized a two-day 'Harnessing the Data Revolution for Resilience Summit' in Bangkok, Thailand on May 10th and 11th, 2016. The Summit brought together global and regional experts to discuss the latest issues regarding data for resilience in Asia. The overall objective of the Summit was to showcase approaches, practices and local examples that demonstrate how the data revolution can help inform resilience efforts.

In the Summit, Ms Riya Rahiman, Research Associate, Sustainable Habitat division, presented a poster titled 'TERI-APN's Capacity Building Program on Building Urban Resilience.' The poster gave an overview of how capacity building programs are an important mechanism that bridges the gap of the available data, technology and innovations and how it can be effectively used for decision making. She was also the lead discussant for a deep dive session, for which she facilitated of a thematic group discussion on 'Environmental Resilience'. Ms Rozita Singh, Research Associate, Sustainable Habitat division, made a presentation on climate resilient infrastructure and services in the session 'Empowering Citizens and Governments through the Data Revolution'. Through her presentation she gave an introduction on TERI's work on urban resilience and the need for infrastructure inventories to enable urban resilience planning. The presentation explained the Data Based Management System (DBMS) that was developed for Panaji and Visakhapatanam as part of TERI's study on planning climate resilient coastal cities.
| | |
| --- | --- |
| | Indo French Seminar - Sustainable Mobility |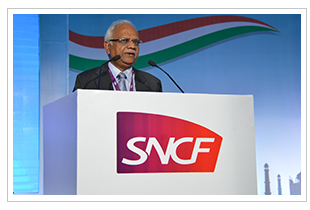 The SNCF Group (French National Railways), in partnership with TERI and powered by Business France - Embassy of France, organized an "Indo-French Seminar on Sustainable Mobility: Prospects and Comparative Views" on 3rd June, 2016 at the Taj Palace Hotel, New Delhi. The seminar focused on issues of both urban transport and long distance mobility and had well recognized speakers and panellists from both France and India. The seminar had two sessions, the first focusing on issues of urban mobility and the use of rail based solutions to transition to sustainable transport, while the second session focused on issues of intermodal integration of different modes and the key role played by Railway stations in that regard. Keynote speakers from both countries shared expertise in urban mobility, mass transit and station modernization. These experts addressed ways of improving public transport in Indian cities, highlighting the various governance structures and business modes, along with other complex issues of inter-modality and station upgrades.

Mr Diego Diaz, SNCF International Director informed the audience that SNCF shared the same passion for improving people mobility as the Indian Railways and that the French delegation was extremely impressed by the speed of innovation in India in the transportation space. On the urban mobility space, Mr Bernard Tabary, CEO International at Keolis, an SNCF subsidiary, highlighted that they were also excited to see how technology and modes such as the metro railways in Delhi and Hyderabad were changing the lives of people in India.

The Indian delegation, while showcasing the various efforts being taken up in both long distance and urban passenger mobility in India, also mentioned that there was a lot of cross learning possibilities between India and France. Station redevelopment, metro and high-speed rail technologies, etc. were some of the exchange possibilities that emerged from the discussions.
| | |
| --- | --- |
| | Participation in 2016 Edition of Indian Leaders Programme organized by the Spain-India Council Foundation |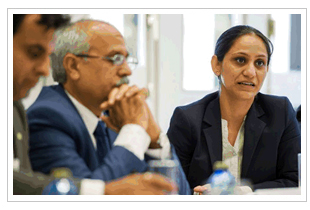 Ms Akshima T Ghate, Fellow, Centre for Research on Sustainable Urban Development and Transport Systems participated in the Special Fifth Edition of the Indian Leaders Programme organized by the Spain-India Council Foundation (SICF). Supported and promoted by the Spanish Ministry of Foreign Affairs and Cooperation, SICF organizes this high-level visitor's programme, every year since 2012 with an objective of fostering mutual understanding between India and Spain on various subjects of national and international importance. Themed around the subject of sustainable urban development and mobility systems, the 2016 Edition brought together a group of selected Indian representatives working on urban and transport issues. The program comprised visits to three Spanish cities, Bilbao, Santander and Madrid and was structured to include meetings with leading politicians, city officials, companies and research organizations working in the urban sector. Ms Ghate was designated as a Goodwill Ambassador of the Spain-India Council Foundation for her support and contribution to the program.