Introduction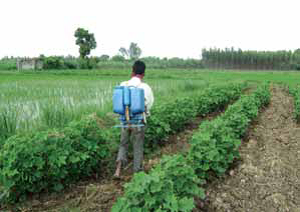 Pesticides play an important role in sustaining the agricultural production of the country by protecting crops from pest attacks and by keeping the pest population under control. Availability of safe and efficacious pesticides and their judicious use by the farming community is critical to a sustained increase in agricultural production and productivity. The total pesticide consumption in the country during the year 2011-12 was 59,046 million tonnes, of which the share of bio pesticides is merely about 2.5 percent, which is projected to grow further in the coming years. Each year, cotton producers around the world use nearly $2.6 billion worth of pesticides, which is more than 10 per cent of the world's pesticides and nearly 25 per cent of the world's insecticides.
Keeping pace with its vision of a sustainable tomorrow, TERI, under the patronage of Department of Biotechnology (DBT), has developed a plant extract-based bio pesticide formulation-"Bollcure"-and has proven its effectiveness against cotton bollworm (Helicoverpa armigera)-a polyphagous pest populating more than 181 plant species globally. The efficacy of the formulation has been successfully explored against pest complexes like Spodoptera, DBM, Cabbage looper, Silver leaf whitefly, Melon aphid, Western flower thrips, Cabbage aphid, Asian citrus psyllid, Root knot nematode, Thrips, and Jassids.
Salient Features
Effective against Helicoverpa armigera
Significant reduction in larval weight (88 per cent)
Mild anti-feedancy
Suitable for both organic and IPM crop practices
Suitable for conventional as well as Bt cotton
Cost-benefit ratio for cotton 1:4.15
Cost-benefit ratio for chickpea 1:17.1
Environment-friendly
Conformity of station trials with IARI Lab results
Multi-location field trials conducted by ICAR
CIRB registration number-CIR-123/2011(322)-Eucalyptus Leaf Extract (EC)-02
2nd Year Organic Certification by VOCA as "Certified Organic by VOCA" for usage in India and abroad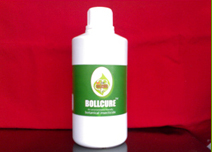 ---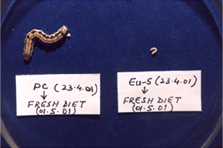 Field trials and toxicology tests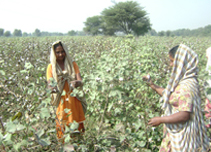 The horizon for the usage of Bollcure has been widened through the completion of successful trials with results obtained in crops other than cotton and chickpea like grapes, cauliflower, tomato, chilli, okra, brinjal, beans, cucurbits, cabbage, potato, sugarcane, rice, and wheat.
The technology, ready for commercialization, has been confirmed to be non-toxic and safe to use through the toxicology tests conducted by Shri Ram Institute of Industrial Research, New Delhi.
Mode of action
The formulation is known to affect the growth of the bollworm larva resulting in reduction of larval weight by about 88 per cent, as a result of which the larva does not reach the crucial late instar damaging stage, thereby preventing crop damage.
The rise of sustainable farming
As the world moves towards reduction in the use of chemically synthesized fertilizers and pesticides, large agrarian economies, such as India are looking to upgrade their own farming practices. Though organic farming is on the rise in many western countries, it is not viable at a commercial scale. Thus, new technologies and farming practices are required to keep pace with the world, to ensure Indian agriculture's sustainable future.
Bollcure is definitely an answer to the sustainability issues that need to be addressed in the long run, being the only botanical bio pesticide available in the market after Neem, but having better cost-benefit ratio, thereby proving its efficacy in conventional, organic, and Integrated Pest Management (IPM) farming practices.
Technology development and commercialization
Laboratory studies were started during late 1990s at TERI to test the pesticidal activity of plant species against Helicoverpa armigera, with financial support from DBT. Some of the plant species proved to be promising subjects of research and testing based on their activity level. These findings prompted TERI to develop the extract- and fraction-based formulations and conduct laboratory evaluation to see whether the activity is retained in the formulations or not. Development of the formulation was followed by station field trials at IARI, New Delhi for two years, followed by multi-location field trials conducted by ICAR. The field trials were further successfully replicated to other crops and pest complexes as well.
The formulation, being produced on a commercial scale by TERI at TERI Gram near Gurgaon with CIRB registration number CIR-123/2011(322)-Eucalyptus Leaf Extract (EC)-02, has also been licensed to Sri Biotech and Pasura Biotech in India, and Marrone Biotech in USA.
Having obtained second year organic certification by VOCA-"Certified organic by VOCA"-the formulation is fit for use in organic agriculture in India and abroad.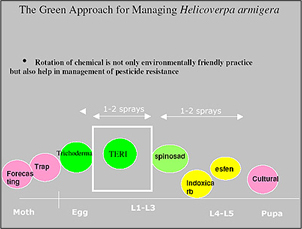 IPR ownership
TERI has filed two national patents and one international PCT application for this technology
| | | |
| --- | --- | --- |
| S.No. | Patent No. | Name |
| 1. | 277/DEL/2008 | Novel biopesticide compositions and method for isolation and characterization of the same. |
| 2. | 1756/DEL/2011 | A natural-source based biopesticide formulation for effective biocontrol and the procedure for synthesizing the same. |
| 3. | PCT/IN2009/000429 | Novel Biopesticide Composition and method for isolation and characterization of same. |