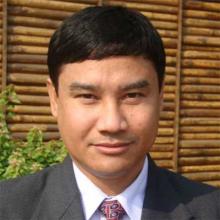 Dr Swapan Kumar Sinha
Area Convenor, Biotechnology
Dr Swapan Kumar Sinha completed his M.Sc (Botany) from Northeastern Hill University, Shillong and his PhD in Biotechnology from Gauhati Univetristy. Dr Sinha has worked in National Afforestation and Eco-development of Board, Ministry of Environment and Forest, Government of India, Shillong, for biodiversity conservation and management; in the State Forest Research Institute, Department of Environment and Forest, Government of Arunachal Pradesh for orchid biology and conservation; and in Manipur University, Imphal for antioxidant sciences.
Dr Sinha joined TERI in 2002 and is currently Senior Fellow and Area Convener, Environmental and Industrial Biotechnology Division. He is involved in biotechnological research, primarily phycoremediation of rubber waste water, algal biodiesel & bioethanol, algal biofilm, human faecal matter management and popularization of sciences amongst students by establishing and operating 391 DNA clubs in schools of eight North Eastern states.
Dr Sinha has customized illumination of bioreactor with regulated light wavelength, intensity integrated into 8 different photoperiods for accelerated algal biomass production. He is also heading the biotechnology area of TERI's North Eastern Regional Centre, Guwahati, with research professionals having expertise in molecular biology, microbiology, plant tissue culture, fermentation technology. He has also been the Department of Biotechnology, Government of India's nominee to Institutional Biosafety Committee of Assam Agricultural University, Jorhat during 2004-07.