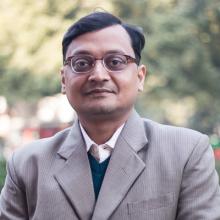 Dr Shresth Tayal
Area Convener, Centre for Himalayan Ecology
Dr Shresth Tayal, working as Fellow with The Energy and Resources Institute (TERI), New Delhi, is acting as Area Convenor of its Centre for Himalayan Ecology and responsible for coordinating integrated research at high altitudes, for adaptation of local communities in Himalayas. He obtained his doctoral degree from Jawaharlal Nehru University, New Delhi, on 'Glacier Hydrological Systems'. With his 17 years of experience in the field of hydrology, he is involved in a number of projects related to hydrological modelling, integrated water resources management (IWRM), and analysing the impacts of climate change on water resources of the region.
He has been involved in various hydrological, hydrochemical, and meteorological research in glacierized watersheds, and vulnerability assessment of water resources using hydrological modelling tools at the watershed level.
He has several publications in peer-reviewed national and international journals, supervising students in their PhD research, and he is also involved in teaching MSc students. Through his research on water–energy–food nexus, he is engaged in quantification of degree of dependence existing among these sectors and developing harmonized solutions of their integrated management.
Email: stayal@teri.res.in