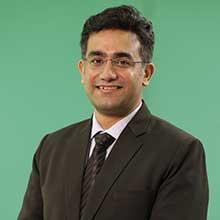 Mr Saurabh Bhardwaj
Fellow and Area Convener, Centre for Climate Modelling
Saurabh Bhardwaj is a Fellow and Area Convener at the Center of Climate Modelling at The Energy and Resources Institute (TERI), and an associate faculty at TERI University, New Delhi with over 10 years of work experience in atmospheric sciences, meteorology, climate science and modelling, training and project management. He completed his M.Tech (Atmospheric Physics) and M.Sc. (Space Sciences) from Pune University prior to joining CDAC (Center for Development of Advance Computing), a government supercomputing R&D company as a Member Technical Staff and later worked as a Scientific Application Developer at CGGVeritas, a world leader in geophysical services.
He possesses over nine years of experience in climate science and modeling, including over five years of hands-on experience in working with High Performance Computing architecture in combination with various climate and weather models. Climate extremes and climate change, weather and climate modelling, parallel processing and grid computing architecture are few of the things he has worked on during his professional career and which form a major part of his interest.
His recent work in climate research includes generating extreme climate profile for India, improving model efficacy to minimize uncertainty in forecasting, high resolution climate knowledge generation, capacity building of researchers and policy makers, and multi sectoral climate analysis.
His current and past collaborations include projects with international institutes like Bjerknes Centre (BCCR), University of Bergen and Oslo in Norway, Potsdam Institute for Climate Impact Research in Germany, National Centre of Atmospheric Research (NCAR) in US, Asian Disaster Preparedness Centre (ADPC) in Thailand and national government institutes like National Centre for Medium Range Weather Forecasting (NCMRWF), Noida; Indian Institute of Tropical Meteorology (IITM), Pune etc. He is a life time member of Indian Meteorological society.
His research has been published in Vision, American Geophysical Union, European Geosciences Union and Pollution Research. He has working experience in government, private and non-government, not-for-profit research sectors.