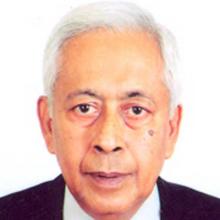 Mr S Sundar
Distinguished Fellow, Transport & Urban Governance
Mr Sundar, an alumnus of the University of Madras; serves as Distinguished Fellow at TERI and as the HUDCO Chair Professor on Regulatory Studies at TERI University.

Prior to joining TERI, Mr Sundar was with the Indian Administrative Service to which he was appointed to in 1963; where he held senior positions in industry and finance with both the State of Gujarat and the Government of India. He was also with the Commonwealth Secretariat in London for 8 years, first as Special Advisor and then as the Director of the Economic and Legal Advisory Services Division, which was the consulting arm of the Commonwealth Secretariat.

Mr Sundar's last Government assignment was as Permanent Secretary to the Government of India in the Ministry of Surface Transport, where he spearheaded major policy initiatives to attract private investment, including foreign direct investment, in the port and road sectors.

Since his retirement from Government service, Mr Sundar has led TERI's work in the area of transport and has focused on promoting low carbon and sustainable transport in India. He has also contributed significantly in the area of Regulation and Governance, and has written extensively in newspapers and refereed journals focusing on measures to strengthen and deepen regulatory reform. He has also spoken at several national and international conferences on transport and its impact on energy, environment and climate change.

Mr Sundar is currently on the Governing Council of the Sustainable Low Carbon Transport Partnership sponsored by ADB and established under UNDSA, and a member of the Expert Group of the Asian Environmentally Sustainable Transport Forum. He was a member of the National Transport Development Policy Committee chaired by Dr Rakesh Mohan.

In the past, Mr Sundar has chaired important Committees set up by the Government of India including the first ever study commissioned by the Government of India on the 'Trucking Industry' in India, which made far-reaching recommendations on modernizing the industry and the National Committee on Road Safety and Traffic Management, as well as the Expert Committee set up by the Government of India to review and streamline the law relating to Motor Vehicles.

He also serves as Honarary Professor, CEPT University, Ahmedabad and has been a Distinguished Visiting Professor at the Faculty of Law, University of Toronto. He is one of the three members of the Road Safety Committee constituted by Supreme Court under the chairmanship of Justice (Retd.) K S Radhakrishnan.