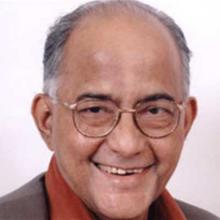 Prof S L Rao
Distinguished Fellow Emeritus
Professor Rao, an alumnus of the Delhi School of Economics has been serving as Distinguished Fellow since 1998.

Prior to joining TERI, he was Director - General of NCAER (National Council of Applied Economic Research), where he transformed it into a globally reputed research institution. As the first Chairman of the Central Electricity Regulatory Commission he established it as an expert and independent agency and catalysed its evolution into an independent, transparent, and objective regulator. His writings and speeches on electricity reform and regulation have had a deep influence on policy.

An economist by training, Prof. Rao has been a professional manager for 3 decades, taught marketing in reputed management schools and designed and ran the National Management Programme in its initial years. He has also been associated with many academic, corporate, and non-profit organizations, including the Indian Ocean Centre, the Madras Crafts Foundation, and the Aga Khan Foundation of India. He has been Chairman of the Board of Governors of the Institute for Social and Economic Change, Bangalore, and is on its Board as well as of IIML, Bangalore International Centre, Honeywell Automation India Ltd, Reliance Power Ltd, Rain Commodities Ltd, among others.

He has authored, co-authored, or edited fifteen books, including 'Powering India-a decade of policies and regulation' (2011), 'From Servants to Masters-the evolution of professional management in India' (2007), 'Successful Negotiations' (1998), 'Governing Power' (2005), 'Elephants can't dance-managing in a reforming economy' (2001) and 'Indian Market Demographics: the consuming classes' (1996). He was a columnist with 'The Economic Times' for many years and continues to write regularly in 'The Telegraph', 'Deccan Herald' and 'Financial Express'.