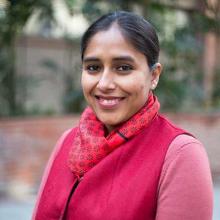 Ms Rishu Nigam
Associate Director, Creative Content
Rishu Nigam is Associate Director of the Communication, Outreach and Advocacy Unit. She started her career as one of the founding team members of TERI's Film & TV unit and went on to direct several award winning films on environment, climate change and sustainability. Her films 'Its High Time' and 'Hope' presented India's perspective on climate change at the COP 21 in Paris.
Currently, Rishu works with the Creative Content team that designs and implements activities to make TERI's knowledge more accessible to its stakeholders. She leads an integrated programme that includes managing TERI's website, online engagement, media relations and production of film, video and digital content.
Rishu's diverse experience in communication also includes setting up TERI's community radio in Nainital in the Kumaon region of the Himalayas. Today, it is amongst India's most successful community radios that raises awareness on sustainable agriculture and has a wide following in the region.
Rishu is an alumnus of the Indian Institute of Mass Communication, New Delhi, and a recipient of the UK Government's Chevening Fellowship in Broadcast Journalism.