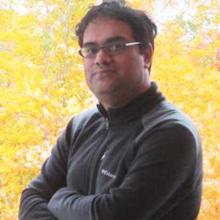 Dr Ratul Kumar Das
Research Associate
Dr Ratul Kumar Das is a Research Associate at the TERI-Deakin Nanobiotechnology Centre (TDNBC). He has been an Honorary Fellow of the Institute for Frontier Materials of Deakin University, Australia since April 2017. He is also the TERI lead supervisor for two PhD students registered with Deakin University.
Dr Das completed his M.Sc in Molecular Biology and Biotechnology from Tezpur Central University, India and got his PhD in Environmental Biotechnology from University of Quebec, Canada. Dr Das was also selected for the prestigious Doctoral Excellence Award Programme for foreign students by the Ministry of Education, Higher Education and Research (MEESR), sponsored by Research Fund of Quebec - Nature and Technology (FRQNT), Canada. He is also a member of the winning team of the '2017 Excellence in Environmental Engineering and Science™ Competition', awarded by The American Academy of Environmental Engineers and Scientists.
Dr Das is also the co-founding editor of the journal Nanotechnology for Environmental Engineering (SpringerNature) and an associate expert of Global Institute for Energy, Environment, and Sustainability (GIEES), Lenexa, Kansas 66285, USA. He has around 40 peer-reviewed international research publications (24 as first author), two patents and a series of conferences to his credit and has expertise in the fields of Bio-Nanotechnology, Biochemical and Bioprocess Engineering. His current research area is the application of environmental biotechnology and green nanotechnology for the benefit of environment. His research team at TDNBC is working on the development of silk protein based nanostructures for environmental applications.