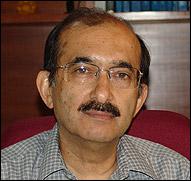 Gp. Capt. Rajiv Seth
Pro Vice Chancellor & Director, TERI University
Gp. Capt. Rajiv Seth is an Aerospace Engineer by training. He has a B Tech from the Indian Institute of Technology, Kanpur and an M Tech from the Indian Institute of Technology, Madras. Thereafter, he has done his Ph D in Business Administration (Finance) from the Aligarh Muslim University.
Having spent 27 years in the Indian Air Force, he has worked on various types of aircraft and aero engines and has been involved in technical evaluation, field testing and technology transfer.
Over the last fourteen years, he has been associated with the conceptualization and the growth of the TERI University. He has held positions as the Registrar and Dean (Admin) of the University. He is a Professor of Finance in the Department of Business Sustainability.
He has been deeply involved in an international consortium of universities in the Asia-Pacific, which is led by the United Nations University, and which focuses on the integration of sustainable development in higher education. He is a Board Member of this international consortium.
His research interests are in the areas of financial derivatives, risk management and green aviation.