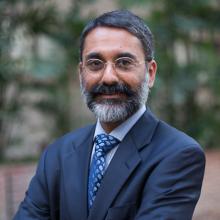 Mr Puneet Chandra
Senior Director, Growth, Diversification & Commercialization
Puneet is leading TERI's Growth, Diversification and Commercialization Unit responsible for implementing large projects, programs and solutions. He is also responsible for transformational projects within TERI.
Additionally, he oversees the activities of TERI's Council for Business Sustainability, a CEO-led coalition of corporate member companies representing a varied section of Indian industry. The Council guides these Indian corporates in framing and implementing their sustainability agendas, and also promotes leadership in environmental management, social responsibility, and economic performance.
Puneet is a student of Economics and is a Chartered Accountant by profession, and has over 30 years of work experience in varied fields. Prior to joining TERI, he spent 15 years at Wipro, one of the three largest IT companies in India, with a global presence. As the Global Head for Corporate Business Services at Wipro BPO, a business he incubated in 2006 to serve global customers in back office operations in Finance and Accounting, HR, Procurement and Order Management, he was instrumental in setting up delivery centers in Brazil, Mexico, US, Poland, Romania and China. After creating and establishing this into a successful business which generated more than 30 percent of Wipro BPO revenue, Puneet moved on to a corporate role as the Chief Marketing Officer for Wipro Ltd in 2013. He spearheaded the transformation of the corporate brand across geographies and stakeholders until October 2015.
Prior to his role at Wipro, Puneet had been a successful entrepreneur for 15 years, where he created and subsequently sold a business manufacturing scientific instrumentation. Puneet also owned and ran a very successful event management company that provided sound reinforcement solutions for temporary and permanent installations. In the 1980's, Puneet spent time as an investment advisor at Peerless General Finance and Investment Co., running operations for Delhi.
Puneet has an excellent track record of building and scaling businesses. As well as being a voracious reader, he is an avid photographer, gadget guru and an art enthusiast.