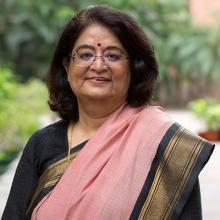 Ms Preeti Madan
Distinguished Fellow, Director-General's Office
An alumnus of the Lady Shriram College (BA Eco Hons: 1975-78) and the Delhi School of Economics (Masters in Economics: 1978-80), Ms Preeti Madan joined the Indian Economic Service in 1981 and served for 37 years in increasing positions of responsibility in State/ UT Governments and the Central Government. She acquired a Post Graduate Diploma in Management (1977-99) from Concordia University (Montreal, Canada) during the course of her career.
Besides holding various cadre posts of the Indian Economic Service, she served on depuation basis, as Deputy Secretary in the Ministry of Textiles; Director in the Department of Economic Affairs; Joint Secretary in the Ministeries of Woman and Child Development and Minority Affairs; and as Member Secretary of the National Commission for Women (Sept 2015 - Dec 2016) at Additional Secretary level. She also served as a Chief Finance Officer in the National Institute of Fashion Technology (NIFT), during the period when first five similar institutions were being established across the country.
Ms Madan was involved in formulation and implementation of policy relating to Infrastructure (Department of Economic Affairs) and Industrial Promotion (DIPP). During her tenure as Director in the Department of Economic Affairs, she was also involved in bilateral and multilateral negotiations in the Financial Services sector.
She superannuated from the Government service at the post of Principal Economic Adviser, Department of Industrial Policy & Promotion, where she dealt with issues relating to industrial policy, including fiscal and investment matters. During theis period Ms Madan co-chaired the Task Force on Make in India and Transfer of Technology for the Mumbai-Ahmedabad High Speed Rail Project (MAHSR).
Ms Madan also serves as an independent Director on the Board of Wapcos Ltd, and is also an Honorary Adviser, with Indus Action, a voluntary organisation working for underprivileged children.