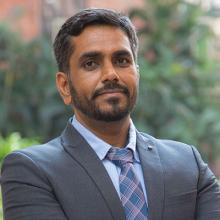 Mr Prahlad Kumar Tewari
Fellow and Area Convener, Resource Efficient Technologies
Mr. Prahlad Tewari is Fellow and Area Convenor of Resource Efficient Technologies (RET) area at TERI. He has over 20 years of professional experience. His major areas of expertise are in consulting on Resource Efficiency and Cleaner Production (RECP) implementations and system design for technology prototyping on membrane filtration and catalyst testing applications.
He has been a lead technical expert directing RECP implementations and trainings focused on improving resource efficiency, material saving and good housekeeping in various sectors. These include EU SWITCH-Asia projects targeted at improving production processes in metal industries (part of the supply chain in automobile and building and construction industries) as well as GIZ projects aimed at implementing resource efficiency in various industrial clusters. In addition to industries in India, he has worked with industries in Bangladesh, Nepal and Sri Lanka.
Mr Tewari has also been involved in R&D and field testing of various technologies viz. (a) acid recovery technologies (retardation and diffusion dialysis) and rinse water recovery technology (nanofiltration) for metal finishing industries, (b) membrane filtration system equipped with ceramic membranes prepared from waste industrial ash for wastewater treatment and hot gas cleaning.
Mr. Tewari obtained his M.Tech in Production Engineering from Delhi Technical University (DTU) (formerly Delhi College of Engineering (DCE)) and Bachelors in Mechanical Engineering. He has also done a certificate course in Sustainable Consumption & Production (SCP) in Asia from United Nations Institute for Training and Research (UNITAR). He has over 12 publications in journals & conferences to his credit.