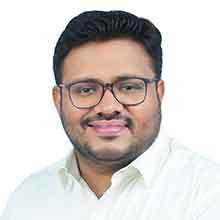 Mr Narayankumar Sreekumar
Associate Director, Electricity & Fuels Division
Narayankumar Sreekumar is Associate Director, Electricity and Fuels Division, TERI, New Delhi. Over the years, he has worked extensively with over 30 electric utilities and 10 electricity regulatory commissions in India across various dimensions of power sector for electricity utilities, electricity regulatory commissions, policy makers and development organizations.
An energy professional with over 9 years of experience, he has helped various distribution utilities, transition to next-gen utilities. Mr Sreekumar has been extensively involved in the development and implementation of demand side management action plans and energy efficiency roadmaps for various electric utilities/ government agencies across India. Additionally, he has also assisted power utilities and regulatory commissions in developing models on electricity pricing, network planning & augmentation exercises to reduce loss levels and to accommodate renewable energy.
Mr Sreekumar's profile at TERI involves conceptualizing new research ideas aligned with the objectives of organization. His work spans across developing and leading major fundraising efforts, meeting annual fundraising goals and commitments. It further involves overseeing daily administration along with personnel management, budgets & expenditure management, supervising the performance of reporting staff.