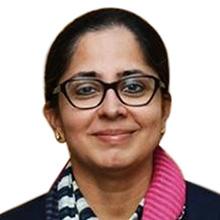 Dr Mandira Kochar
Fellow and Area Convener, Nano Biotechnology Centre
A PhD holder in Microbial Genetics from Delhi University, Dr Mandira Kochar has over two decades of research experience in the thematic areas of Agriculture and Environment Sustainability, especifically Molecular Microbiology, Microbial Physiology and Genomics.
Her current research interests lie in recreating soil microbiome combinations, studying naturally formed microbial biofilms, regulation of plant-microbe interactions, microbial genomics and mycorrhiza-based interventions for sustainable agriculture and environment. Her work has led to new mycorrhizal products which have been rolled out into the Indian market recently with many more products in the pipeline.
She has been involved in the TERI SAS and TERI-Deakin University PhD program since 2011 as a supervisor guiding and mentoring PhD students. She is independently running research teams on plant-microbe interactions, mycorrhiza biofertilizer formulations, and sustainable implementation of these products for agriculture benefits.
Email: mandira.kochar@teri.res.in