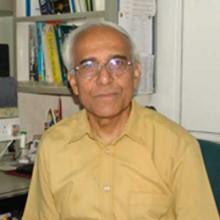 Air Cmde. M M Joshi
Distinguished Fellow, Administrative Services
Air Cmde Joshi, leads the systematic transfer of TERI's technologies from laboratories to commercial enterprises.
He has been with TERI since 1995 and has been developing strategic alliances and partnerships for marketing and disseminating technologies that lead to the creation of synergies between TERI and its partners. He is also actively involved in facilitating the framing and signing of commercial agreements, identifying potential licensees and network agents, and facilitating intellectual property protection by patenting.
As an officer of the Indian Air Force which he joined in 1965 he has held positions from Squardon Electrical Officer to Director Maintenance Planning and Quality Assurance dealing with management of aircraft maintenance, technical establishments, quality assurance, instructional assignments, strategic planning and coordination, human resources development and administration.
Air Cmde Joshi has a degree in Electrical Engineering and a specialization in Aeronautical Engineering (Electronics) and is also qualified in Export Marketing Management from IIFT. During his tenure in the Indian Air Force, he undertook several courses to sharpen his expertise to handle varied assignments. He is the recipient of the Vishist Seva Medal besides awards of Commendation by the Chief of Staff & the AOC in C.