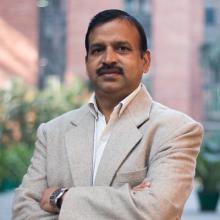 Mr Jagdish Mutharia
Director, Information Technology and Services
Mr Jagdish Mutharia is currently heading the Information Technology team of The Energy and Resources Institute (TERI). He holds Master Degrees in Computer Science (MSc) and Business Administration (MBA). He has 24+ years of vivid experience in IT Operation, Delivery & IT Governance. He has overall responsibility to support more than 1000 professional staff spread across countrywide at 5 regional centres. His roles and responsibilities include developing and executing IT strategies in alignment with organizational objectives focusing on innovation and return on investment, and developing vision for role of IT for the institute.
His passion is to simplify and automate business processes to enhance efficiency and productivity in operations with specific interest in people development and motivating team to achieve higher levels of performance. He has both technical and managerial skills to deal with any kind of situation and resolve them with systematic and methodical approach in analysing the problem and providing solution. He also facilitates communication between staff, management, vendors, and other technology resources within the organization.
He acquired vast experience in system requirement study, system architecture, designing, development, training, implementation and troubleshooting of mobile, web-based & client-server applications including customized IT Applications, ERP modules, MIS and data intensive scientific applications. He has good exposure of Quality Management System (ISO 9001:2000) implementation as a Quality Resource person and internal quality auditor. He has domain knowledge in Project Management, Finance, Materials Management, Human Resources, Travel, Sales, and Energy Sector etc.
As part of the accolades, he was university topper at graduation level, School topper at 10th standards, awarded Roll of Honour for performance at TERI in year 2003-2004 and bagged IT Next 100 Future CIO-2014 Award.