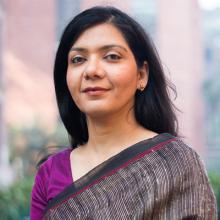 Dr Divya Datt
Director, Integrated Policy Analysis
Dr Divya Datt is Senior Fellow & Director, Resource Efficiency & Governance, TERI. She has over 15 years of experience in applied policy research in the environment and development sector. Her areas of interest include valuation of natural resources and ecosystems services, economic cost benefit analysis, environmental fiscal policy, and resource federalism. She has led inter-disciplinary research teams in these areas and has worked with several ministries in the Government of India, state governments, and most major multilateral and bilateral agencies.
Divya leads TERI's work on natural resource valuation and has been involved in several resource accounting initiatives at the national and state levels. She has contributed to the design of policy instruments for specific environmental issues as well as to economic impact assessments and cost-benefit analyses of interventions across a number of resources and sectors. She has been closely involved in TERI's research on the global discourse on sustainable development - this includes work on indicators, inputs for the Government of India's participation in inter-governmental deliberations, and independent reviews of India's efforts towards international commitments.
Divya is a member of the Steering Committee on Sustainable Public Procurement and a member of the Apex Committee for the State of Environment Report, both constituted by the Ministry of Environment Forest and Climate Change, Government of India.
Divya has a PhD in Resource Economics from Jawaharlal Nehru University and is a recipient of the UK Government's Chevening Fellowship on environmental management and sustainable development.