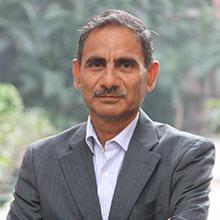 Mr Devendra Kumar Rudola
Director, Uttarakhand Operations
Mr Rudola started his career as Assistant Mechanical Engineer, Indian Railways. He has worked with the Indian Railways for over two decades in various capacities and with RITES as director of a railway company in Mozambique. He was also the CEO of the Essar Group for Southern Africa where it engaged in infrastructure projects and minerals in Mozambique and Zimbabwe.
He also received a national award from Ministry of Railways, Government of India, in 1990 for enhancing the overall performance of diesel locomotive maintenance at Bondamunda shed of South Eastern Railway. He also played a key role in enabling Indian Railways run heavy haul trains using Locotrol equipment for the first and only time on Indian Railways.
At TERI, he has guided scientists in commercialising their activities in herbal medicinal plants, fruit cultivation, biomass gasifier technology etc. He also helped TERI successfully achieve its milestones in its project on remediation of contaminated soil in the southern oilfields of Kuwait Oil Company in Kuwait by employing different technologies such as Bio-Remediation and Indirect and Direct Thermal Desorption.