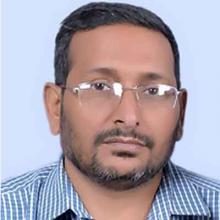 Dr Braj Raj Singh
Fellow and Area Convener, Centre for Excellence in Agrinanotechnology
Dr Singh's broad area of research lies in nanobiotechnology, microbiology, and molecular biology. In nanobiotechnology, his expertise lies in the synthesis and study of the properties of nanomaterials of different shapes and sizes using biological resources and type of electronic motion in atom controls its properties and applications. He is proficient in studying the properties of these nanometer range materials.
Currently with the TERI-Deakin Nanobiotechnology Centre, he has worked as a CSIR-Pool Scientist (Bionanotechnology) at the Centre of Excellence in Materials Science (Nanomaterials) at the ZH College of Engineering and Technology in Aligarh Muslim University (AMU). He has also been Assistant Professor (Molecular Biology) at the College of Science in King Saud University, Saudi Arabia.
Dr Singh obtained his doctorate in Agricultural Microbiology from AMU, India. His work has been published in over 60 research papers in national and international journals. He is also on the editorial boards for many journals and also acts as an invited reviewer for others.