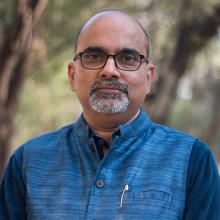 Dr Alok Adholeya
Senior Director, Sustainable Agriculture
Dr Alok Adholeya leads the team on mycorrhizal research, micropropagation technology, Nanobiotechnlogy and plant tissue culture and molecular biology. Dr Adholeya's career has been largely devoted to finding and developing ways to harness the power of microbes, particularly mycorrhizae, to increase the productivity of crop plants and to restore degraded and industrial overburden lands.
Dr Adholeya has chaired numerous advisory committees on agriculture and bioremediation and is an invited speaker at many international forums. Currently, he chairs a major Task Force on Biological Agents in the Department of Biotechnology (DBT), Ministry of Science and Technology, Government of India, besides being member of the Nanobiotechnology Taskforce in DBT. His work has been published in over 170 research papers in reputed national and international journals and he is also a member of the editorial boards of many of these journals. He has guided 22 doctoral students and many masters' students to date and has been an Honorary Professor of Deakin University, Australia since March 2010.
Many awards and honours have come his way, such as the Young Scientist Award in 1999, and the Biotech Product and Process Development and Commercialization Award 2004 by the Ministry of Science and Technology, Government of India.
Dr Adholeya is a Ph.D from the Department of Microbiology, GB Pant University of Agriculture & Technology, Pantnagar and Jiwaji University, Gwalior, India and a Post-Doctoral Fellow at United States Department of Agriculture, Philadelphia, USA. He also worked as director, Product and Technology Development in Mycorrhizal Applications, Oregon, USA, between 2014 and 2017.